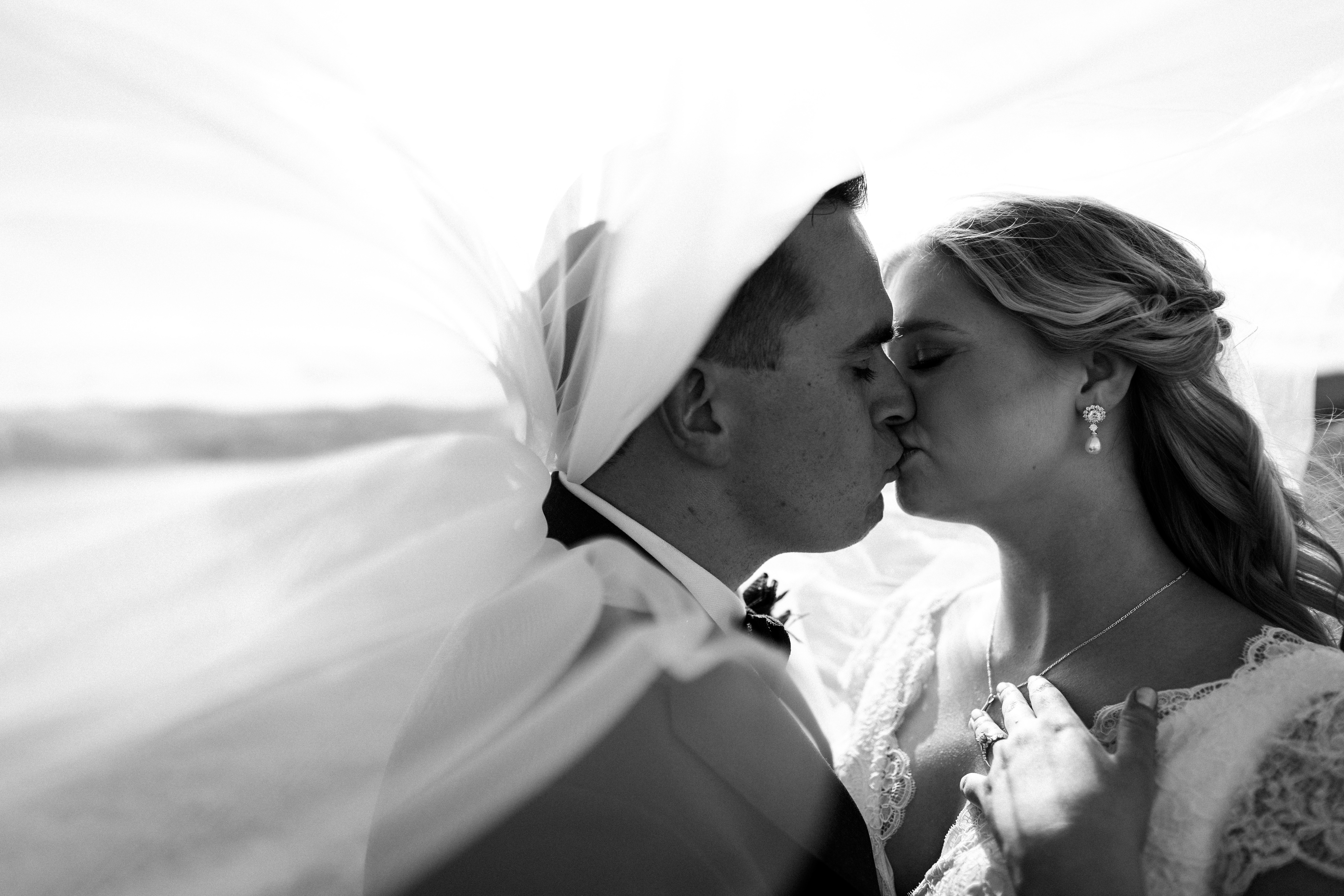 Congratulations on considering the premier region in the state for your wedding.
With its incredible sweeping views matched with world class food and wine and only an hour out from Melbourne, it's no wonder so many couples opt to have their wedding in the Yarra Valley.
The distance from Melbourne is actually the perfect amount. Close enough for everyone to make it, but far enough away that your guests can leave their lives behind and commit themselves wholeheartedly to your day. You can even make a weekend out of it!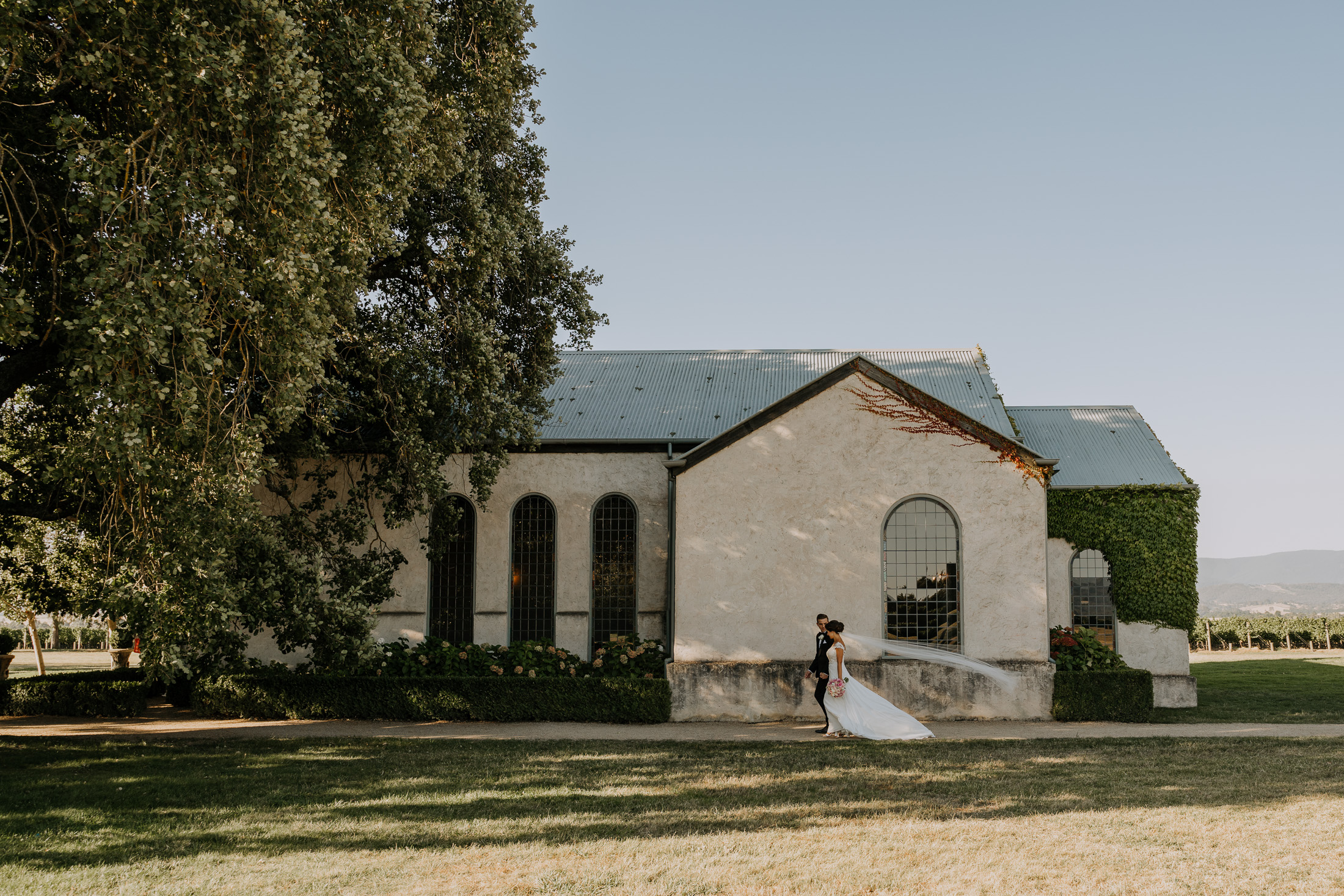 No prizes for guessing this one. Stones remains the most sought after wedding destination in the Yarra Valley and for good reason. Between the Stables and the Barn, they cater to both small and large sized weddings. Ceremonies can either be held in their romantic chapel, out on the lush lawn before the vines or under their massive oak tree.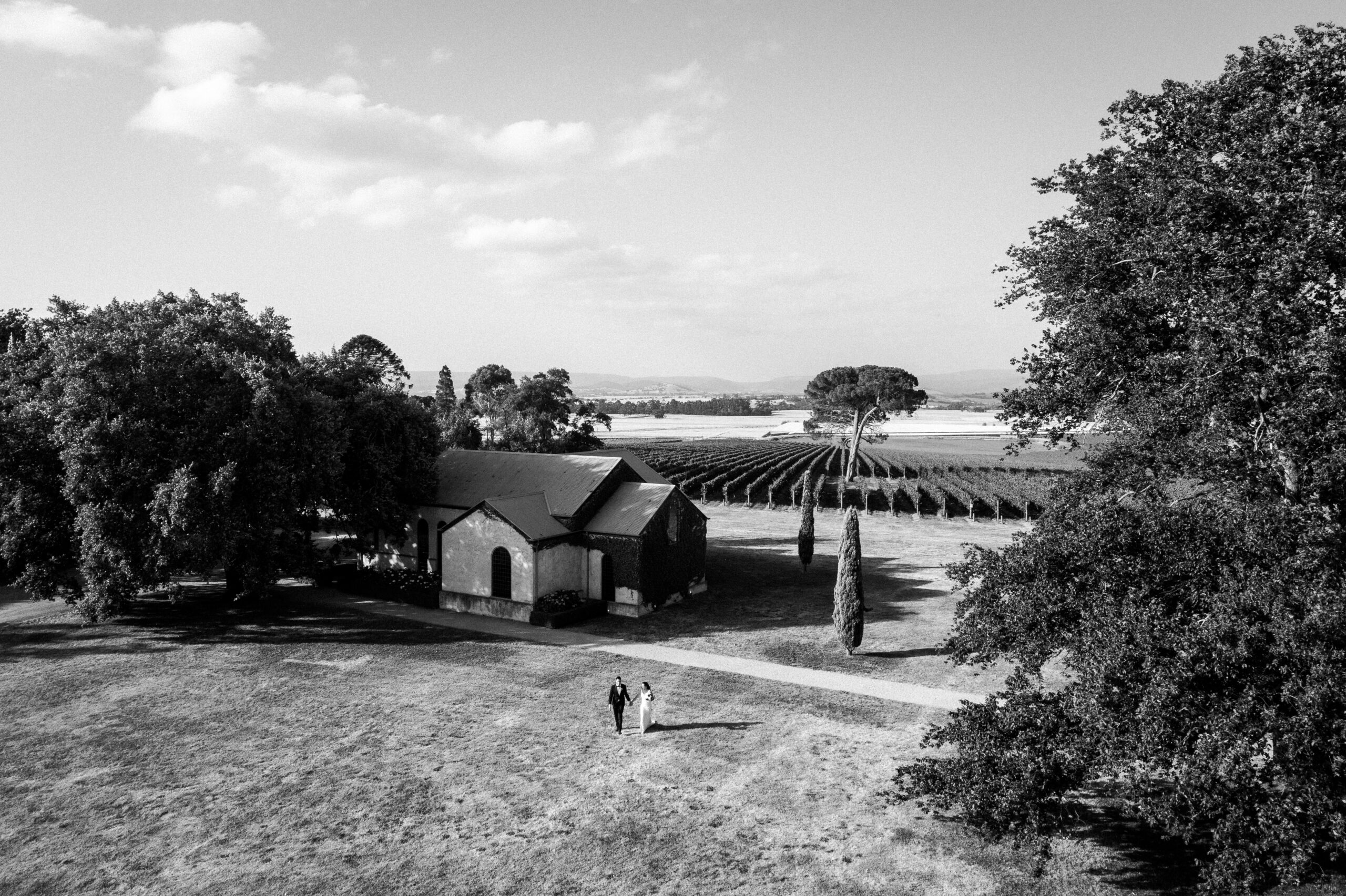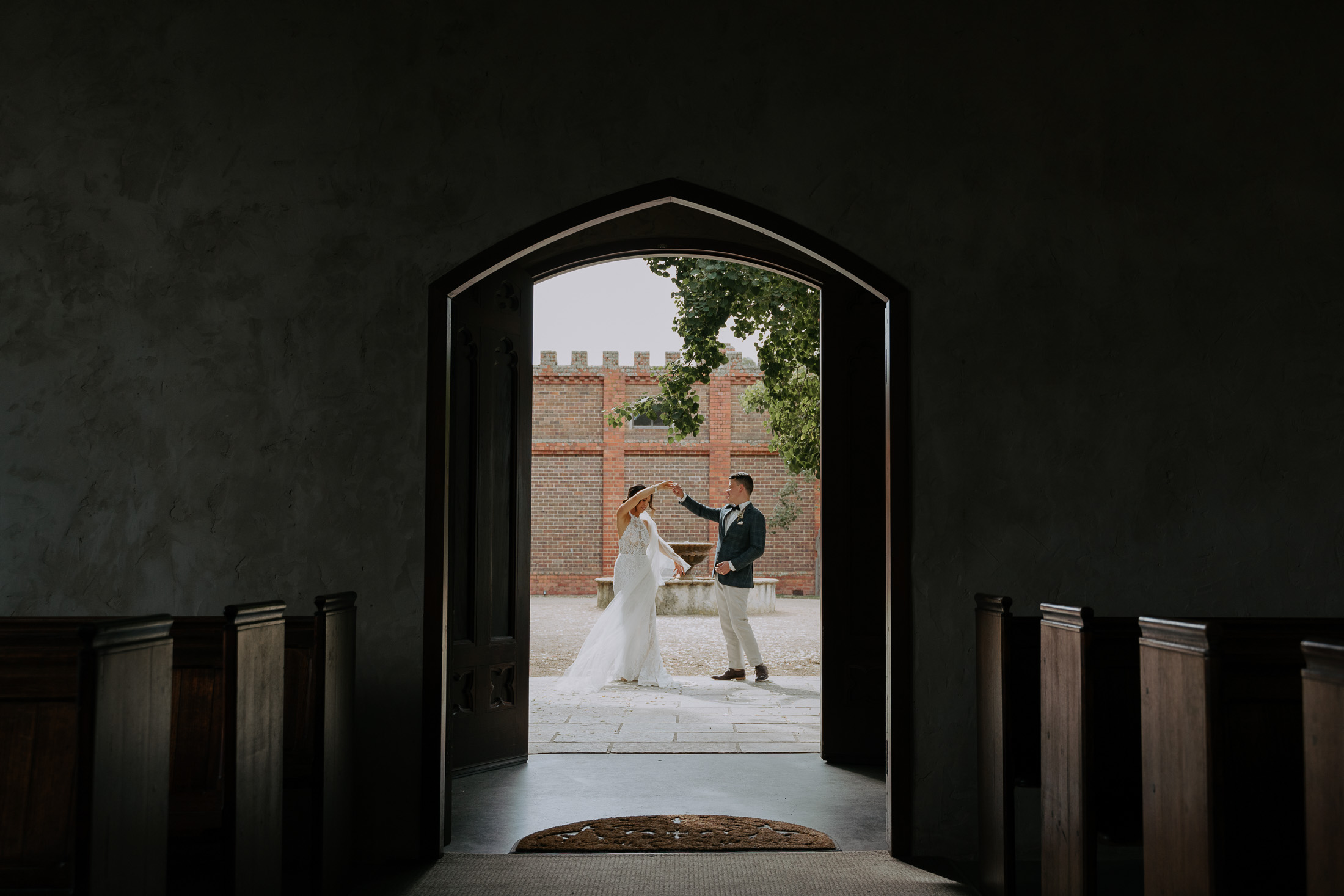 ST HUBERTS RD, COLDSTREAM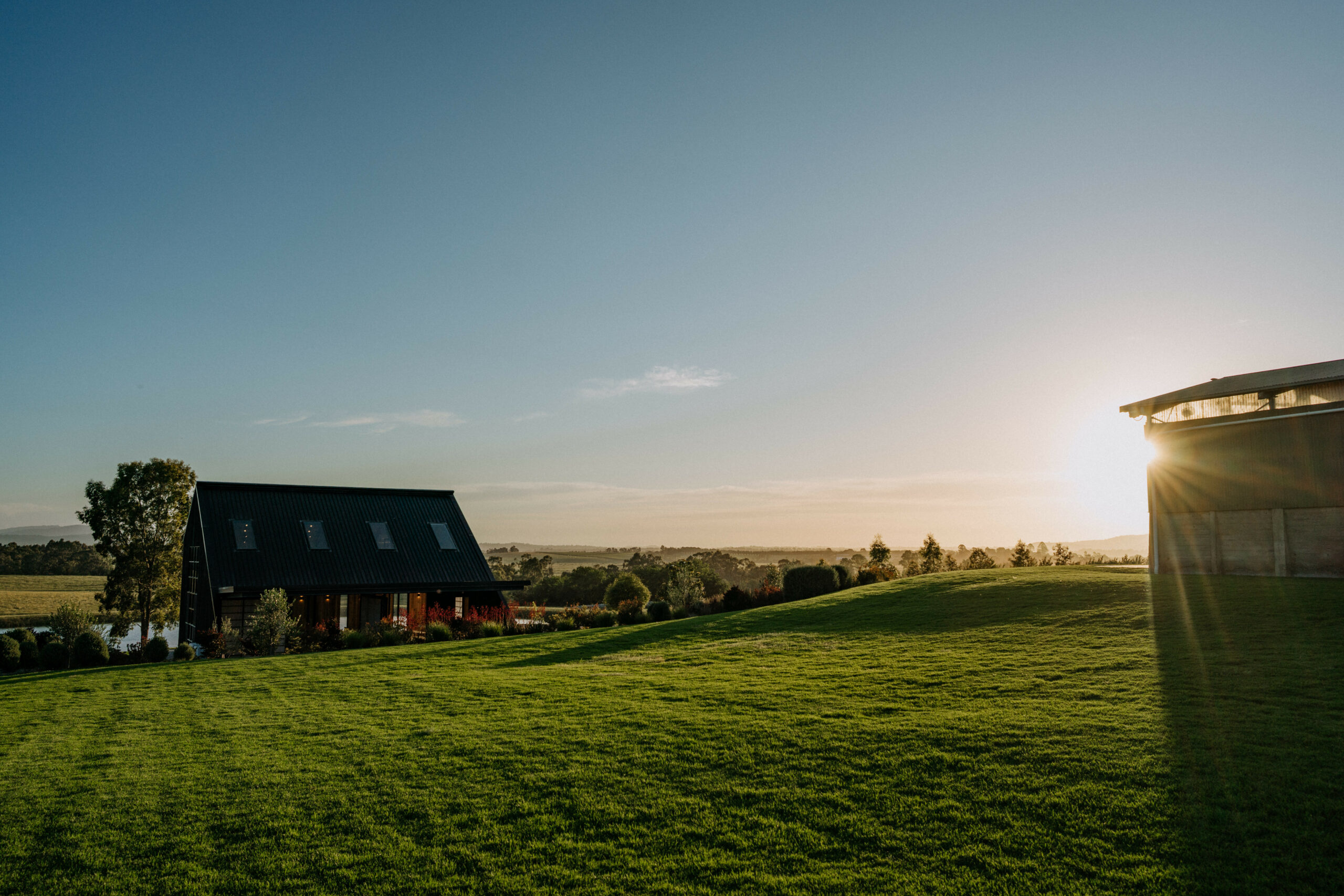 Zonzo Estate is an incredibly versatile property with a very unique and tasteful design. It's based on the fundamental offerings of impeccable Italian cuisine overlooking a stunning vista of vineyards and rolling hills. With an enviable, lush green lawn reaching up to the restaurant's outdoor dining area, you will see everyone in their element running around, kicking the footy, taking selfies.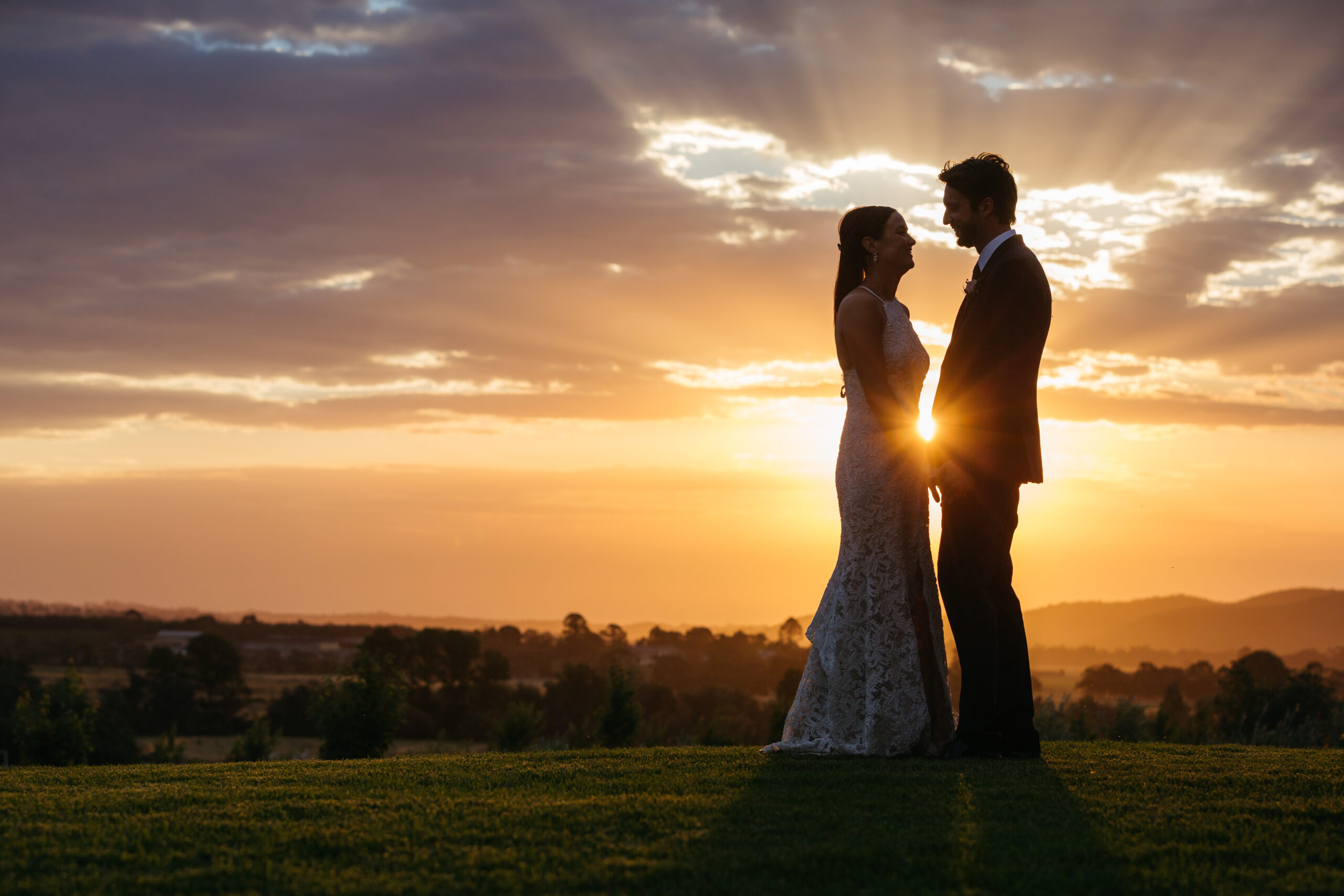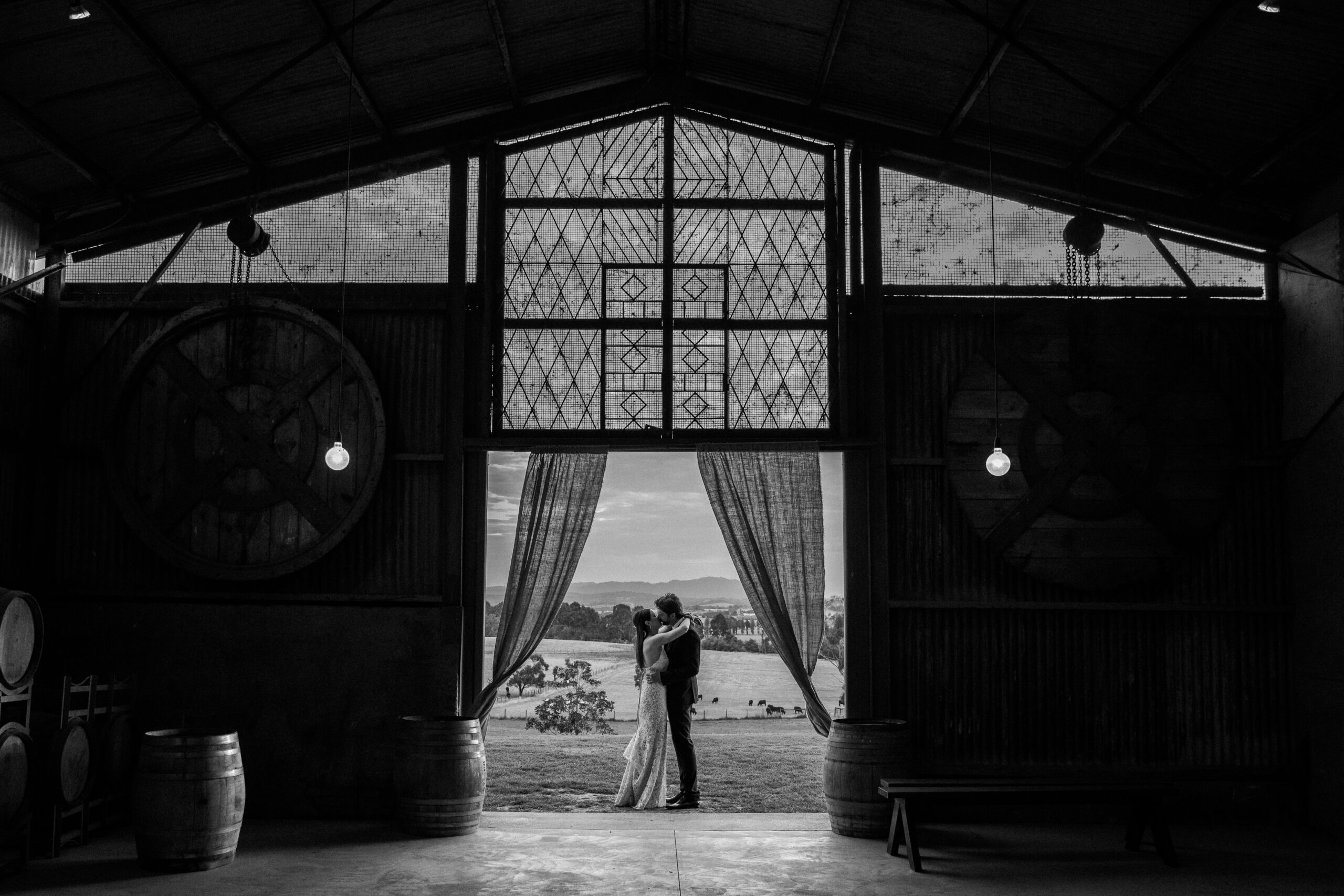 HEALESVILLE-YARRA GLEN RD, YARRA GLEN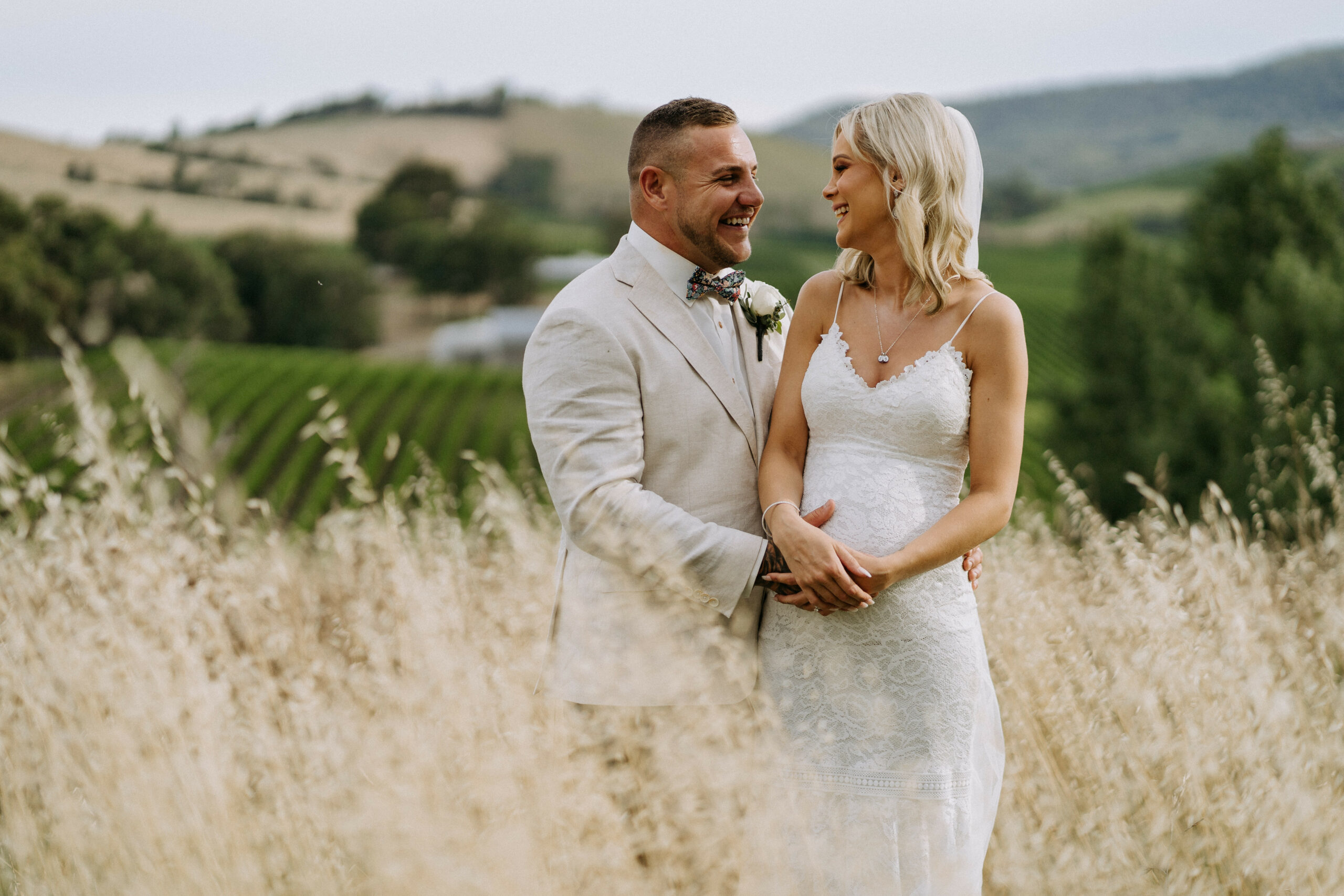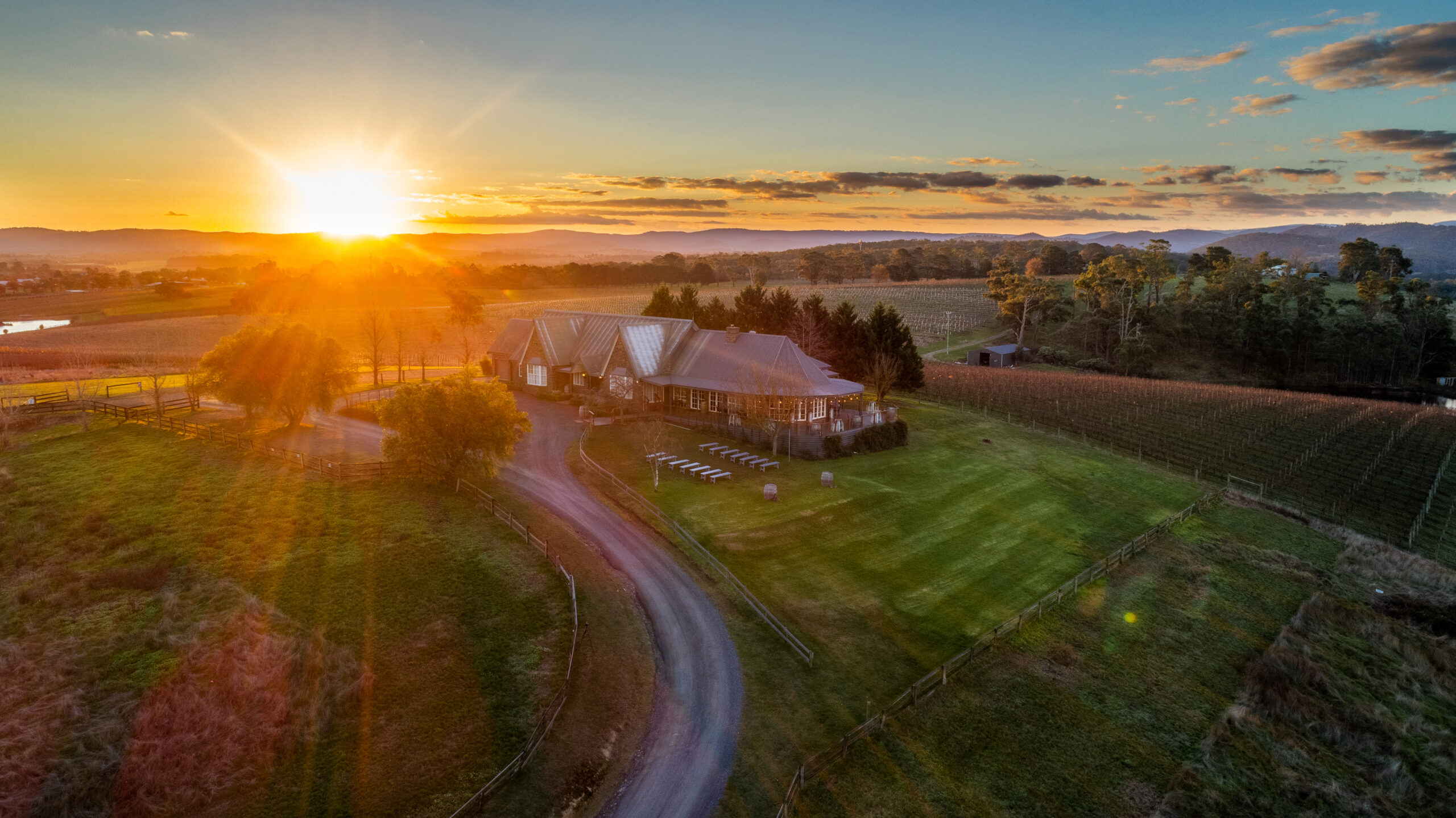 They have endless photo locations with that country charm of long grass, weeping willows, pale fences, old dead trees and even the Yarra runs through the property.
You'll be transported in comfort in their golf buggy to the best spots on the property when it's time for your location photos. This will be one of your favourite parts of the day as you enjoy a moment of relaxing peace together down by the river, complete with a cheese board and a few drinks. This is the first chance you'll get to have a private moment with each other in the wake of all the ceremony action. From here we'll kick off your bridal photos, and embark on a fun journey to all of my favourite spots.
When the sun starts to set, I'll come and fetch you and we'll head off once again to the back paddock this time to enjoy a famous Riverstone sunset session with the golden light streaming through the vines and long grass.
They have a stunning bay window in a private room for those gorgeous full body dress photos. It's is a perfect spot to escape from the reception for a brief respite with your new husband/wife during the wedding and just be in each others' company, even just to eat without being interrupted!
They also offer a terrific off season rate from May to Sep. Given that you aren't reliant on vineyards being in season at Riverstone, due to their sensational views all year round, this makes for a great deal if you're looking to save a bit on your Yarra Valley wedding venue.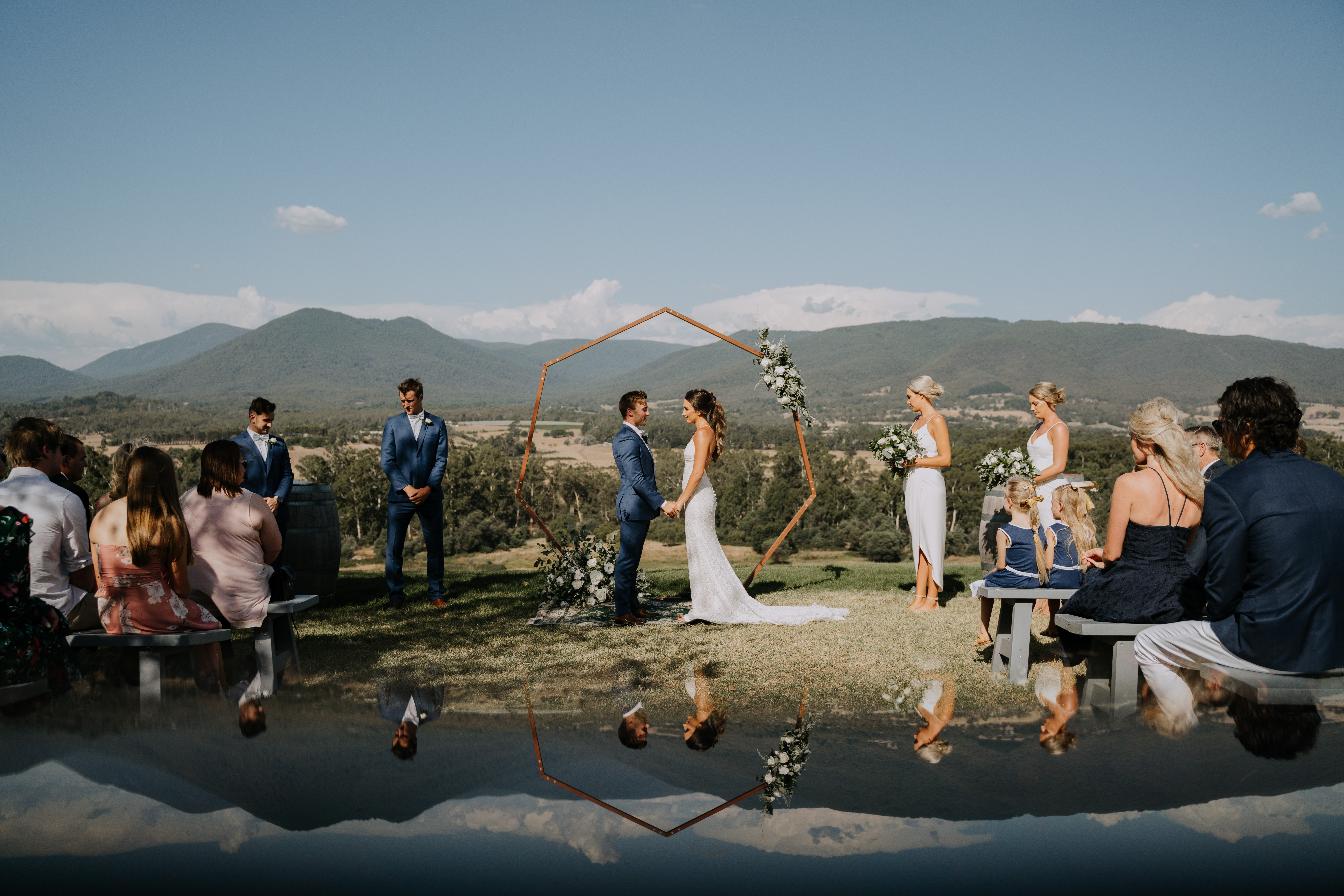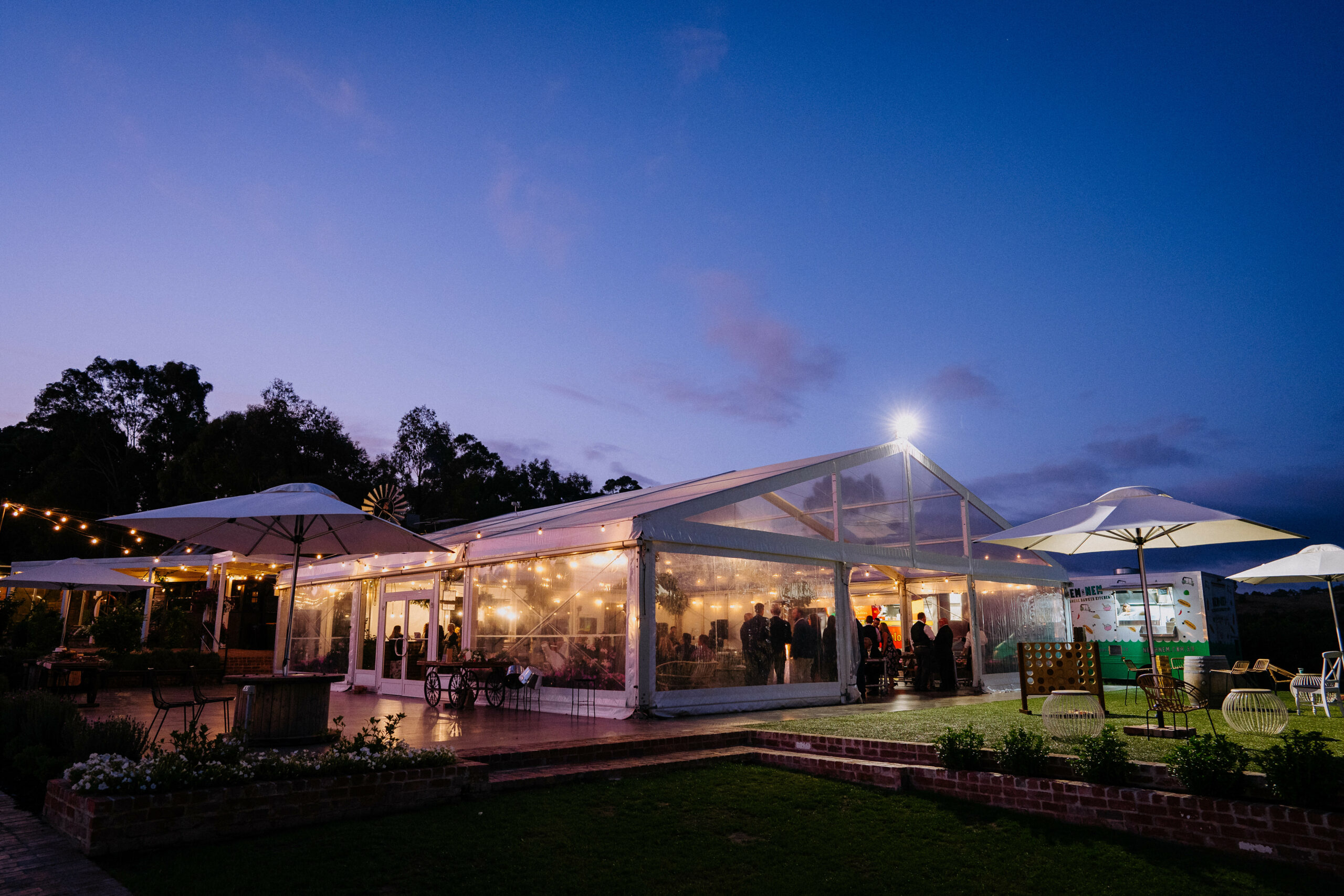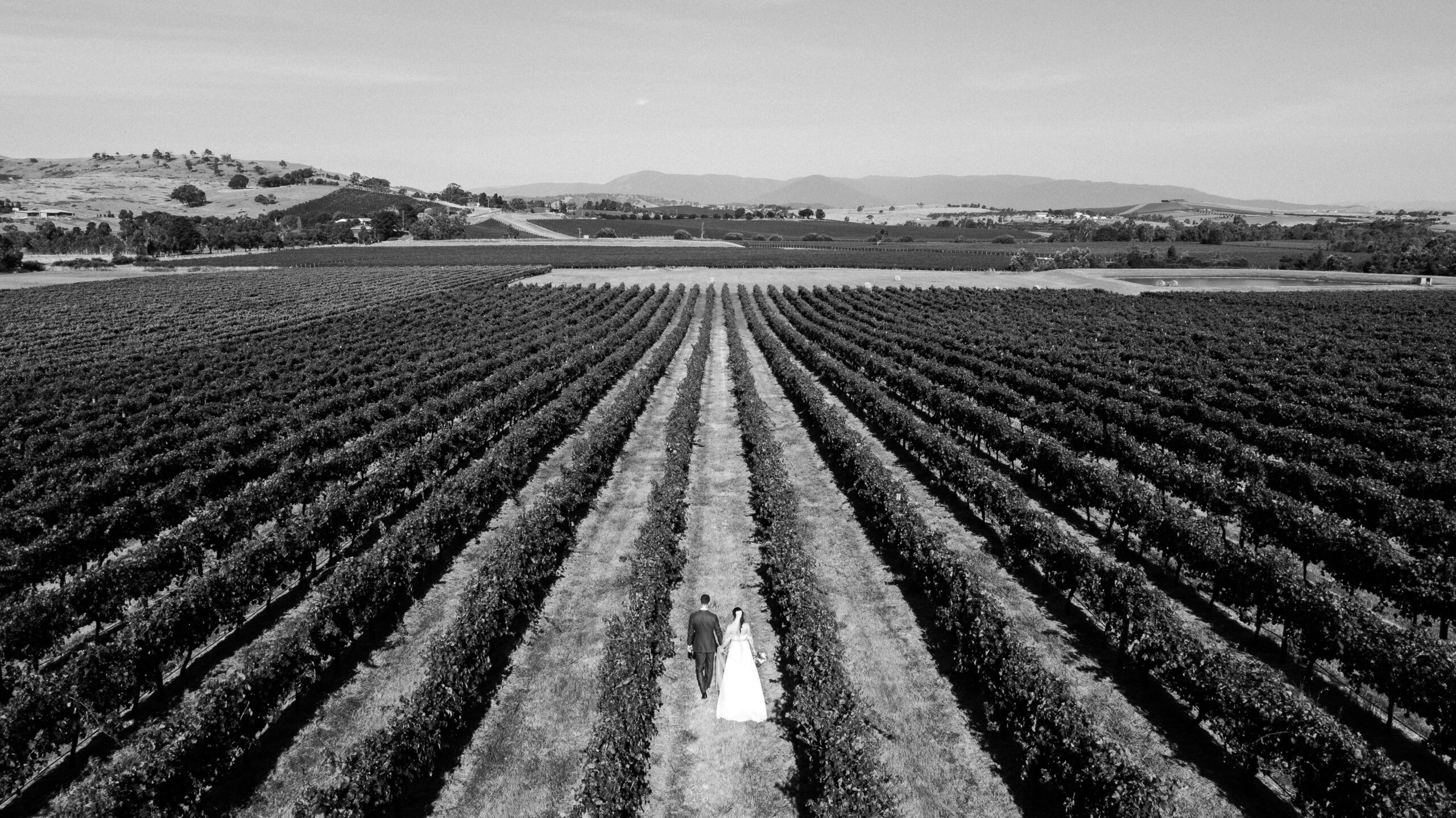 The first thing you will notice when meeting Cathy and Lachie, is how incredibly approachable and accommodating they are. If you felt daunted or overwhelmed by meetings at any of your other venues so far, you are going to feel right at home here with this family run business.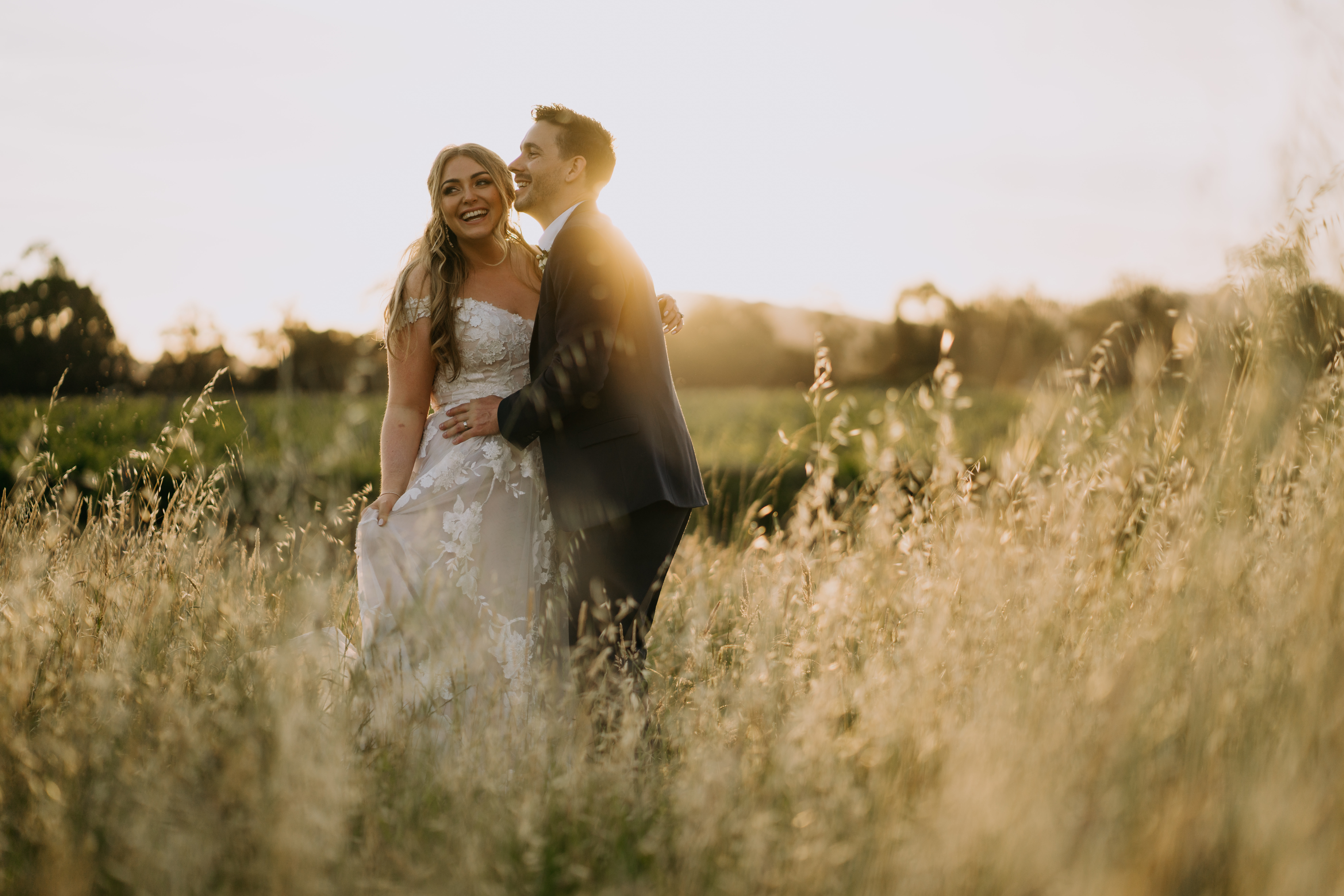 ST HUBERTS RD, COLDSTREAM
Owner and creator Mark Fenech and his partner Sandi will take you on the tour of their masterpiece. Mark, like Projekt, is one of a kind. Both charming and disarming, you'll be shocked at how quickly you'll find yourself talking so frankly with someone you've only just met. He is intrinsically linked with the venue as it is not just his creation for a place to gather and celebrate love, but also his home.
You'll see immediately that it's impossible to just make a wedding venue like Projekt. It only comes from a lifetime of tastefully collecting interesting bits of furniture and decor. Mark's gift, and there's no other word for it, at creating an atmosphere like this, works as a natural magnet for other exceptionally talented artists who have lended their craft to the walls, ceilings and entertainment that makes Projekt 3488 stand alone as the most unique wedding venue I've ever seen.
The enchanting reception hall offers incredible versatility to transform from a ceremony space, to a dining hall, to a dance floor. All thanks to Mark's ingenuity with the invention of a concertina table.
If an epic dance floor experience is high on your list of priorities, look no further. The garden at Projekt is yet another extension of Mark's infinite creativity. In the space of just a few years, Mark has transformed a carpark into a secret garden that appeals to all ages. Watch your grandparents and kids alike get lost in its wandering pathways, ponds and perfectly placed flora. Your guests will love the hidden seats, the outdoor fire pit and the upstairs deck overlooking the Warbuton mountains. With its proximity to the Redwood Forest and the Yarra River, there are no shortage of photo locations nearby, but of course, you could always get them all done onsite!
Projekt really is a year round venue as it doesn't rely on the outdoors or weather to give your guests an incredible experience. Another great thing about Projekt is it probably won't leave you on the fence. You'll likely already know after reading this if you should drop everything to visit it. If you want to give your guests the gift of having something to brag about to everyone they encounter, this could be the venue for you.
Where to even start? Perhaps by stating confidently that you have never been to a place like Projekt 3488. There is no comparison. It is in a world of its own.You won't find a vineyard or a winery, a brewery, or even paddocks with grassy fields. That's not what Projekt is. It's an experience. One that you and your guests won't be forgetting any time soon. As soon as you arrive in an unsuspecting area of Warburton and see the strong double red brick facade of what was once a masonic hall, with coloured lights beaming through the small circular window upstairs, you'll have an idea what you're in for.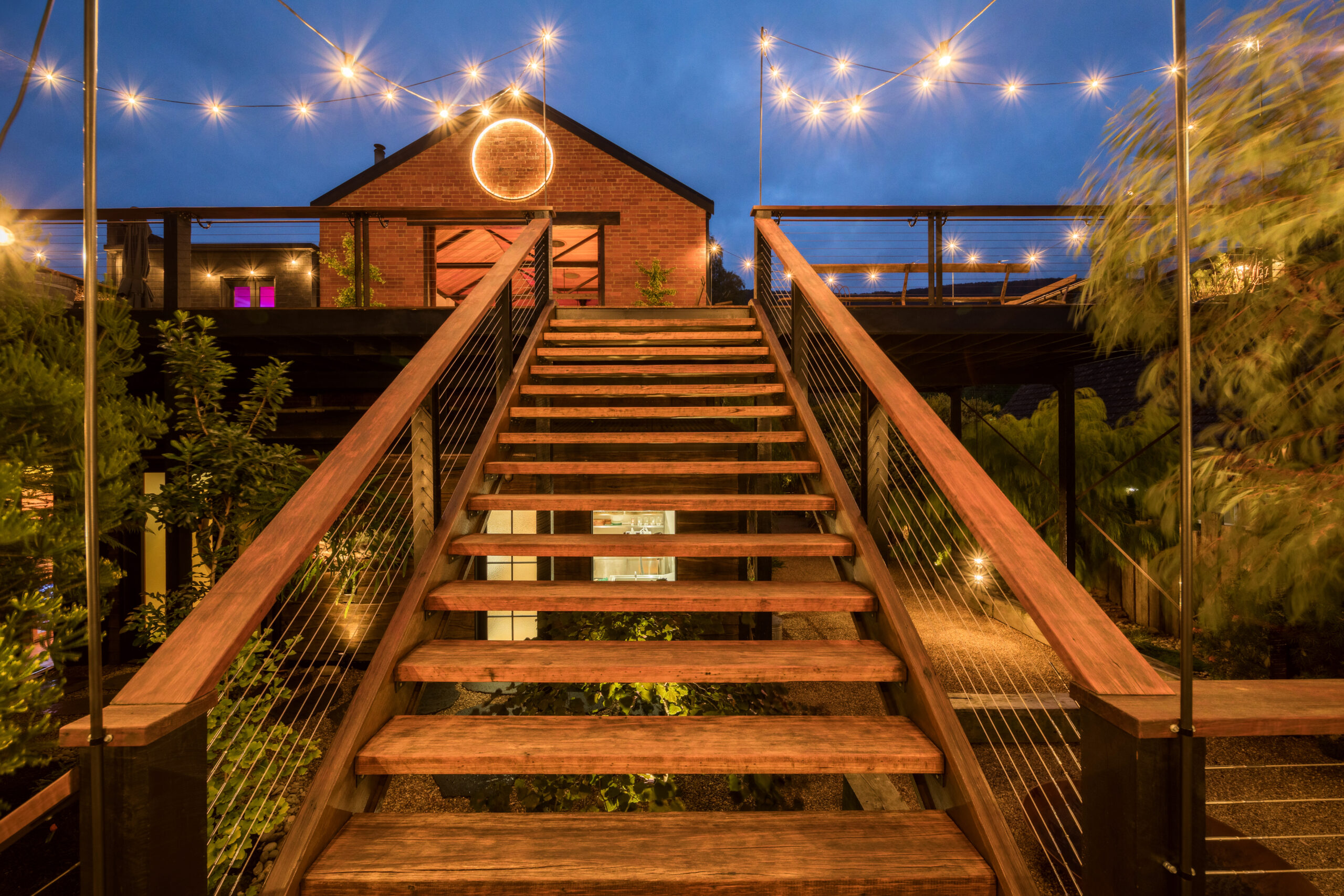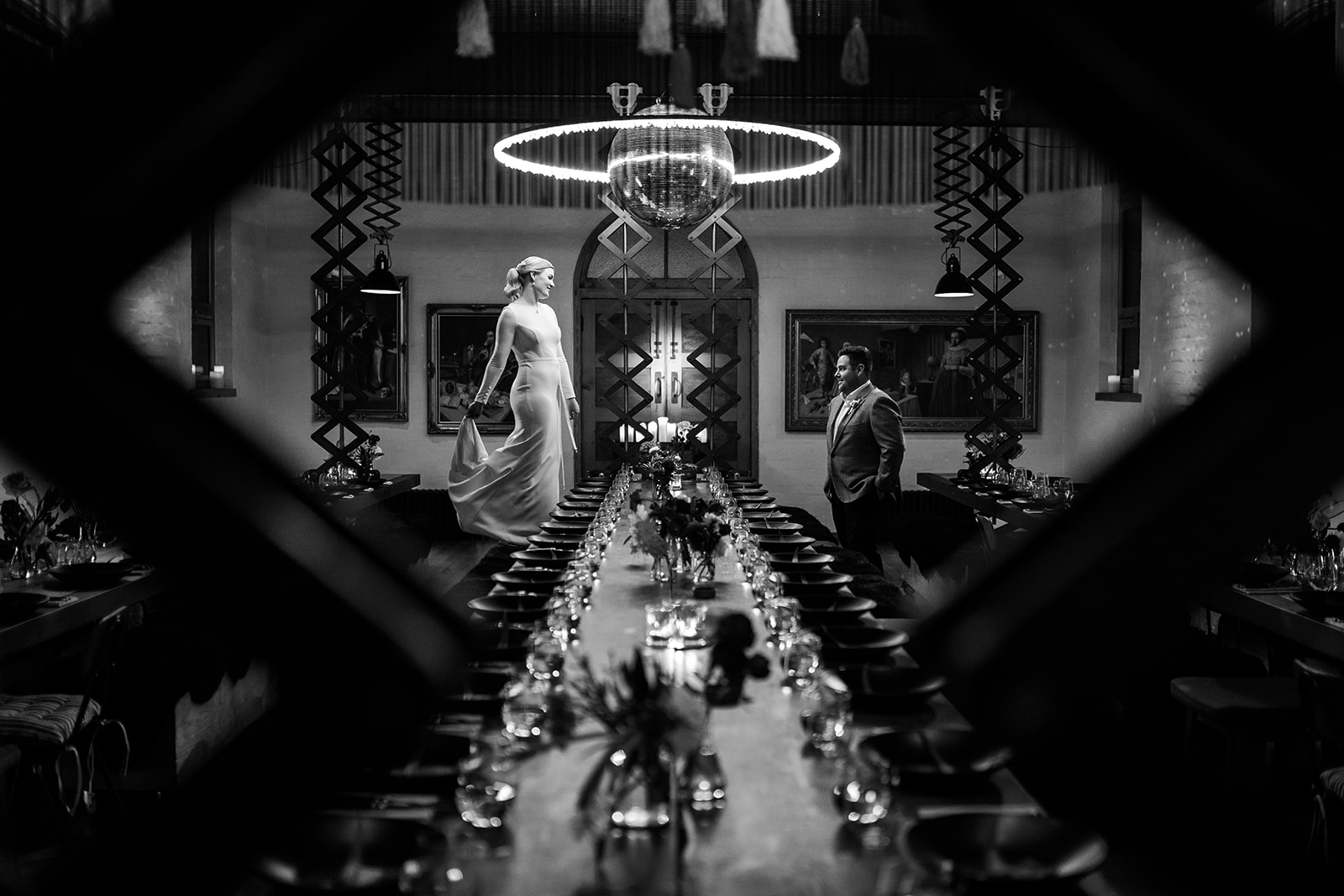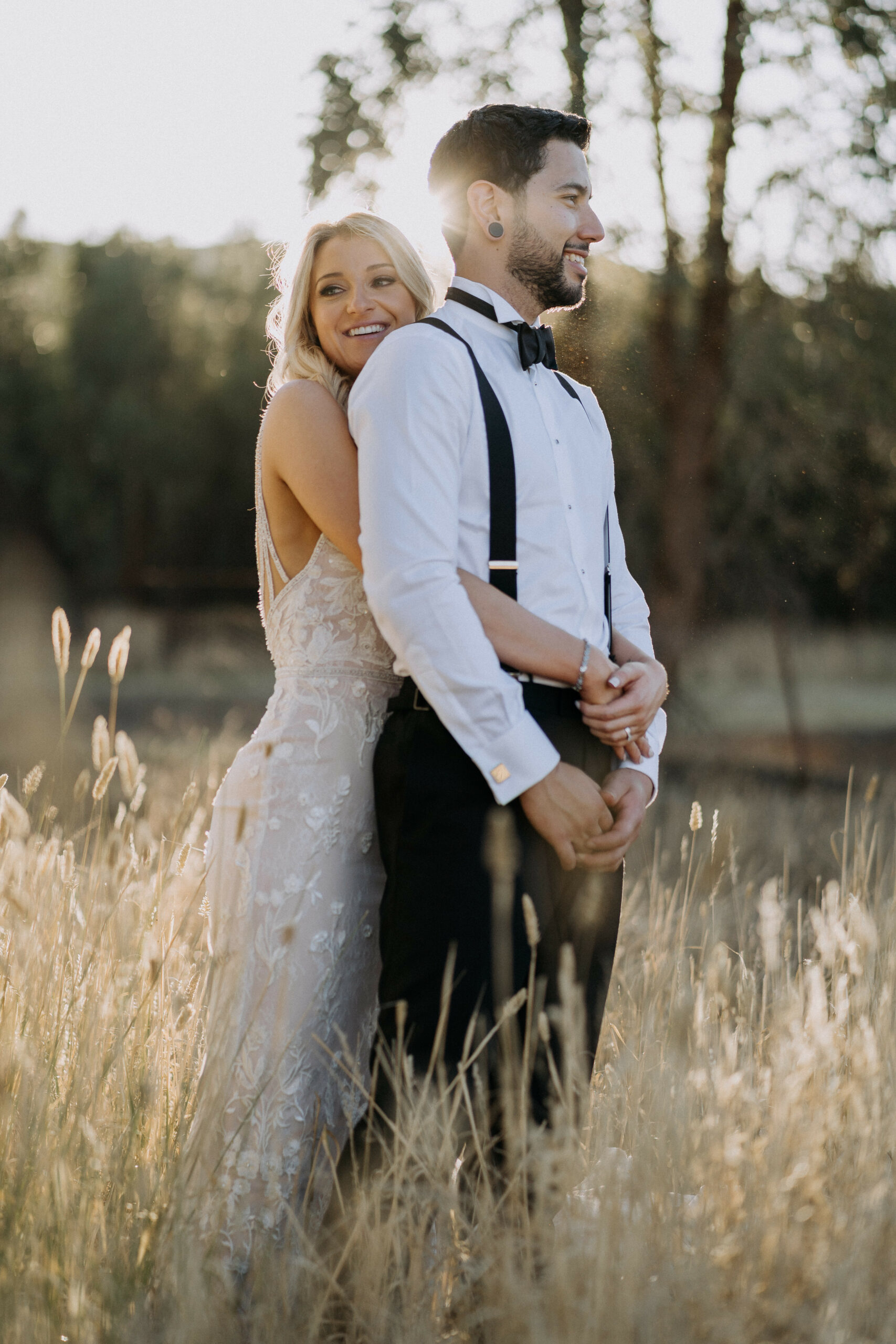 If what you really love about Yarra Valley venues is getting away from the city and enjoying the isolation of country VIC, exchanging the vineyards for a landscape of rolling hills populated with sheep, while still only being an hour and twenty minutes out of the city, then you can't go past Flowerdale Estate. The staff here are deadset legends and its onsite accommodation facilities are fantastic, complete with a tennis court, swimming pool and billiards room, so you can really give your guests an extended, unforgettable experience in the valley of 1000 hills.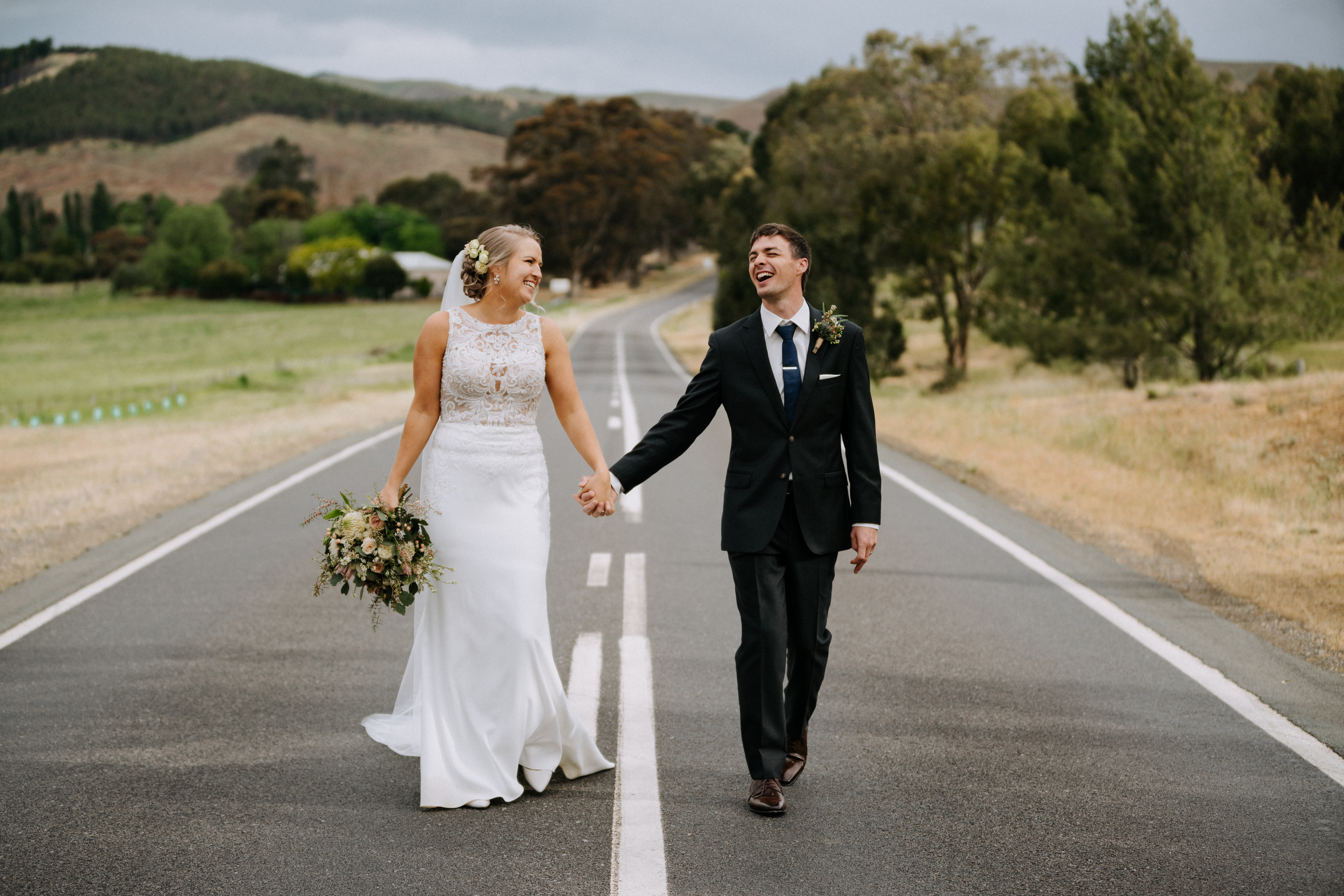 One of the things that always captures my heart about Flowerdale Estate is the farm animals that love coming and saying hello. Come and interact with the goats, a huge pig, and all the sheep in their paddock for some hilarious and super cute photos.
They have multiple ceremony spots to choose from including a perfectly manicured lawn that runs adjacent to their homestead and is enclosed by a lush hedge and rose garden. Or you can have it by the lake, under the gum trees with a more natural arbour made of tree trunks. Then there's also under the magnificent oak tree in front of the pavilion. The good thing is they're all so close together, I often use elements of each for photos throughout the day.
If you visit Flowerdale Estate for the scenery, you'll fall in love with it for its all round ability to put on an amazing day. The reception is held in a gorgeous open air pavilion that can be protected from the elements with a few clear blinds. The high ceilings and views of the hills mean your guests get to enjoy the surrounds of the part of the world you chose to get married in all night long.

Another advantage of being out this way is the clear, pollution free skies that allow some incredible star gazing. Take a breather from your wedding and follow me in the paddock at night for perhaps the most magical photo you'll ever have in your life.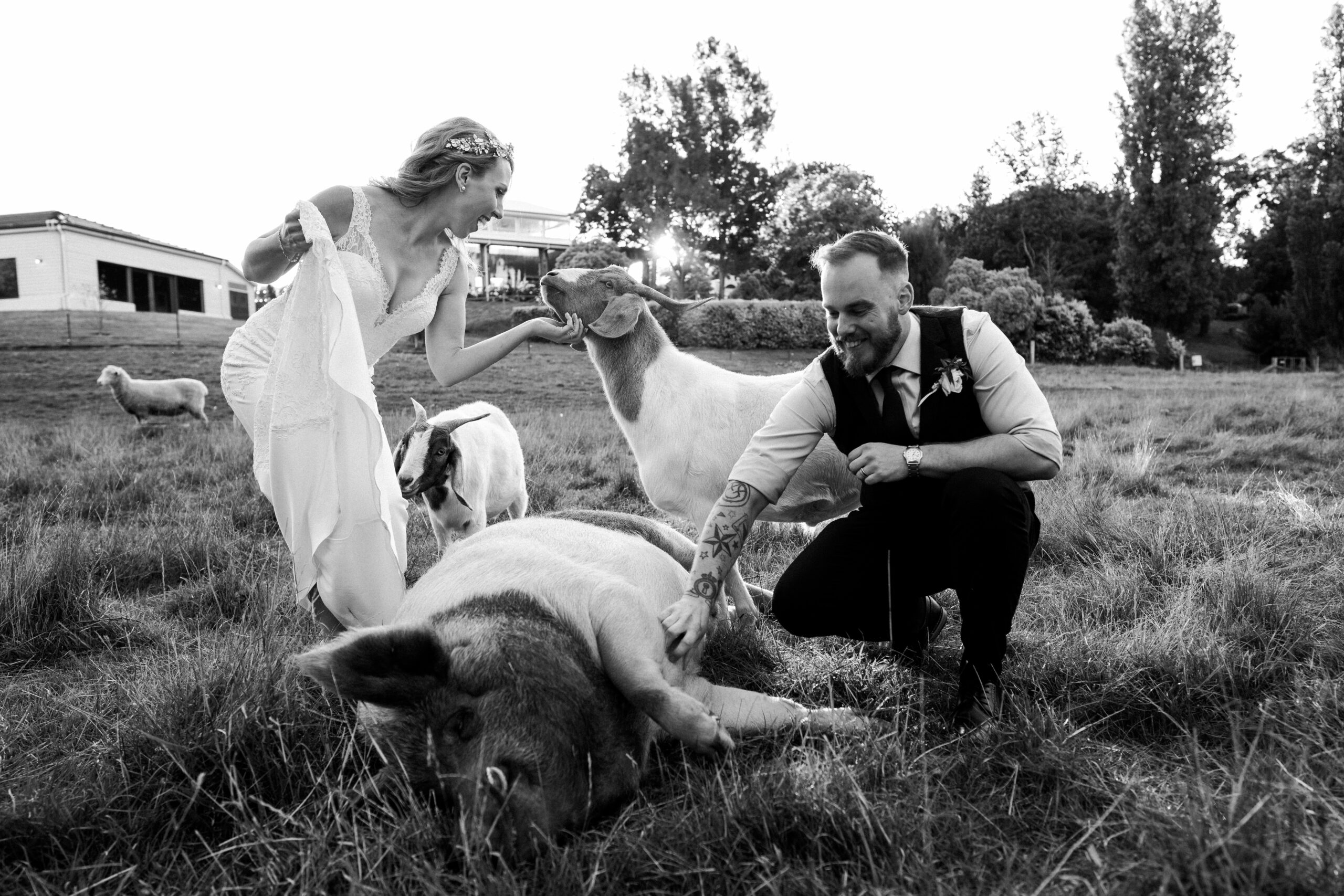 BROADFORD-FLOWERDALE RD,
STRATH CREEK
The historical home of one of Australia's most famous women, Dame Nellie Melba, Coombe Yarra Valley offers unique, heritage buildings inside exquisitely manicured gardens with a modern, light-filled, architectural reception area. The dance floor is underneath a still functioning clock tower.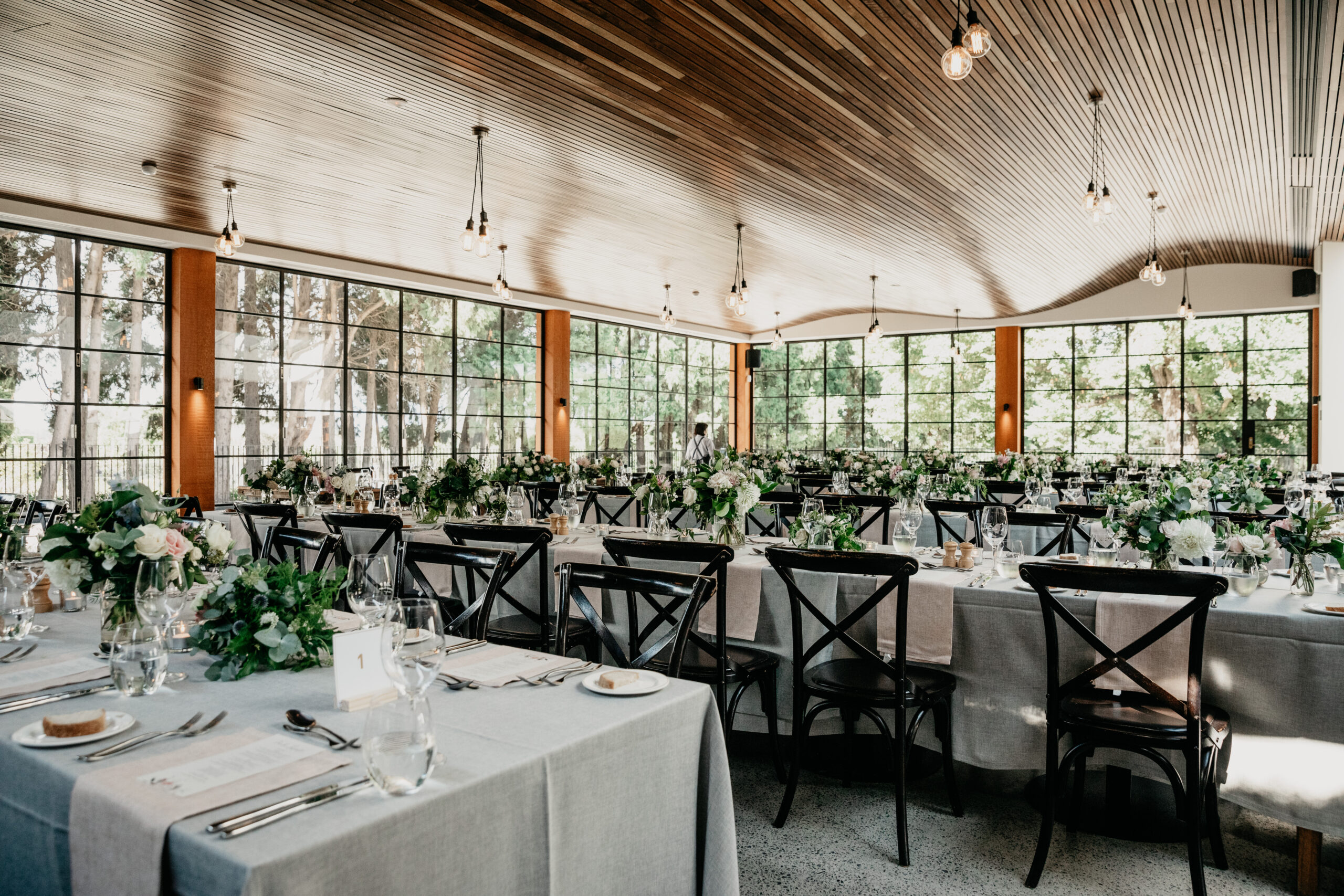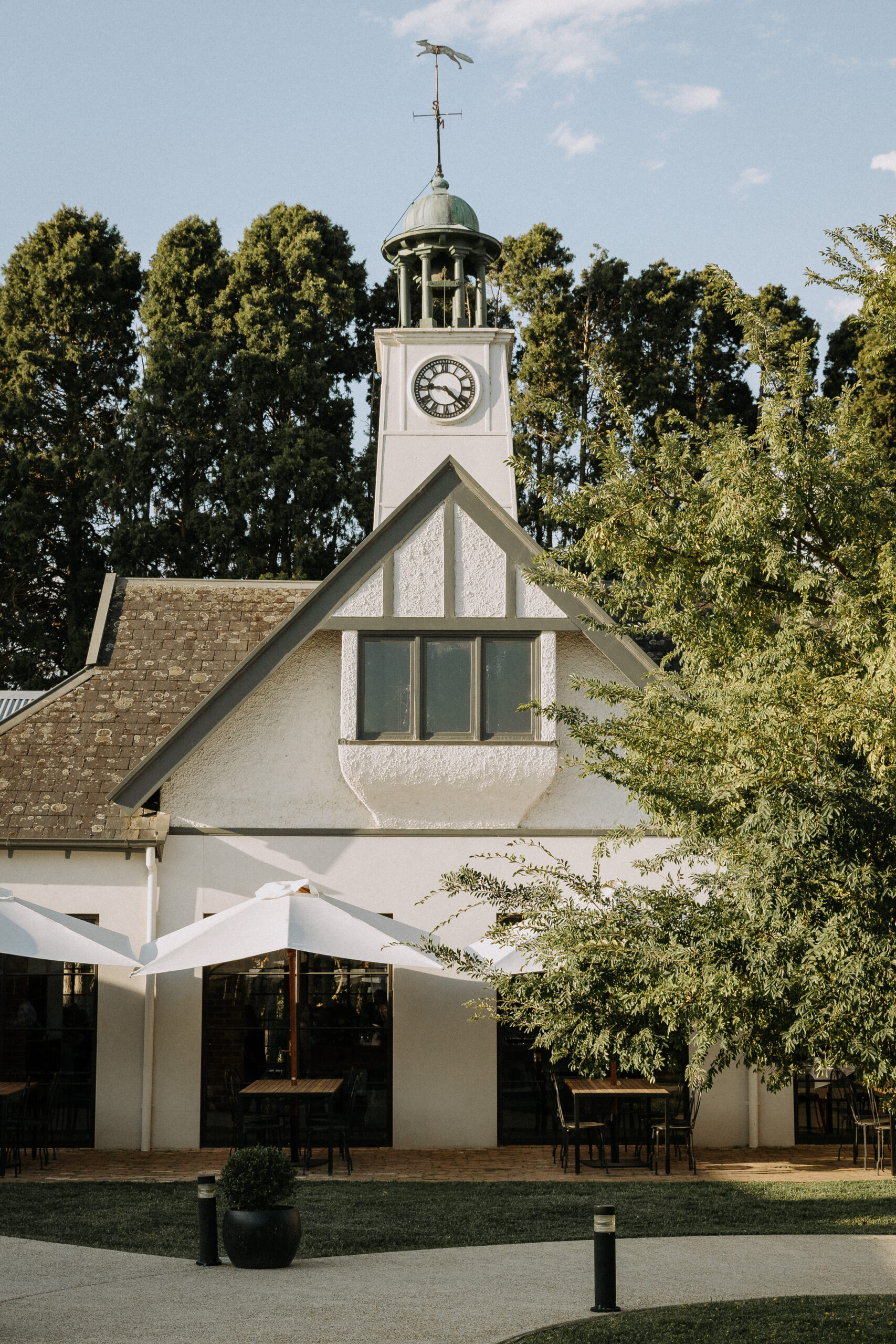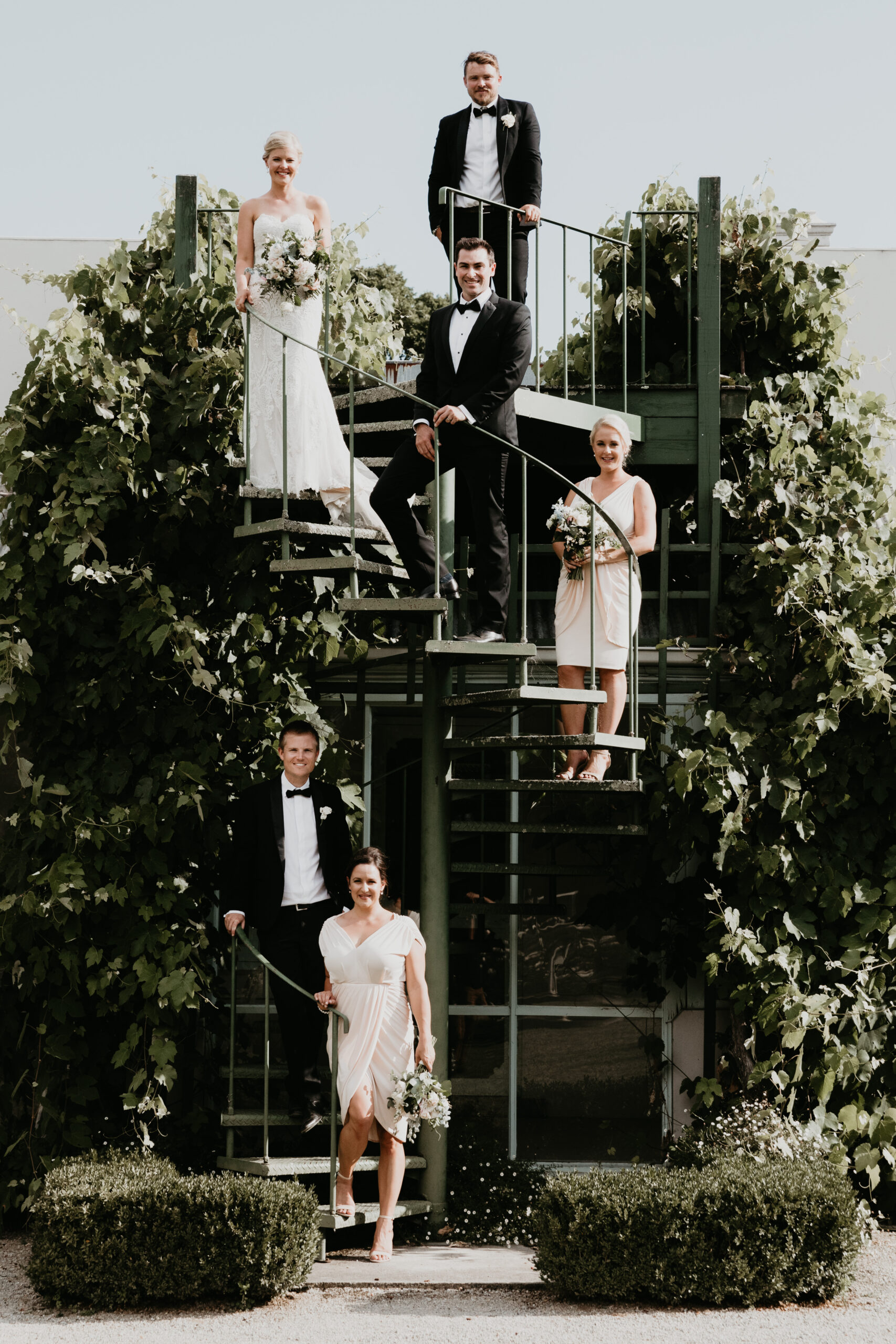 They compliment their award winning premises with region leading food and wine and the utmost professional staff.
Their menu is expertly designed by one of the Yarra Valley's finest head chefs, Neil Cunningham. I am consistently blown away by his food and if you get the chance to try it before selecting your venue, I'm confident you'll be blown away too.
Walking around their beautiful property, you get a great sense of being inside a secret garden, with boundless photo opportunities at every turn.
If you would like to have your ceremony at Coombe, there are many beautiful options including under the 180 year old oak tree, in the Italian garden or on the lawn in front of Coombe Cottage with a wet-weather option inside the Melba Gallery.
Ceremonies give you access to the gardens for your unmissable wedding photos. I particularly love Dame Nellie's homestead with its vine-covered, outdoor spiral staircase! We can also take a walk down their avenue of elms or into the paddocks that overlook the valley.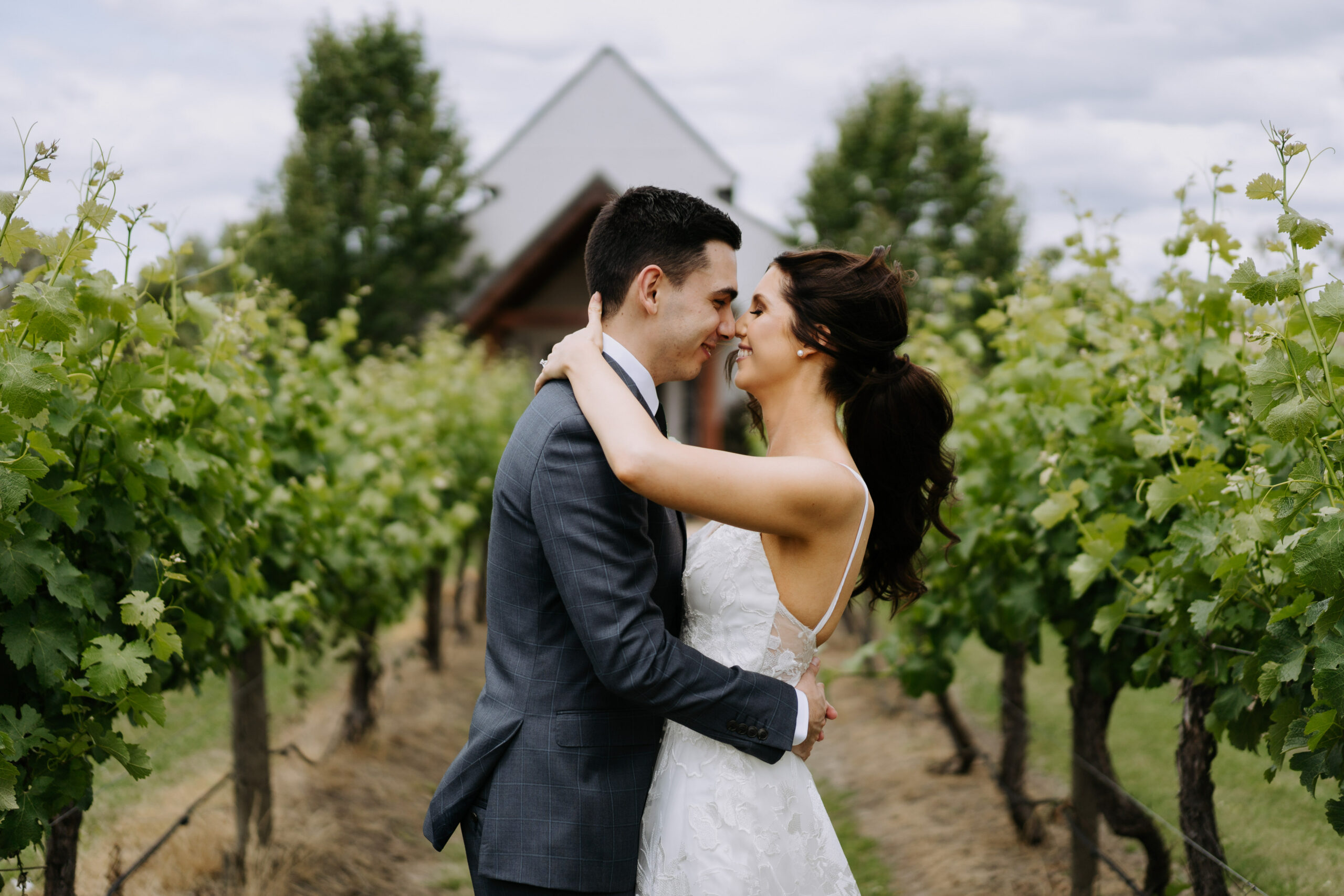 The first thing you'll notice when you arrive at Immerse is how welcoming they are. I've heard from so many couples who have booked Immerse because of how they were treated in their meetings. You're looking at a team who will be there for you the whole way and never make you feel like a number on a balance sheet. The second thing you'll probably notice is their beautiful chapel, set at the end of a row of vines and leaving you and your guests completely weather protected for the ceremony.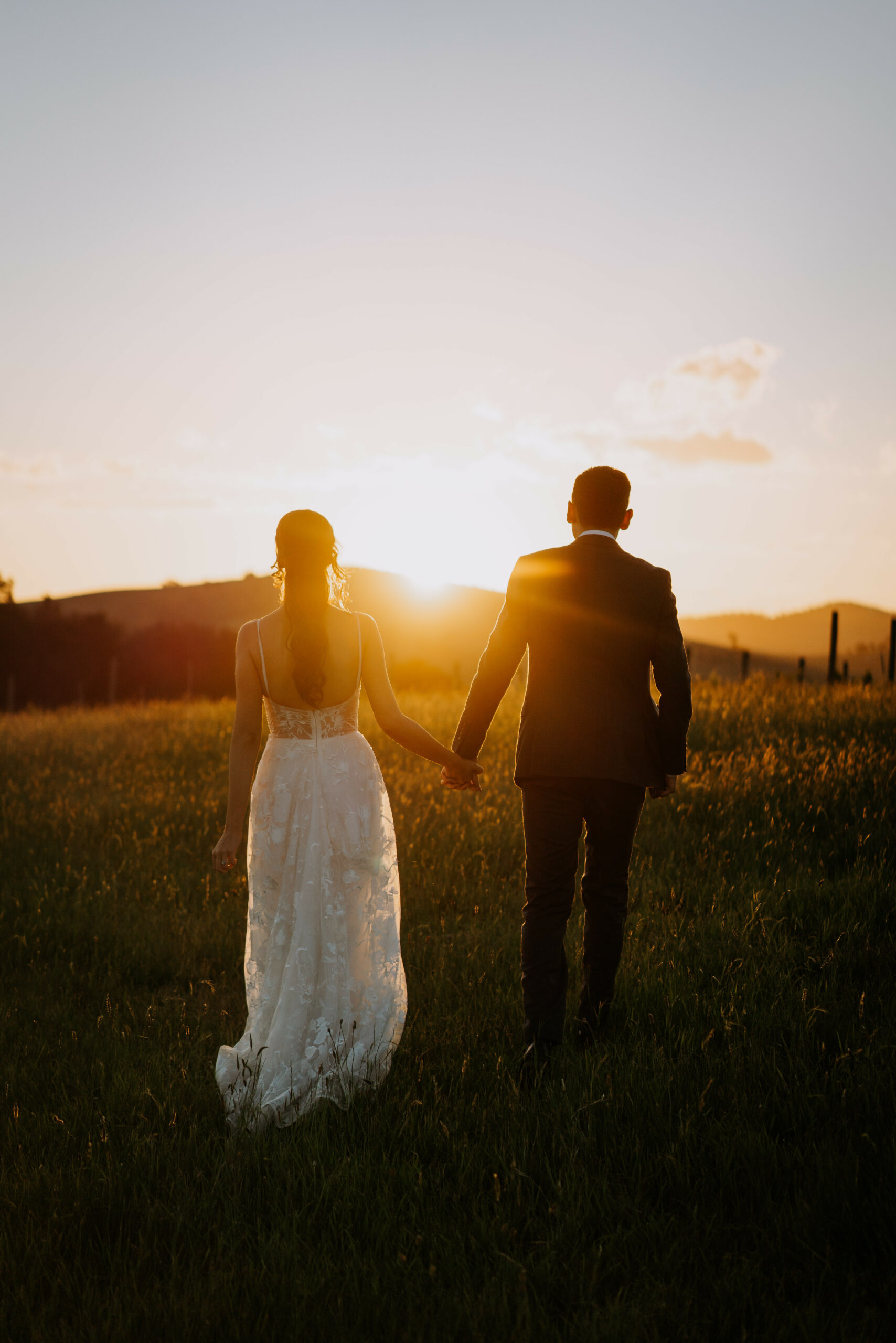 The floor to ceiling windows on the rear wall give everyone the magnificent outlook of the vineyard laden hills behind giving you the ultimate Yarra Valley backdrop when you're exchanging your vows.
It's those hills behind the chapel that we can head up to for your location photos and there's no better way to take a few moments with your partner and celebrate your marriage just the two of you (and me!), looking out across this beautiful part of the world where you chose to hold your wedding day.
If you've ever been to a wedding where you spent the whole day driving from one location to another you probably quickly decided you never want to put yourselves or your guests through that on your own wedding day. With Immerse's onsite accommodation, you can arrive in the early afternoon, get ready in seperate rooms, have your ceremony, location photos and your reception without leaving the property and only have to stumble to your bridal suite at the end of the night. There are many hidden savings when doing it this way, like not needing to hire a fancy car and not paying for your photographer and videographer to sit in their cars driving from location to location. We can spend all that time snapping away instead!
The reception hall at Immerse always seems to have that magical balance of never feeling too full, nor too empty and has a massive dance floor. Make sure you go with the option of the hot jam doughnuts at the end of the night! You won't regret it.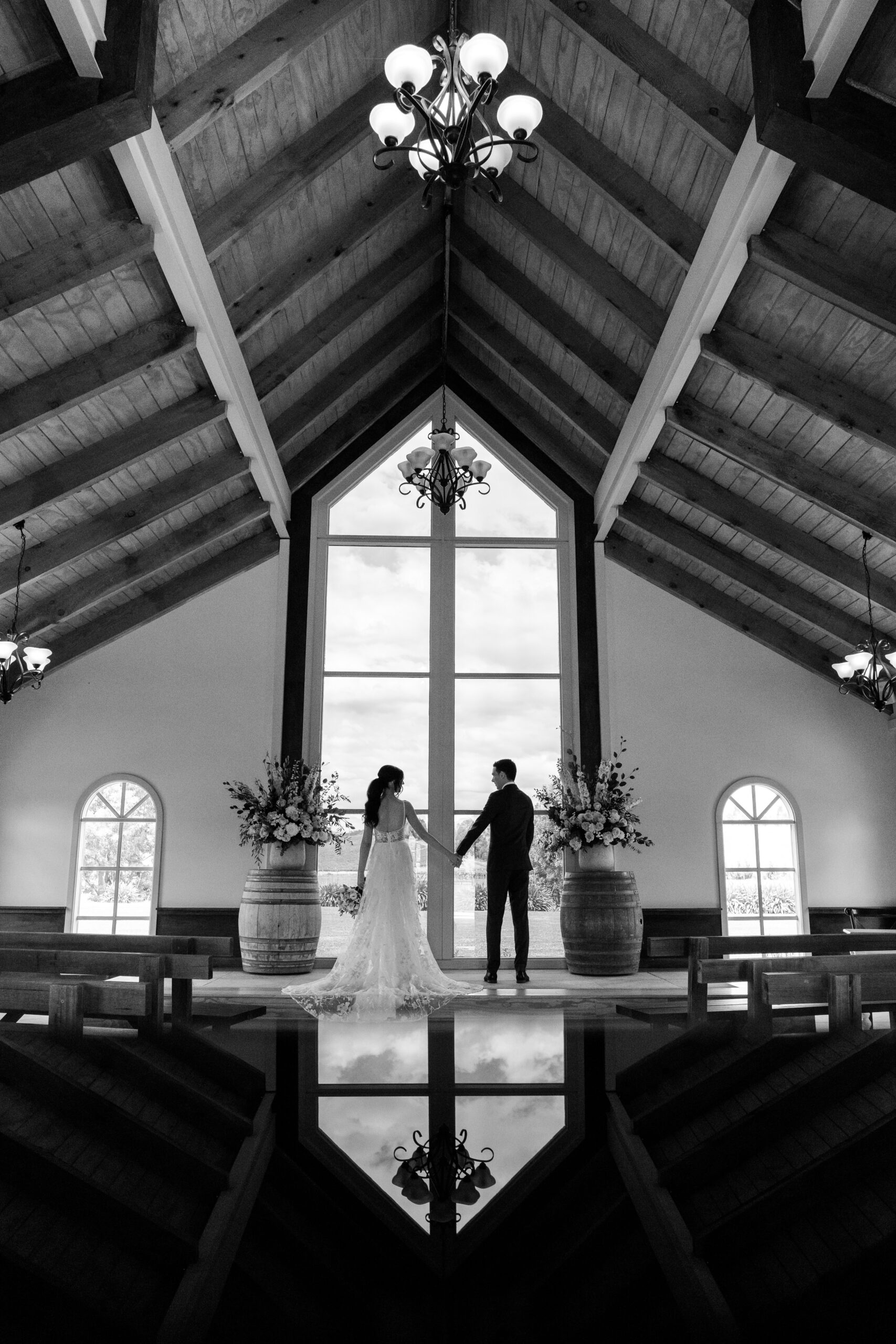 If the idea of a typical wedding venue has never tickled your fancy, and you prefer an authentic, rustic country property to make your wedding your own, you need to check out Olinda Yarra. You get the freedoms and good vibes of a private property wedding with none of the hassle. Originally a dairy cattle farm, owners Shelley and Rob have converted the massive property into an ideal venue for laid back couples to have their wedding.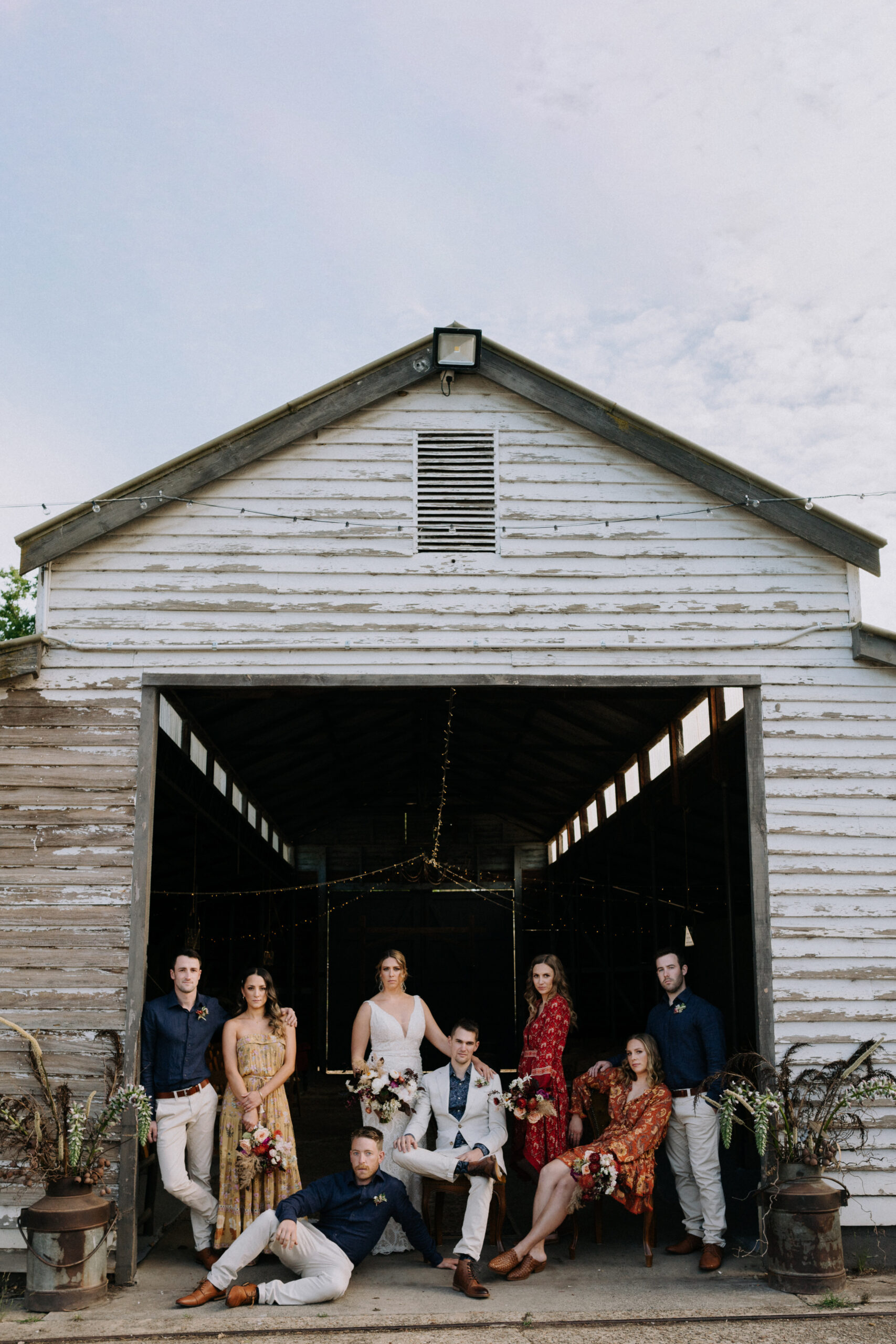 You've got so much space to play with. Take a tour of the property and Shelley will let you know all the different spots you can choose from to have your ceremony, canapés, photos, everything. It's like a great big canvas ready for you to paint your image of your own perfect day.
Want food trucks? No problem. Prefer a sit down reception? Done. Ceremony in a barn or under a massive oak tree? Your choice.
With over 1,000 acres to roam around and take photos, you'll be spoilt for choice. Think open fields with long grass, beautifully intricate dead trees, huge poplar lined driveways and it's also home to the iconic wooden railway bridge that runs alongside Melba Hwy.
There are so many cute touches that throwback to the era of dairy farming. With ducks and chickens roaming freely, white washed milking sheds, large silos, and a great Queen Ann homestead overlooking it all. Bring your lawn games to play on the lush grass and then use that as dance floor later! Kick your heels off and party the night away under the stars and festoon lighting.
There's a huge marquee there should you want to move it all indoors. It's yours to play with as you see fit and leave your undeniable mark on what will be a beautifully unique, country wedding.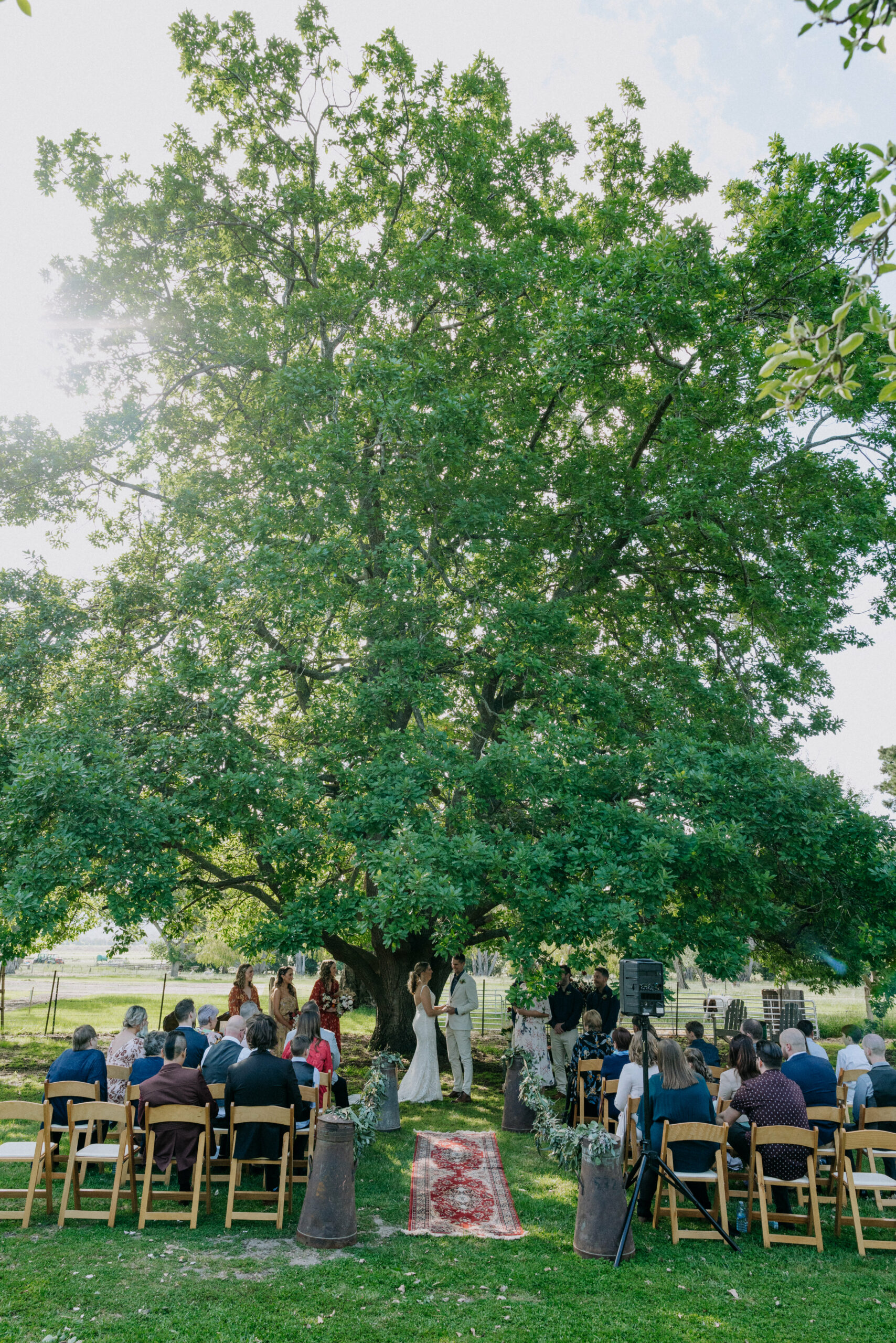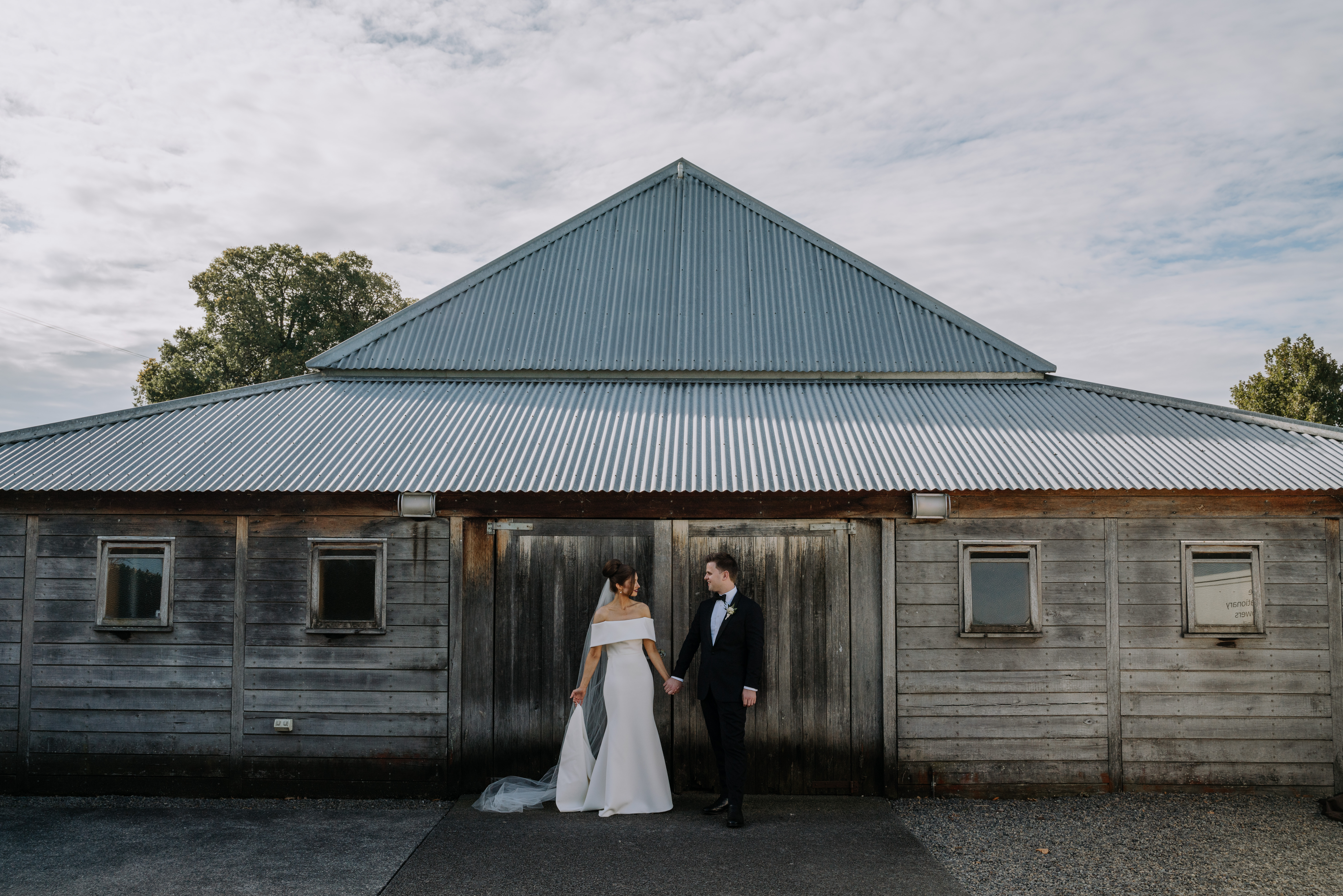 They put the same attention into their events as they do their wines where you know you will get reliable service, great food and wine and Yering's famous sweeping vistas.
They have ceremony and reception areas to suit anyone's taste; from their restored Historic Barn to their modern wine bar restaurant, and a wide allowance of guest numbers with a minimum of 30 and a maximum of 150.
They also house one of the prettiest barrel halls I've seen which provides a unique location for wedding photography.
While they do not have their own on site accommodation, they are right next door to Chateau Yering, close enough to share the same driveway. Though the two are distinctly separate businesses, they certainly compliment one another with what they offer.
Yering Station is and has always been a household name in the Yarra Valley and their incredible wines have always waved the flag of the region abroad. They were, in fact, blazing the trail for the rest of the venues as the first vineyard in the Yarra Valley way back in 1938, so it's no wonder they've retained such a renowned reputation in the area as the OG vineyard destination.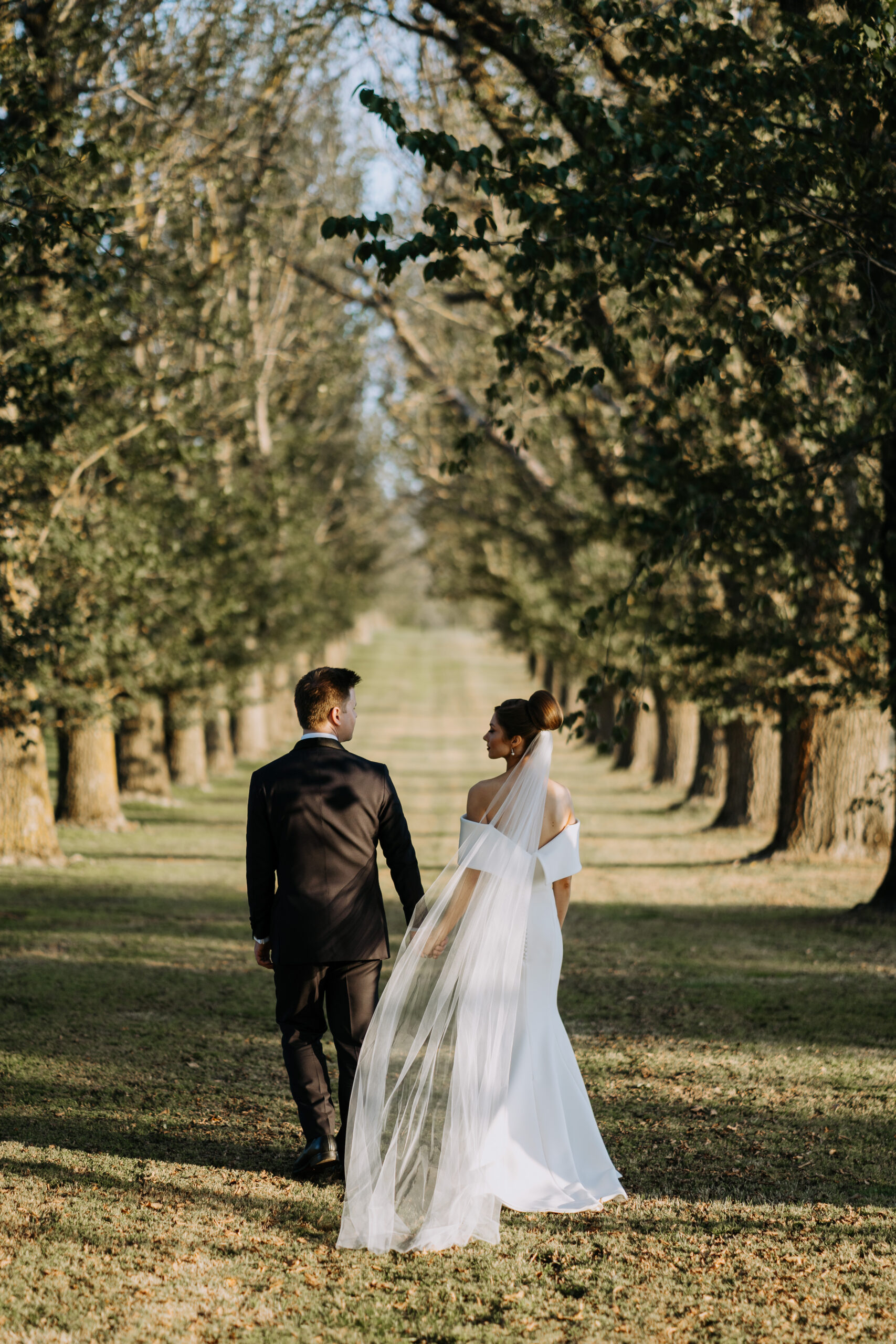 Relatively speaking, The Farm is the new kid on the block when it comes to weddings. This has some advantages if you were looking to get married somewhere that no one else on your guest list has been before.
It's amazing how much of the country atmosphere they can offer so close to the city. You have your fields of long grass by the river with a backdrop of rolling hills, a vineyard, a rustic barn and they even have a great relationship with their neighbours who have allowed me to take my couples next door to get photos with their herd of goats!
Your guests will absolutely love the reception area, with exposed brick and beams giving it a rustic feel, yet still maintaining all the modern comforts.
Some of the best wine in the region deserves top quality food to match and you will not be disappointed here. They have always treated me excetptionally well which I have often felt translates into how they treat you and your guests.
The deck out the front overlooking the vineyard is the perfect spot for canapes and sampling Rob's famous black label Reds.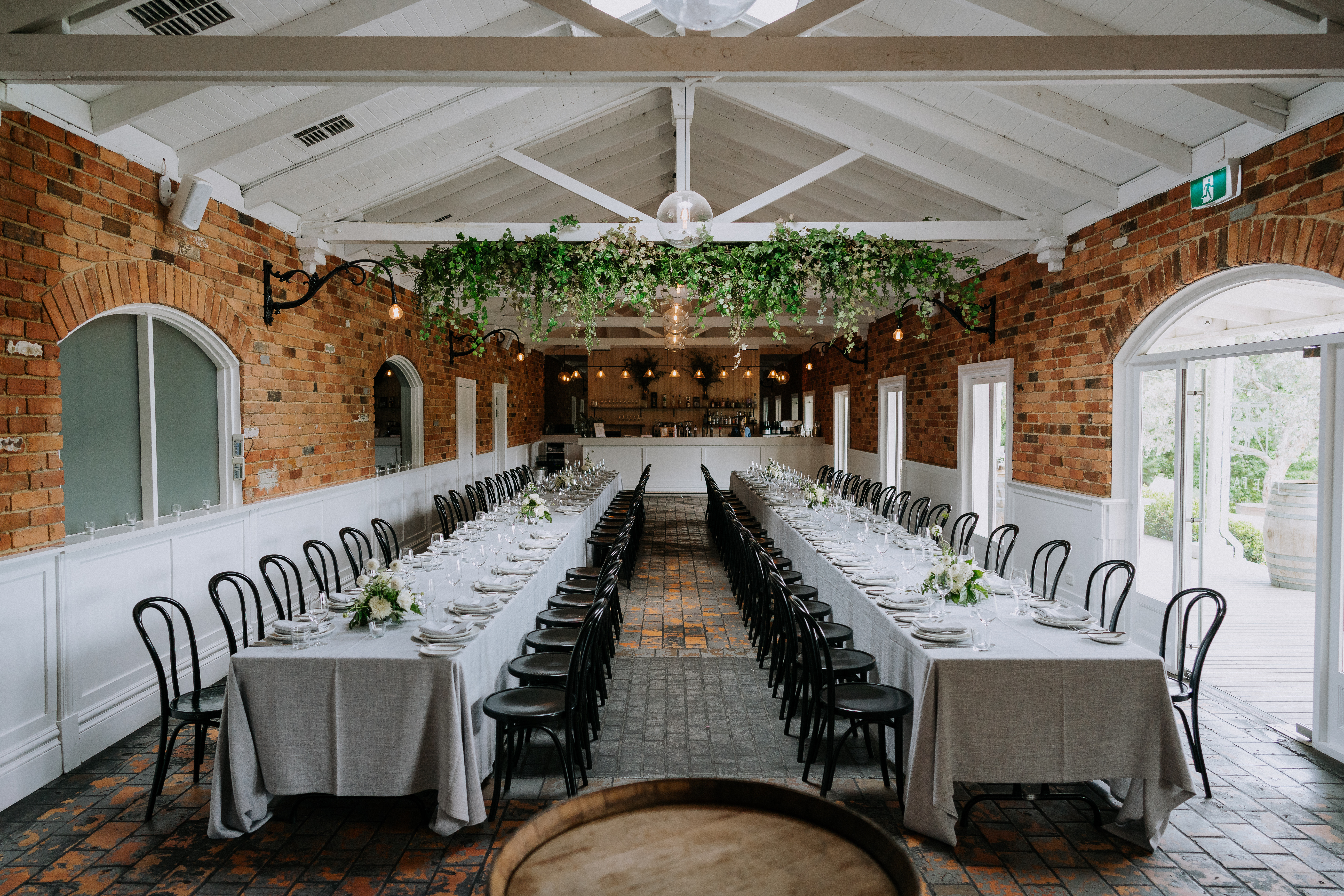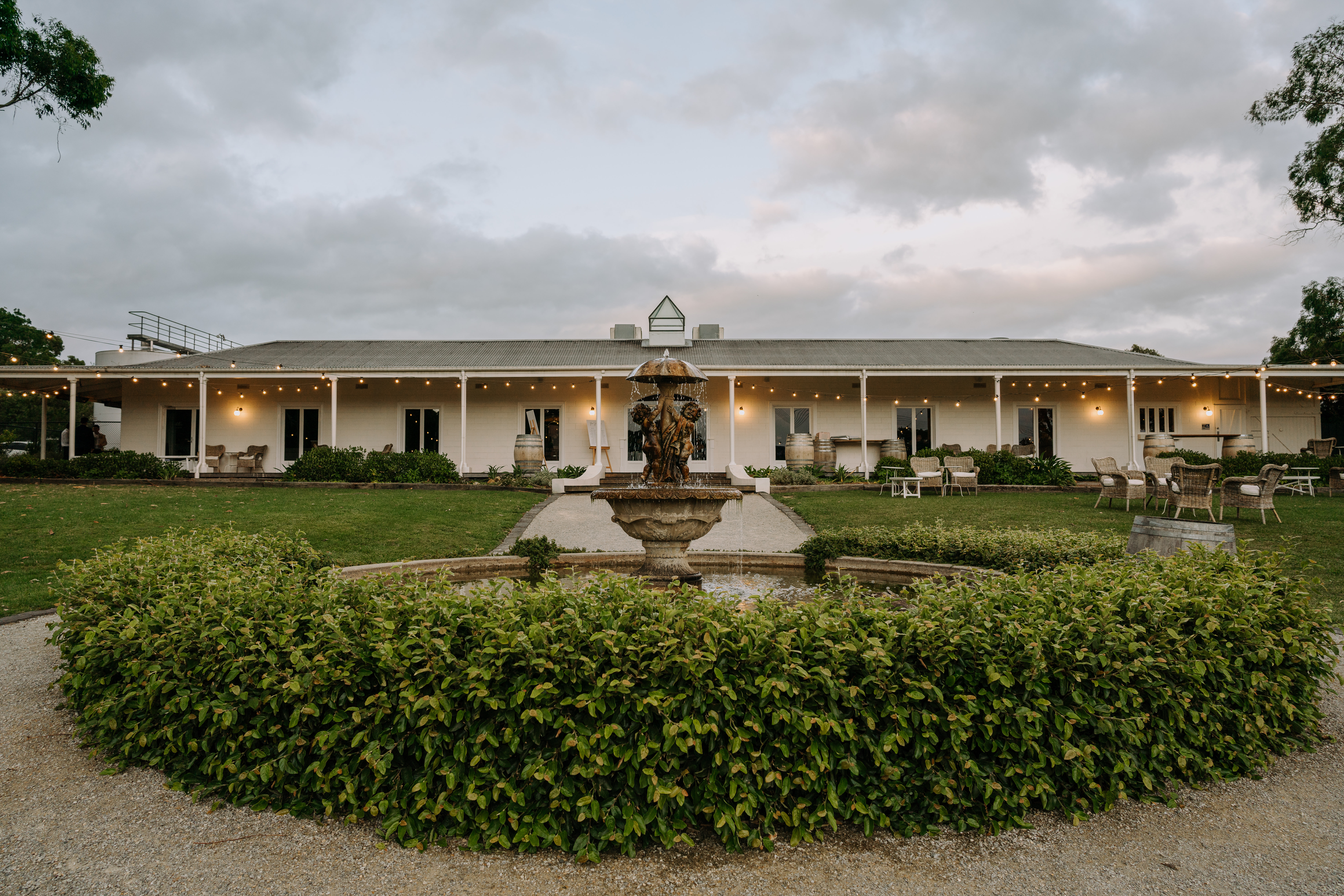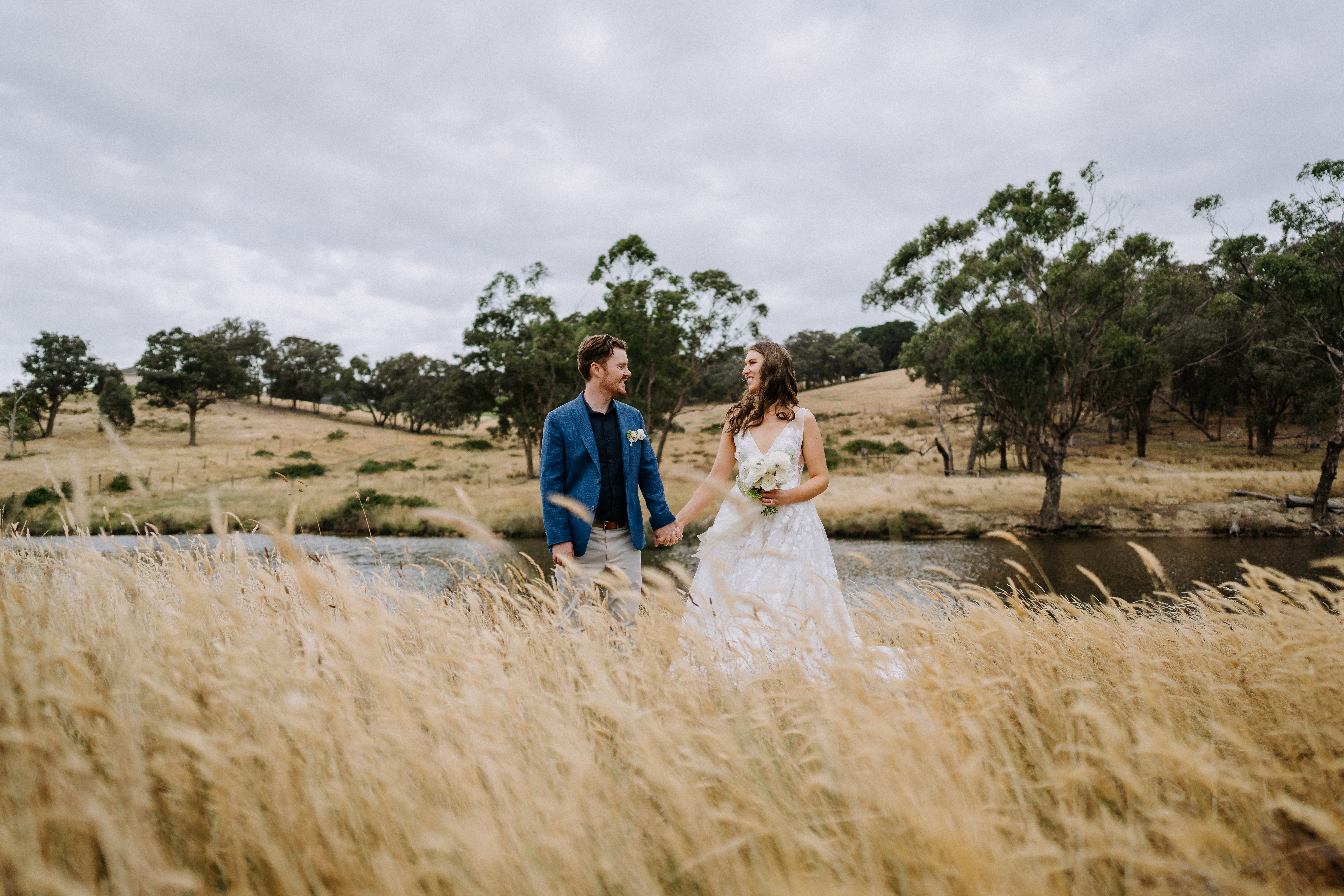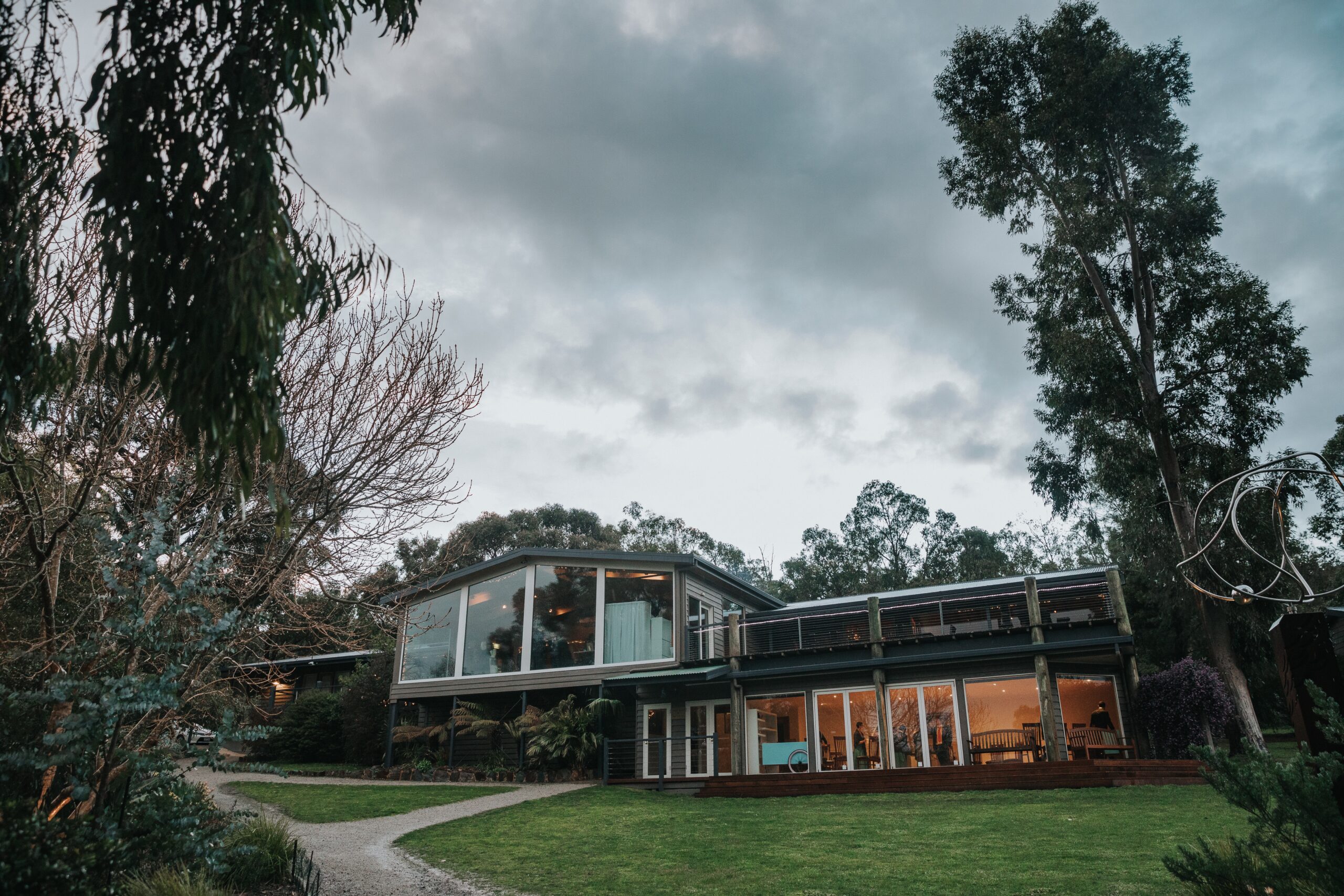 Yarra Valley Estate is situated on a beautiful property  on the outskirts of the Yarra Valley. With its abundant native Australian bush and gardens, its open air chapel and its reception area resemblant of a huge log cabin, it really appeals to couples who love the outdoors. It's also complete with onsite accommodation so you can have your whole wedding experience without needing to leave.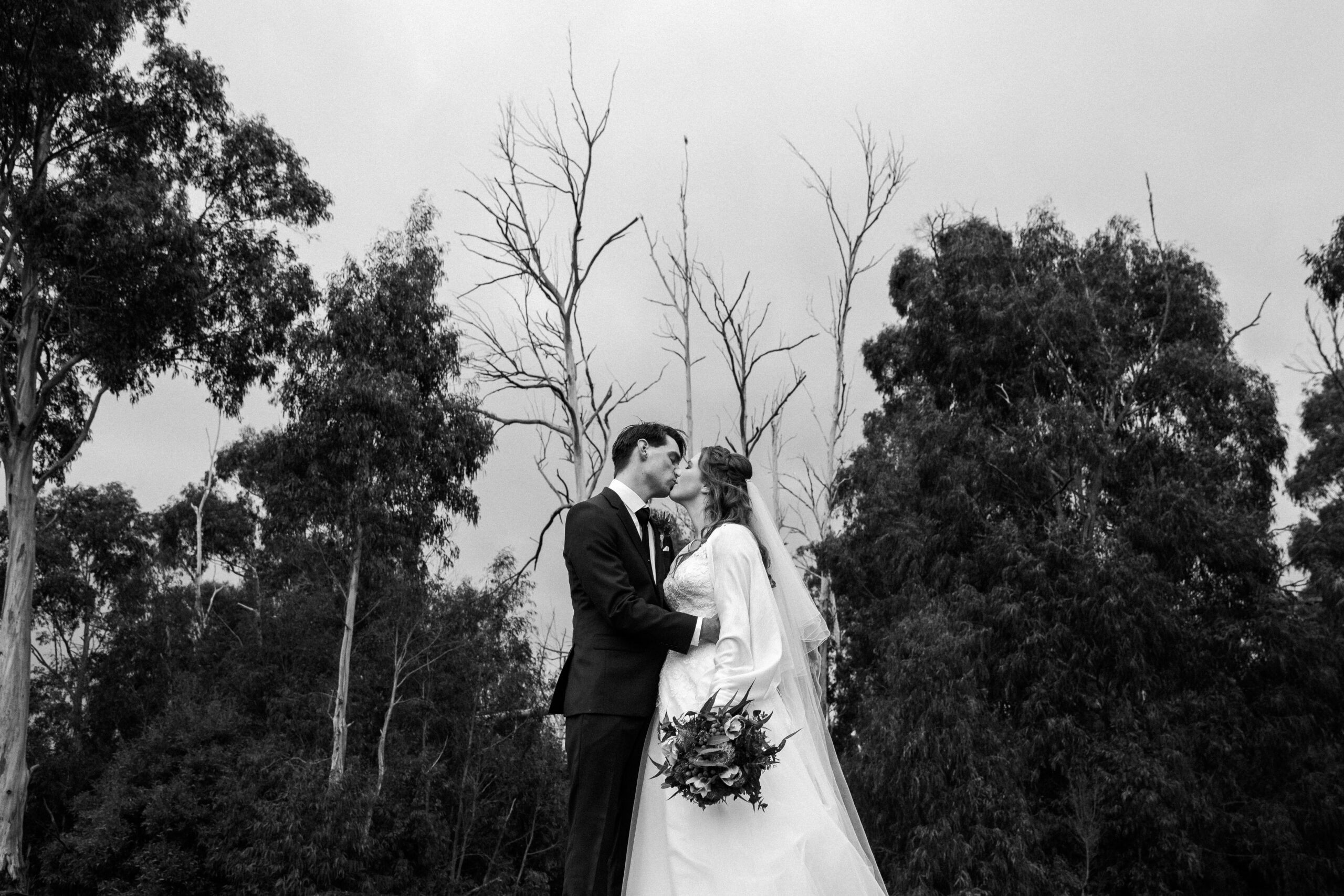 YVE actually has its own valley, with the back of the property doubling as a landing strip for small aircrafts, it makes for a wonderfully picturesque landscape as the runway is hemmed in by hills on either side. I love my little adventures down here with my couples as we take some time away from the wedding to roam the very raw, native landscape for some epic photos.
Their open air chapel is one of a kind, allowing all of your guests to feel immersed in the outdoors while at the same time giving the cermeony that traditional chapel structure. The chapel also serves as an insane spot for night photos so be sure to come down with me after the sun goes down for one truly breathtaking shot.
The reception hall is comfortably spacious with a massive adjacent dancefloor and to complete the log cabin vibe, it even has a huge open fire in the middle. The huge floor to ceiling windows by the dancefloor look out across a downward slope, making you feel as if you're floating atop the gumtrees.
They've also got some great onsite accommodation here which helps the logistics of your nearest and dearest coming and spending a weekend celebrating with you in the Yarra Valley.