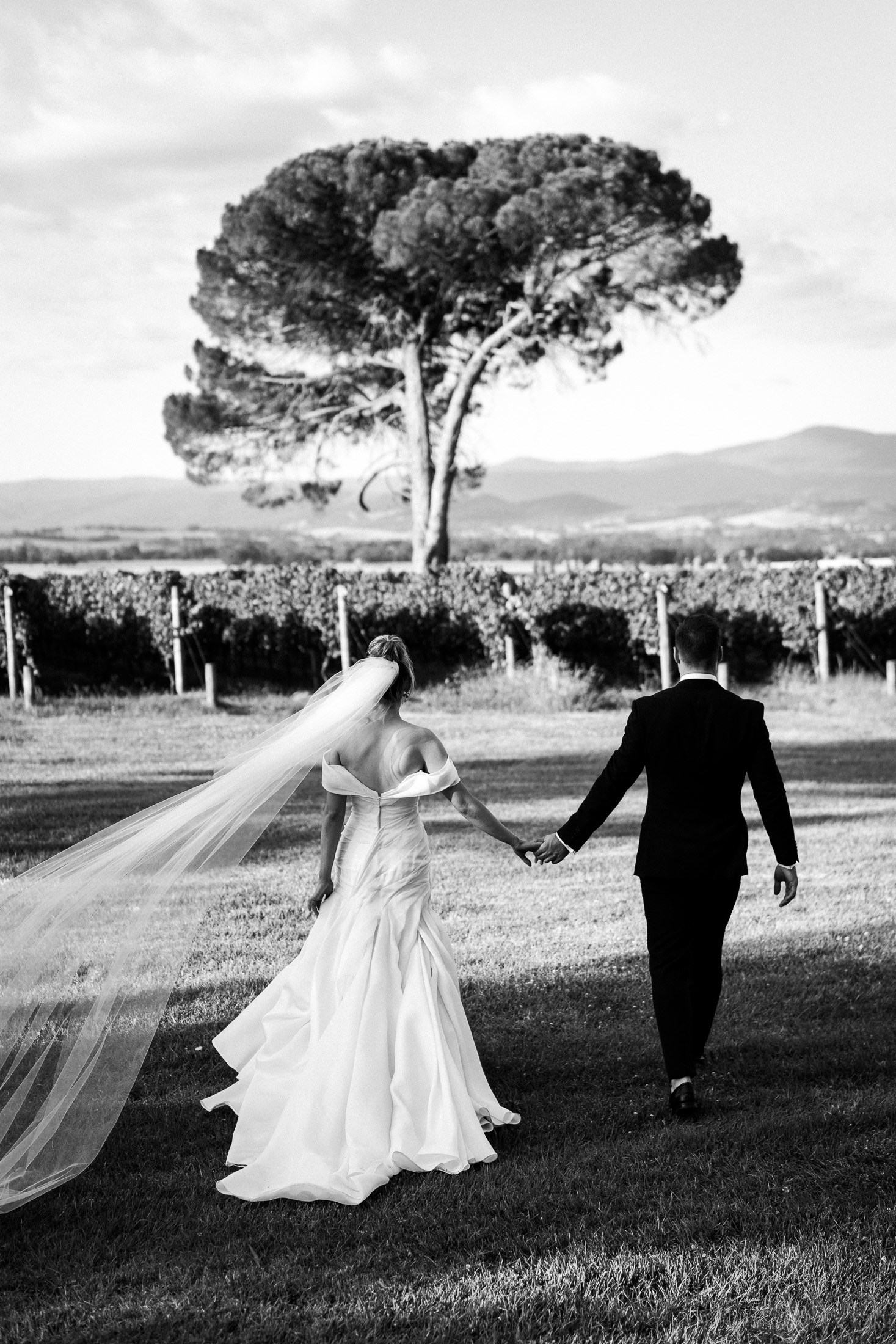 Stones of the Yarra Valley Wedding Guide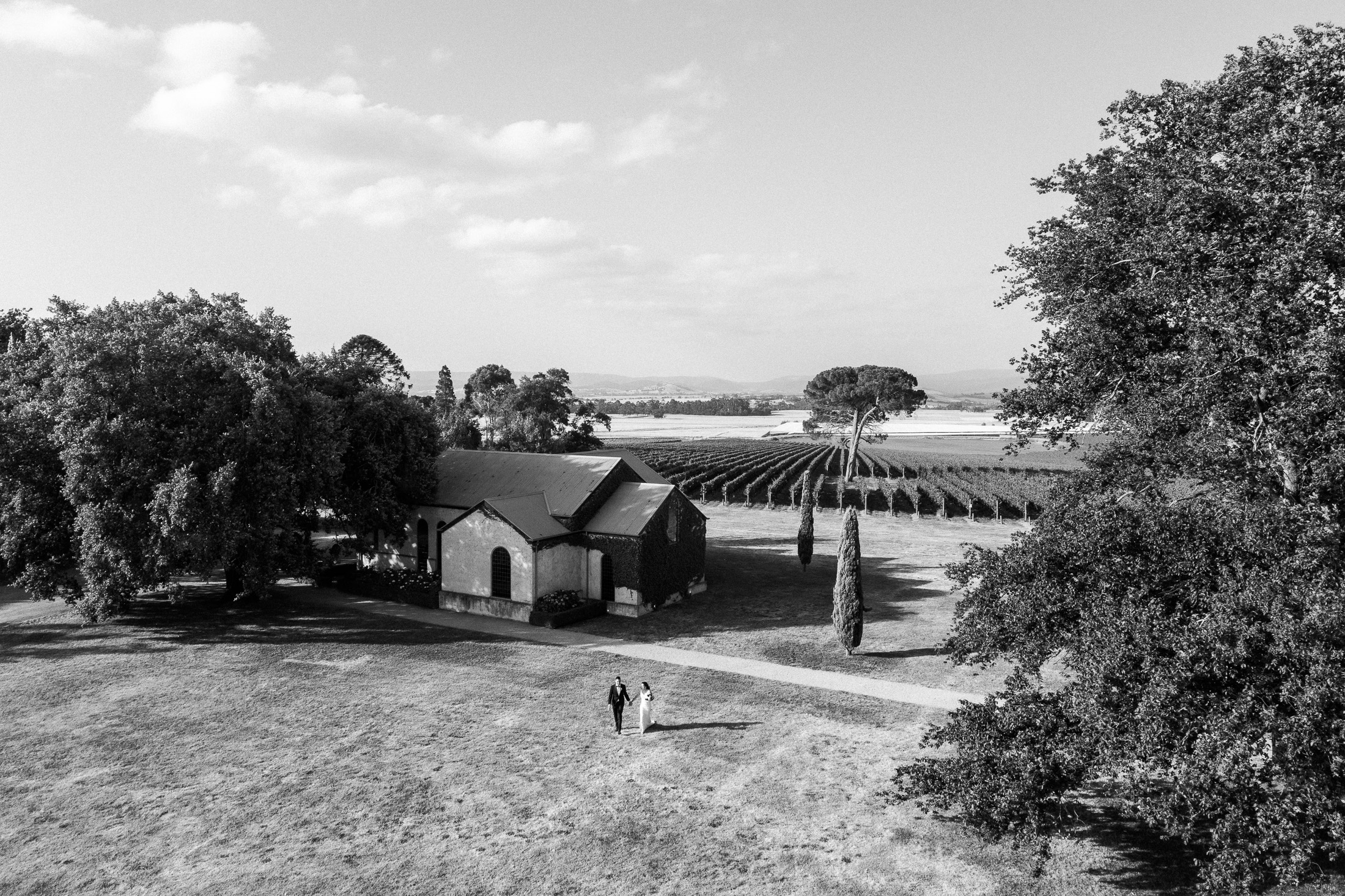 Stones of the Yarra Valley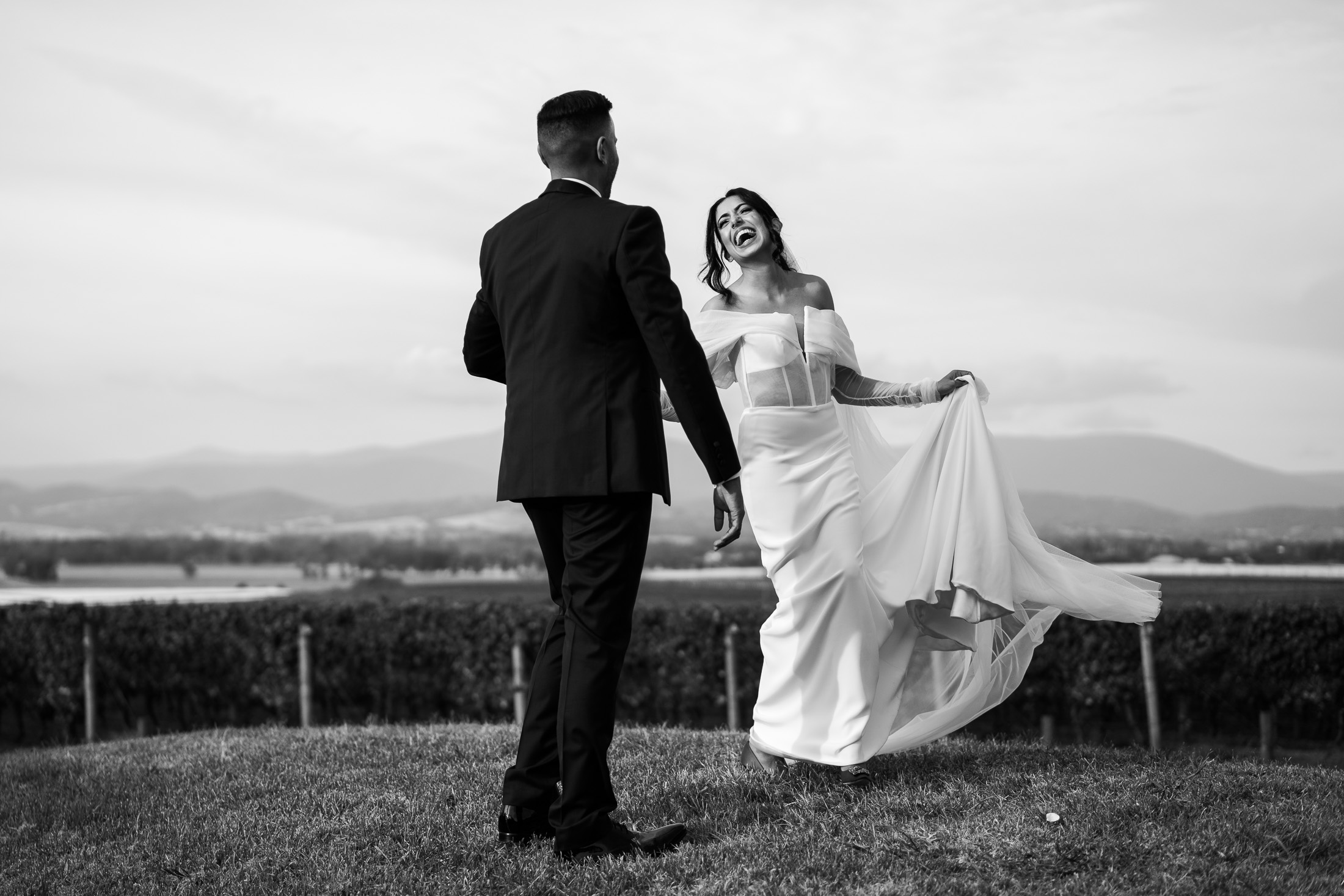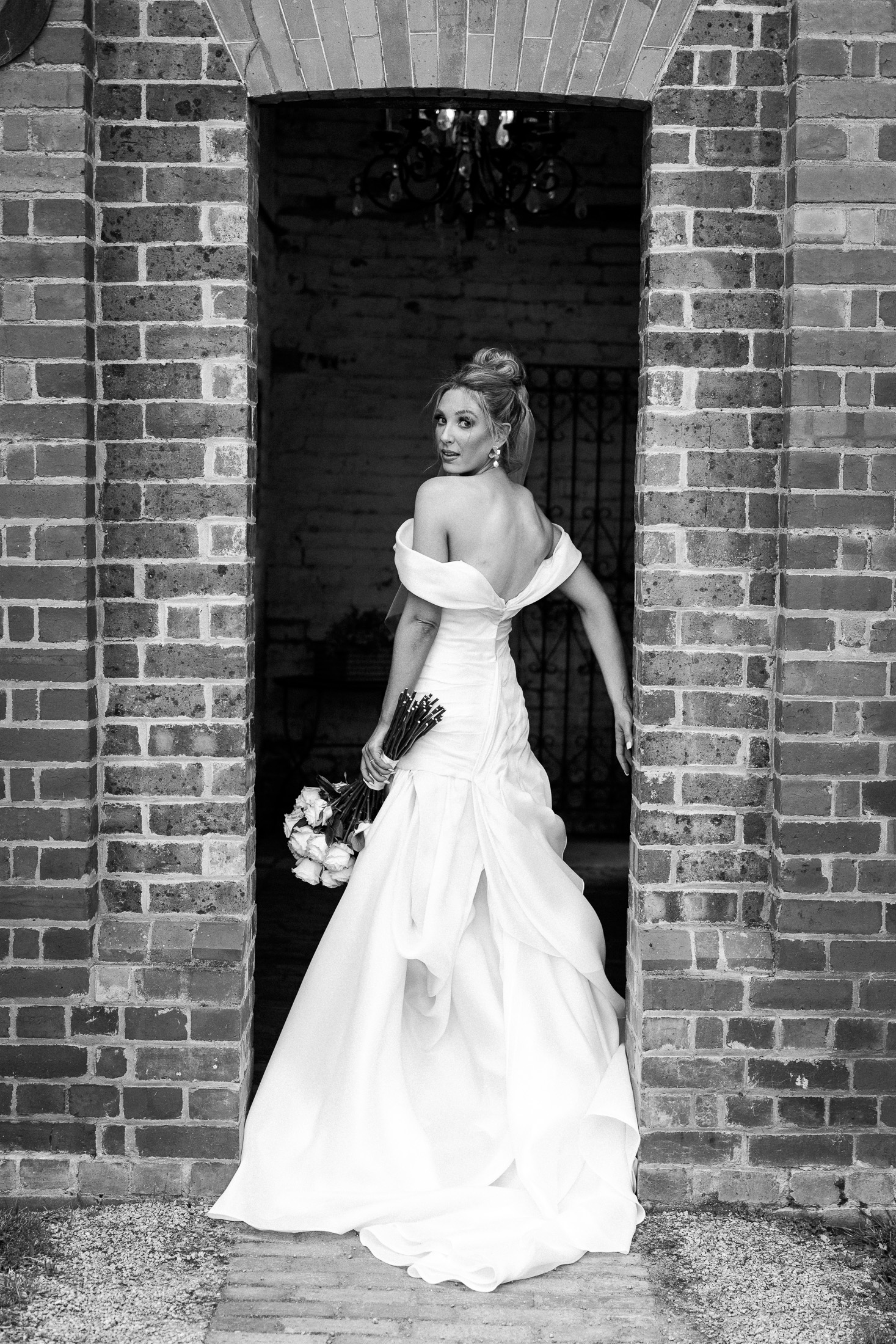 14 St Huberts Rd, Coldstream, VIC 3770
If you have booked your wedding at Stones of the Yarra Valley, congratulations. You have locked yourselves and your guests in to an unforgettable experience. Every inch of Stones is just so tastefully curated, it's an absolute pleasure to behold and a privilege to attend. Beset among rows of vines and century-old oak trees, the unmistakable history of the 19th century buildings brings a timeless charm that will endear itself to all. This wedding guide will help bring some clarity to how this stunning venue will be home to the best day of your lives.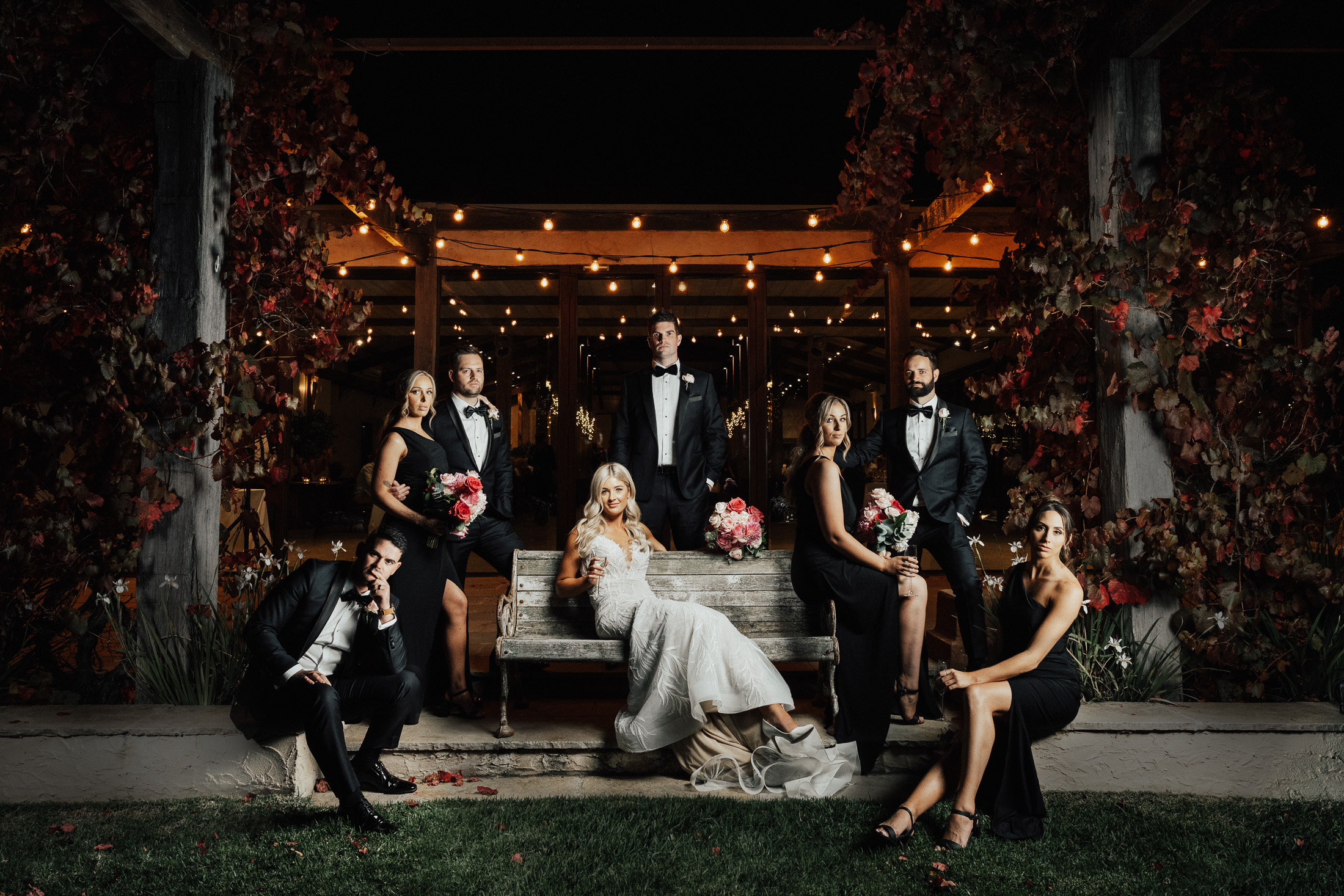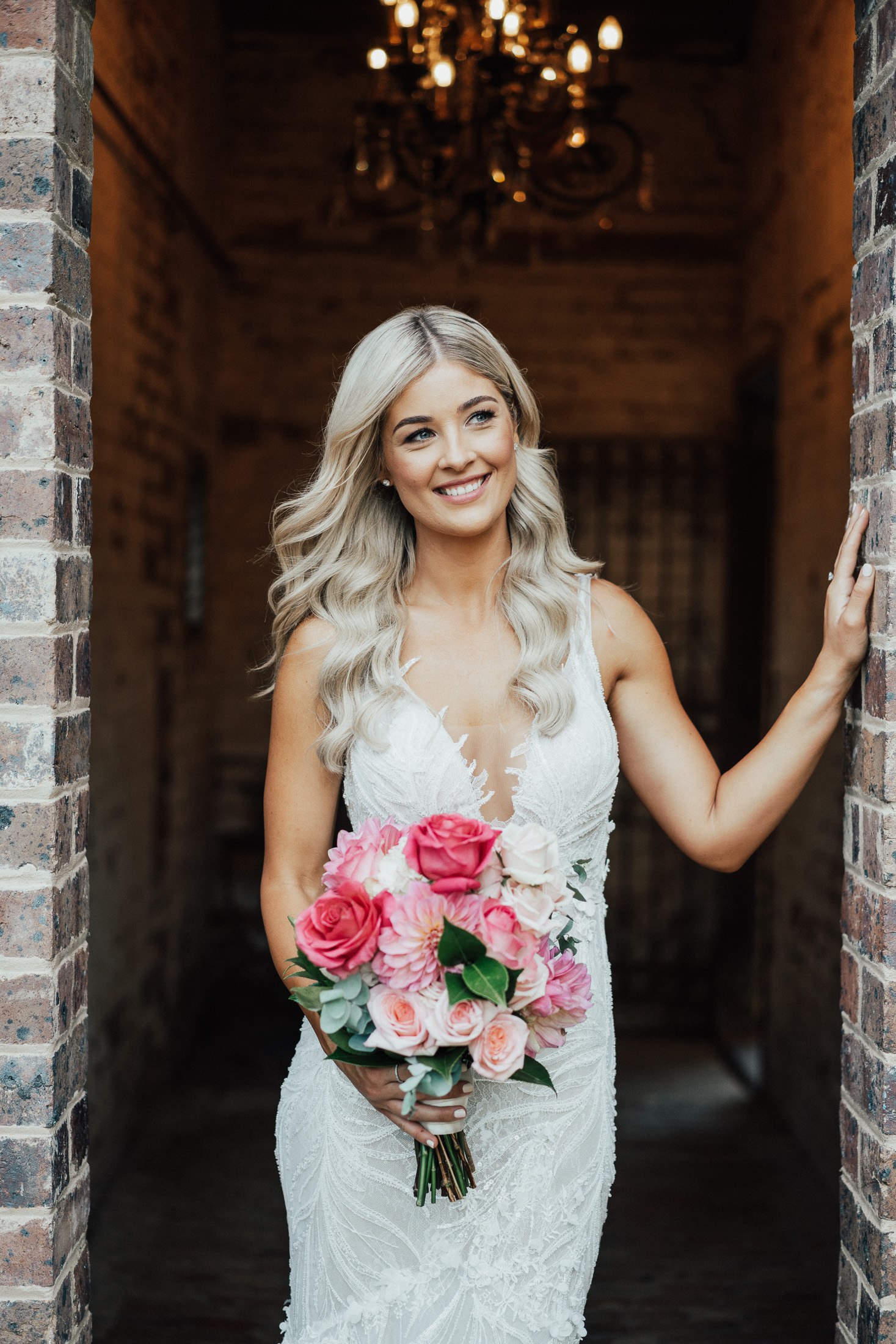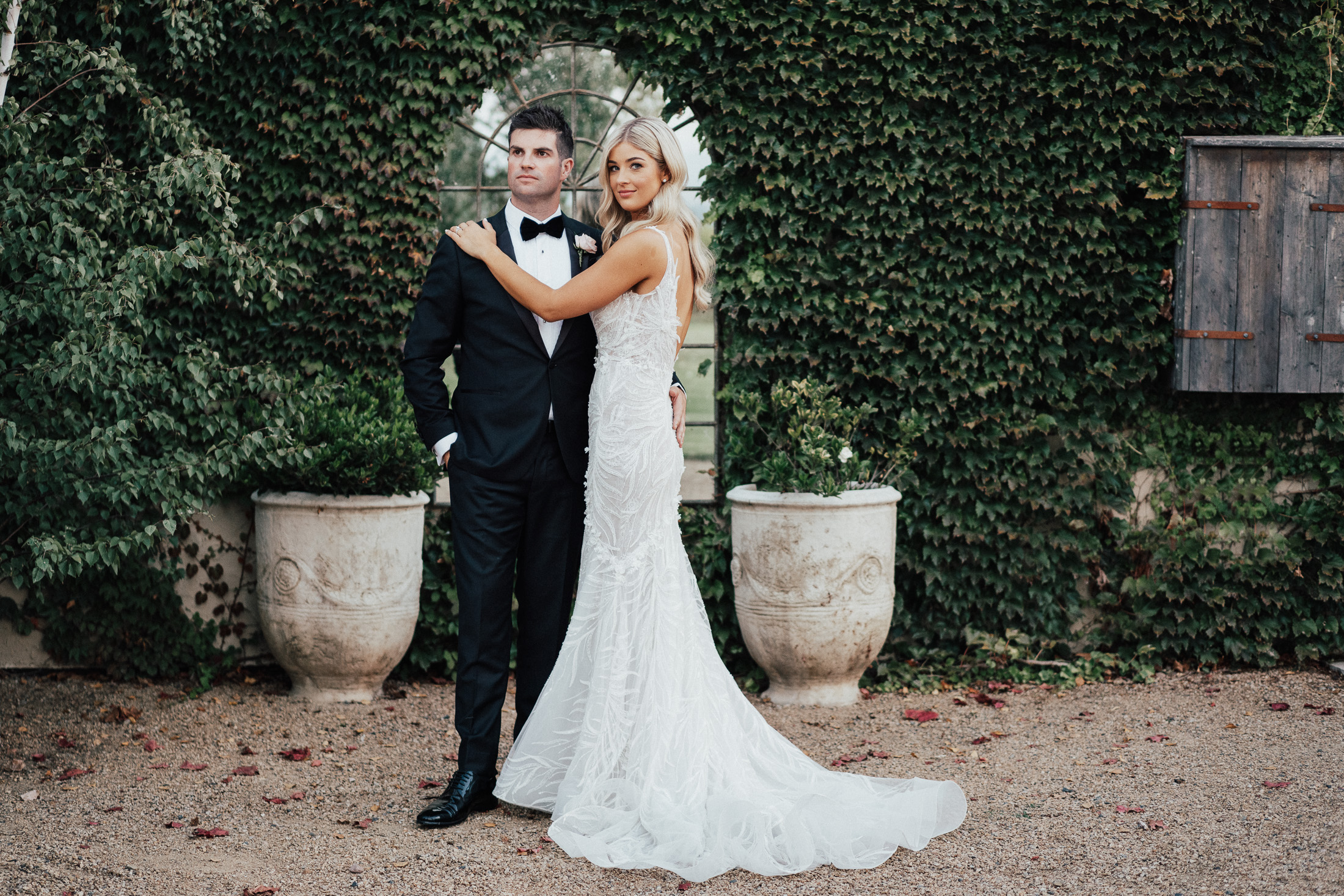 "We chose Stones of the Yarra Valley as our venue as it reminded us of all the beautiful buildings and landscapes that you would often find across Europe. We were blown away on our first visit and knew straight away that we needed to lock our wedding in. Having the ceremony and reception in the one place was a must for us. Stones ticked all the boxes with the chapel, barn and beautiful locations for photos. We knew it was the place for us."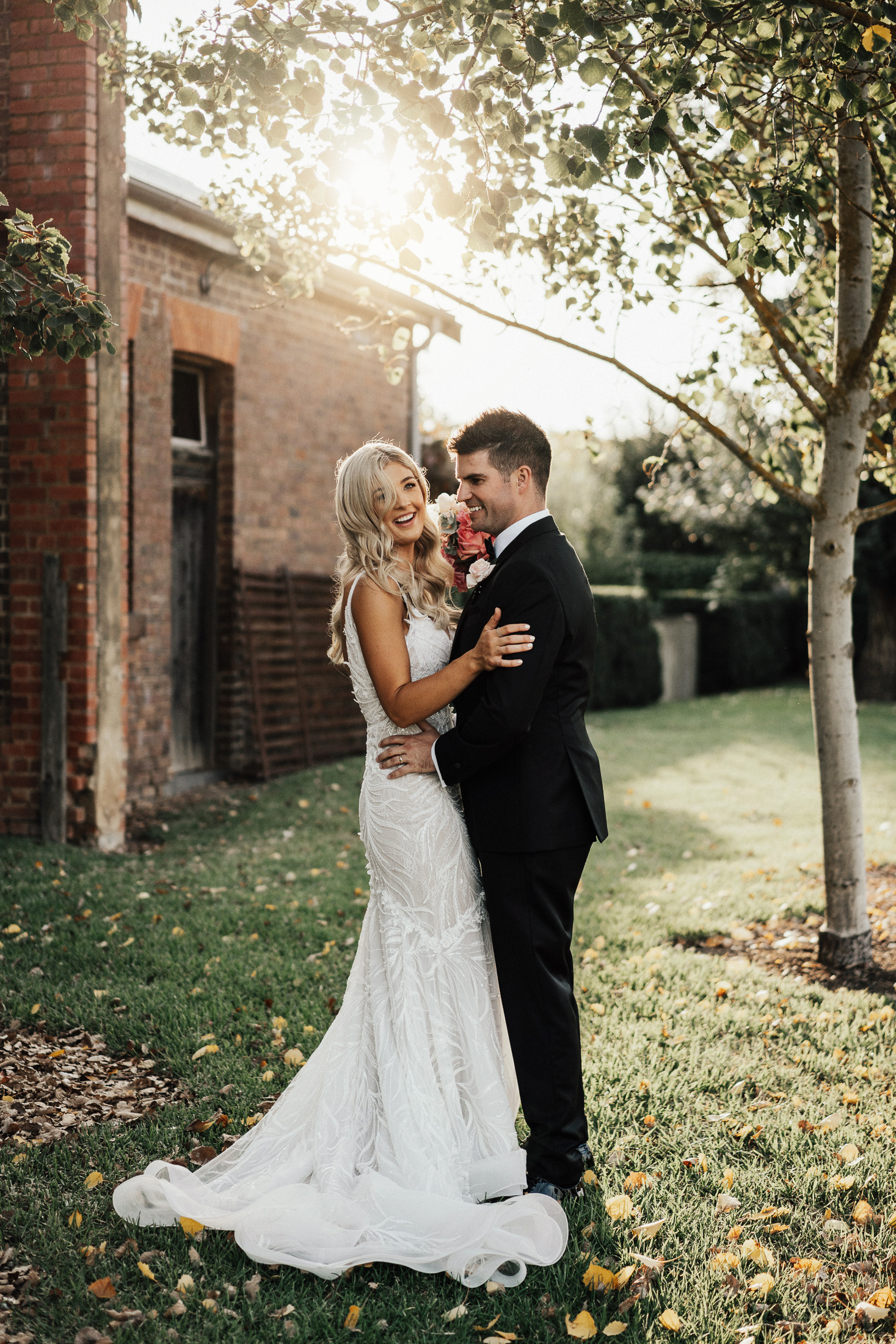 Stones of the Yarra Valley Ceremony Options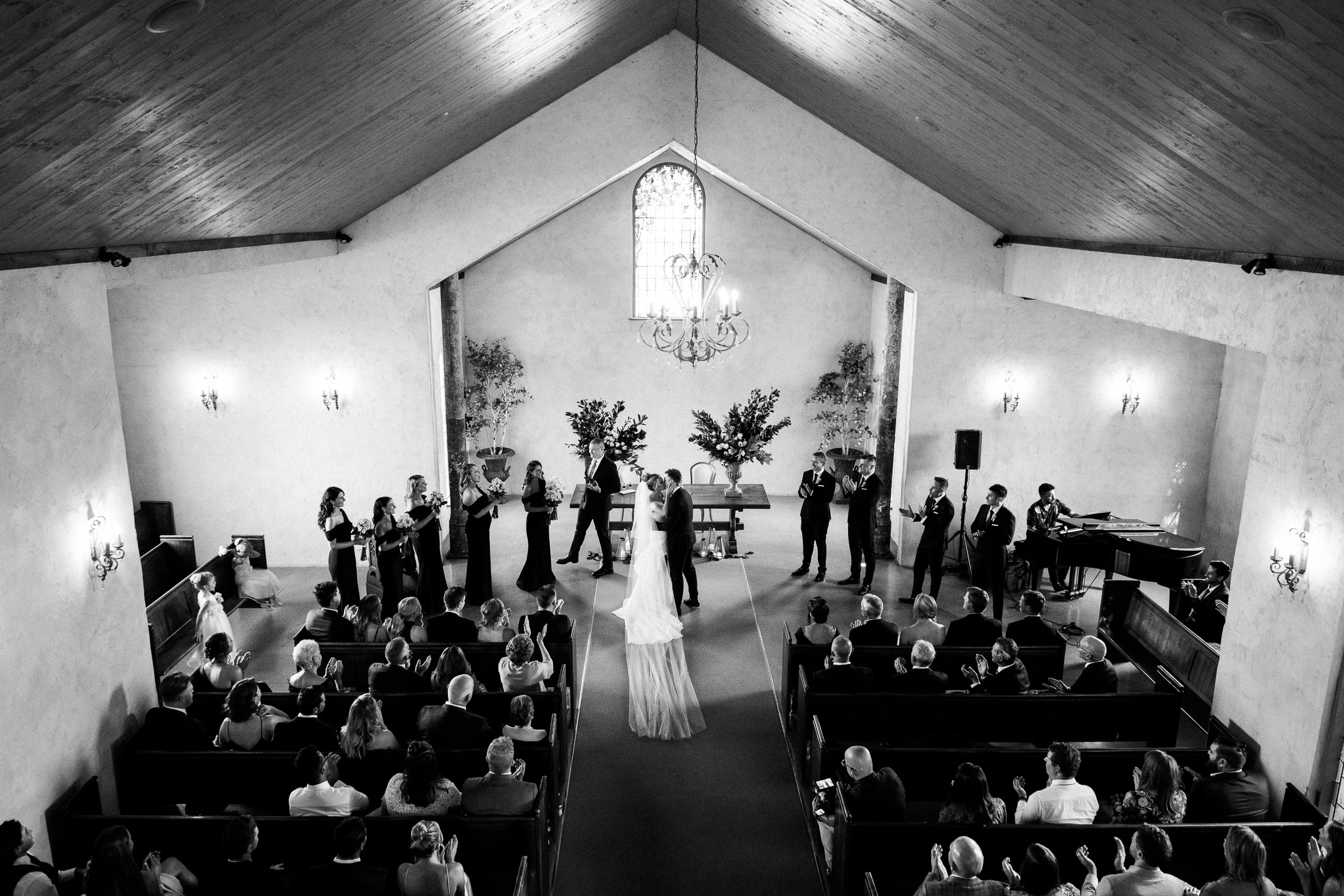 You won't find a more charming on-site chapel in the state. Giving you weather proofing without compromising on the ambience, you will absolutely adore the arched windows, the amazing acoustics, and the balcony upstairs for a moment of respite straight after the ceremony.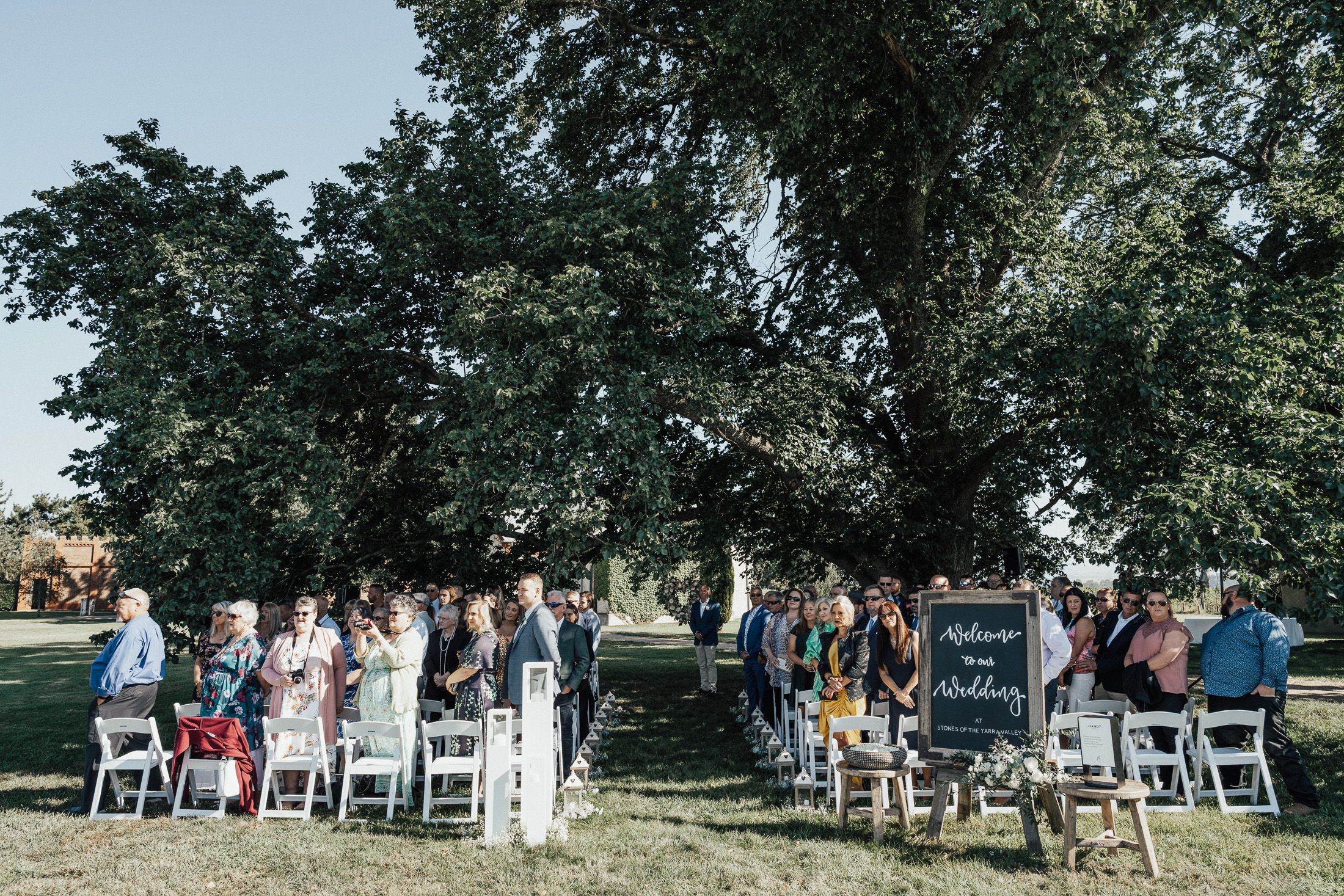 Stones is famous for its grounds, so having your ceremony right in the middle under their magnificent Elm tree makes a lot of sense. The enviable lawn is always lush and extremely well maintained, and you have the best back up option in the Chapel in case it rains!
Ceremony Styling Inspiration
Stones of the Yarra Valley Reception Options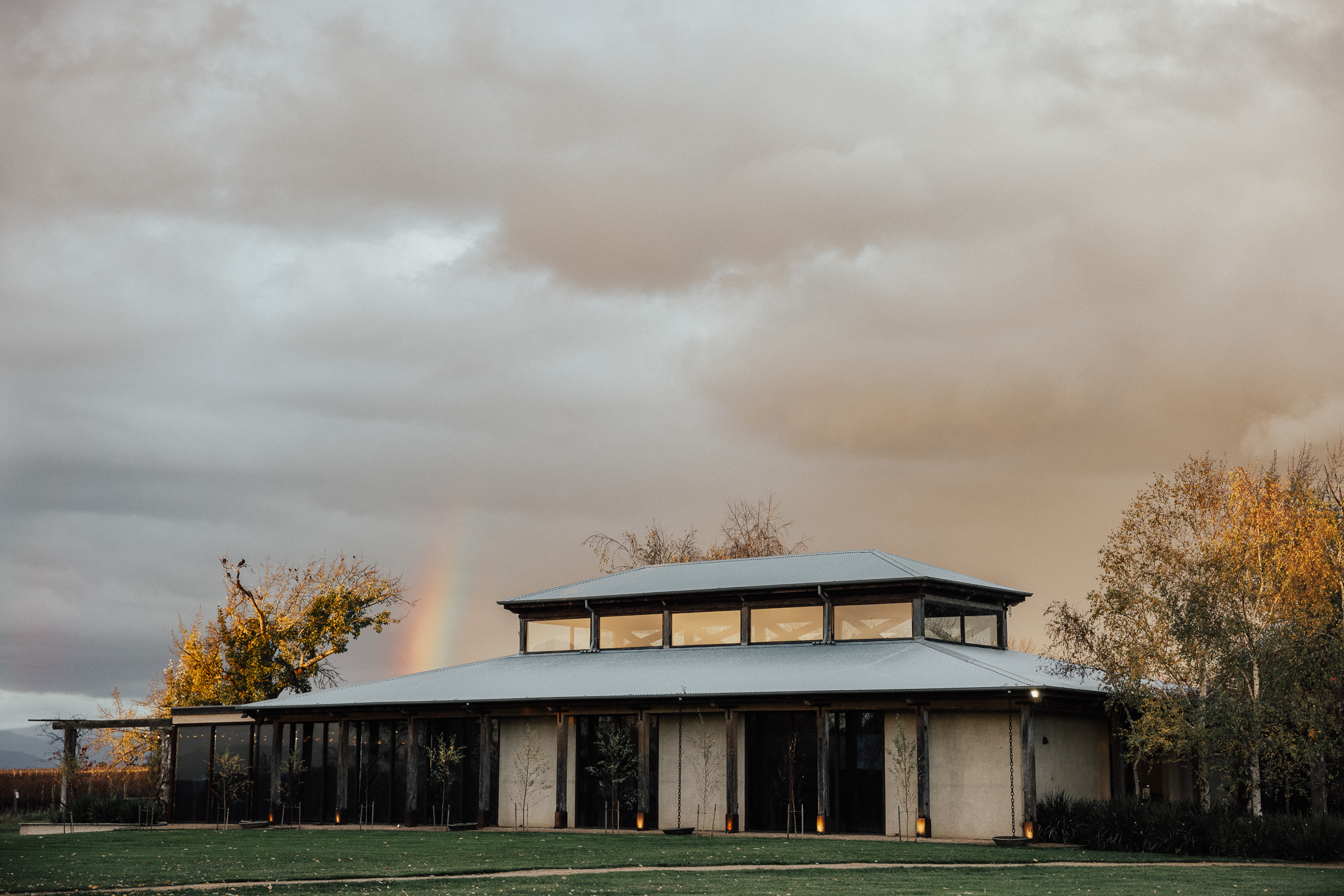 The perfect space for your reception; high ceilings for all your hanging installations, exposed beams throwing back to its rustic origins, floor to ceiling windows overlooking the 200 acres of vineyards and of course an ample dancefloor!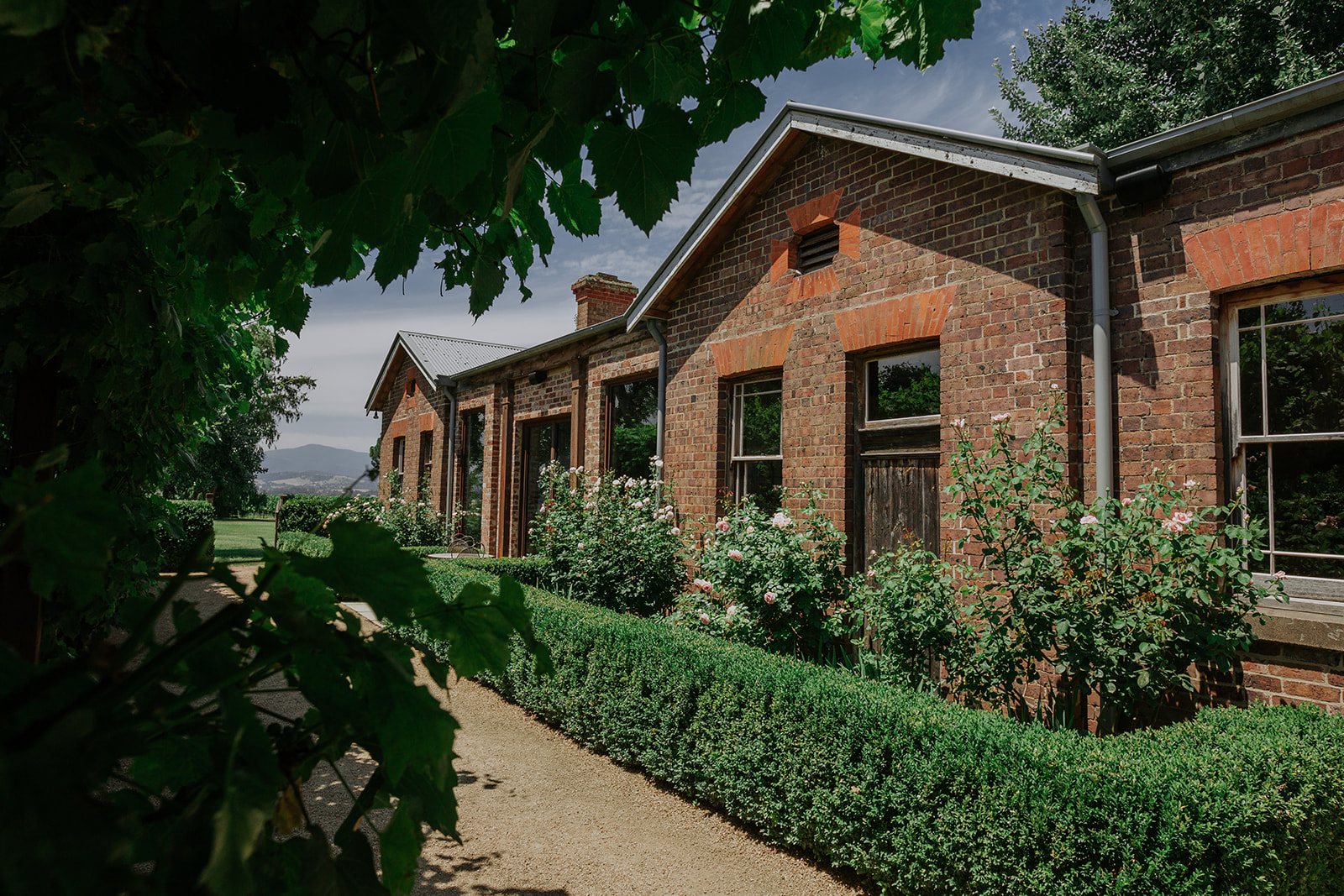 Absolutely overflowing with charm, the intimate and historic Stables is right where you want to be for those smaller receptions. With its unique brickwork and high walls dating back to 1868 combined with a vine-laden al fresco area, you won't find many spots like this one.
Reception Styling Inspiration
Stones of the Yarra Valley Preparation Options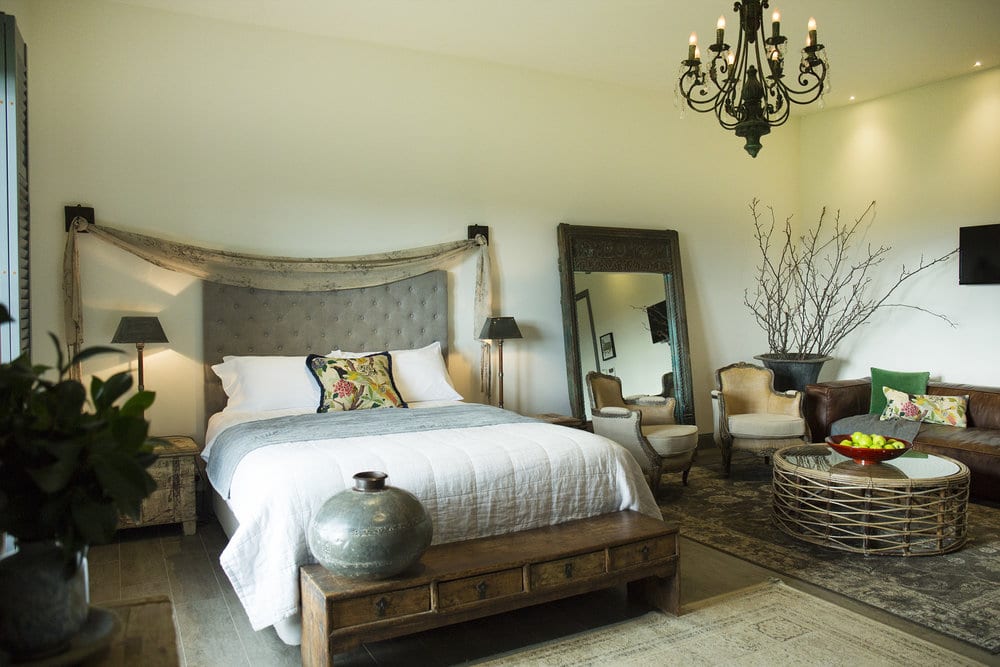 The finest room in the finest boutique hotel in the Yarra Valley. The Tuscan suite is double the size of a standard room, is equipped with a luxurious bath, and importantly, offers some spectacular window light for those portraits!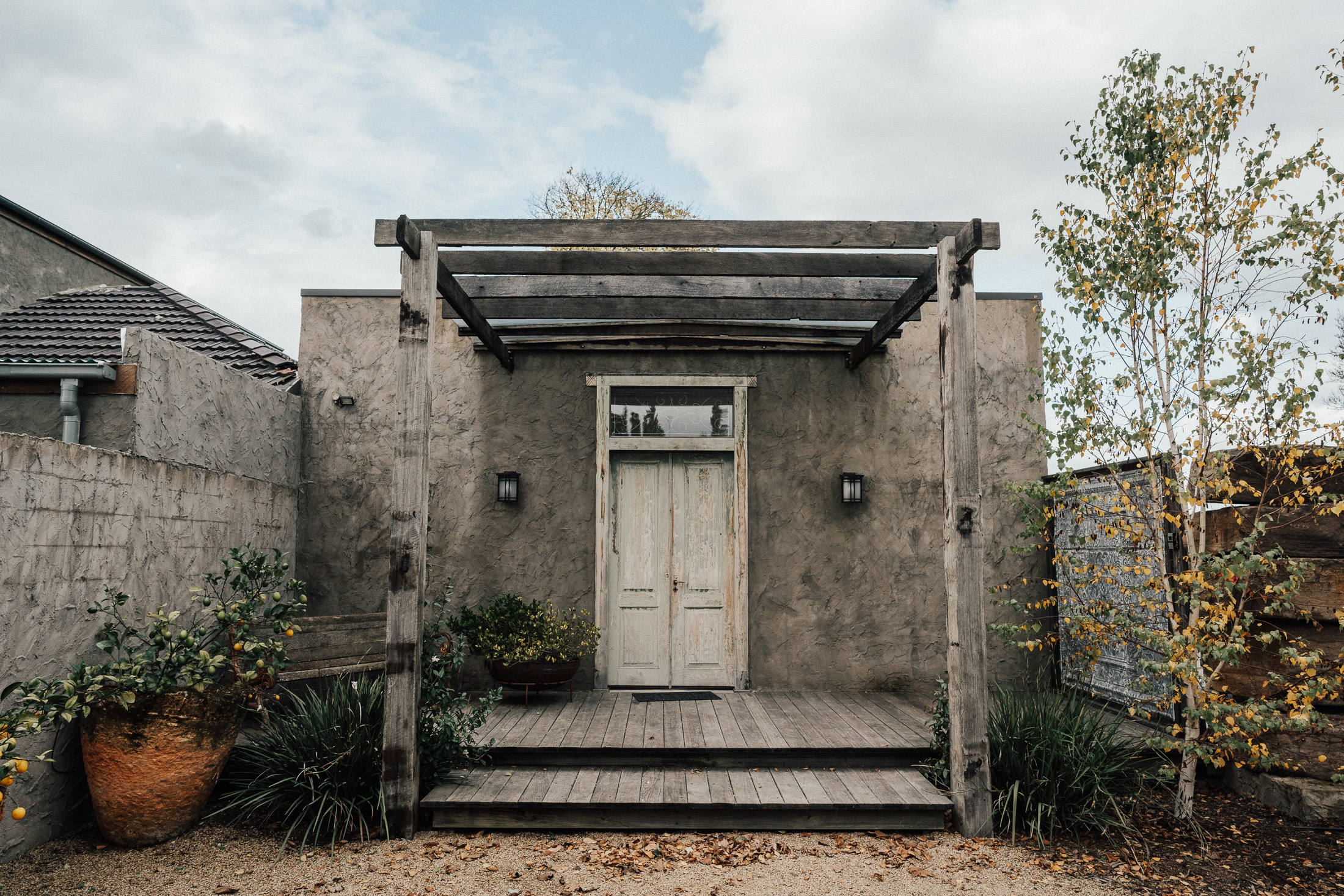 Nestled away on the Stones property with its own driveway and courtyard, the Day Room is built for bridal parties to get ready together, crank some tunes, and polish off a bottle of bubbles.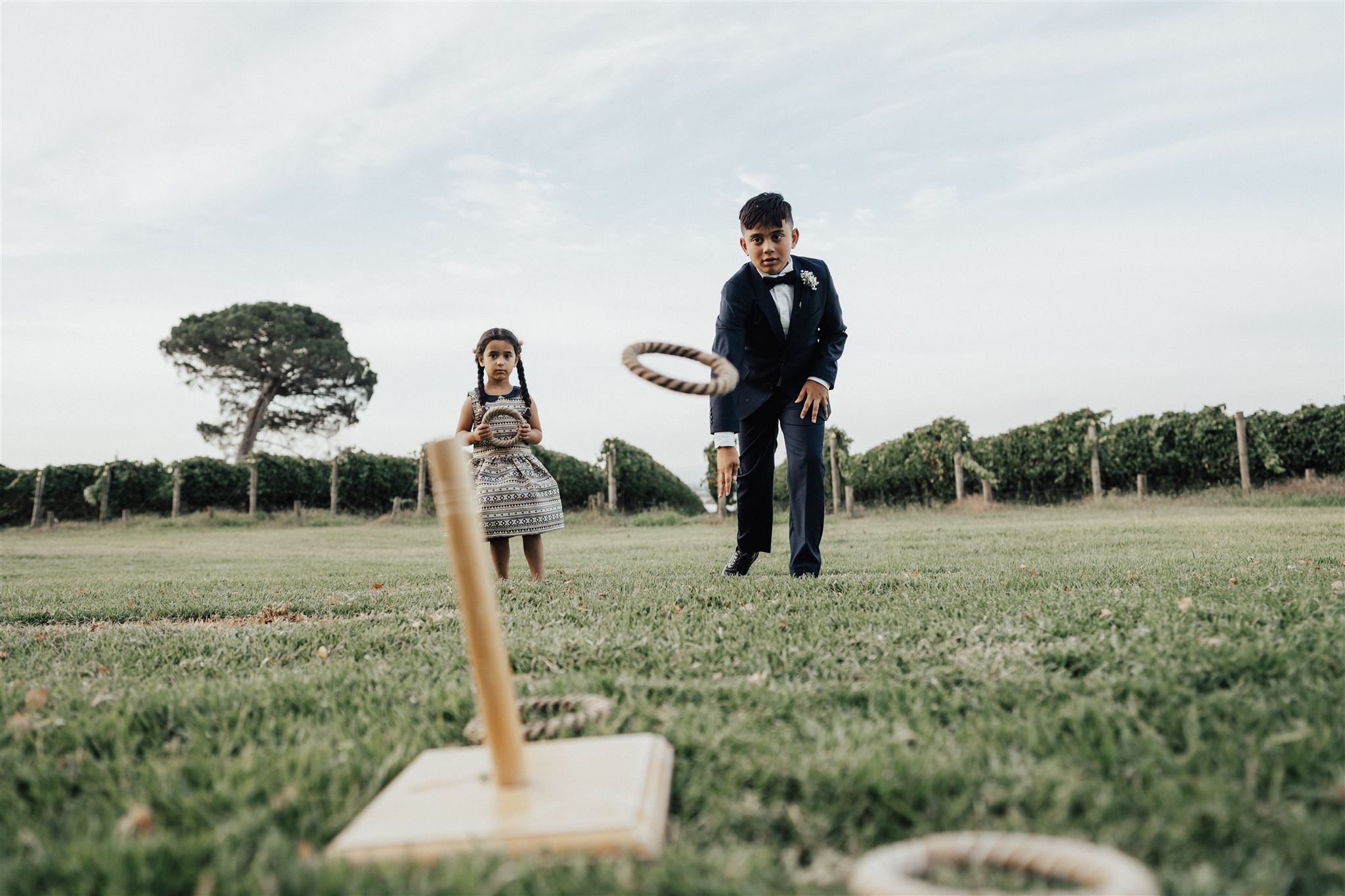 WHAT YOUR GUESTS WILL BE GETTING UP TO AFTER THE CEREMONY
Once the ceremony concludes, your guests will be invited over to the Dairy, a charming little building right at the foot of the vineyard with floor to ceiling windows to admire it. Here they will be served drinks and canapés and provided with lawn games. They'll have ample opportunity to snap some selfies and perhaps listen to some acoustic music if you've arranged it. This is a part of the day you most often won't get to see as you'll be off taking photos, so it's great to have a second photographer along to capture the fun and for you to see what your guests were getting up to!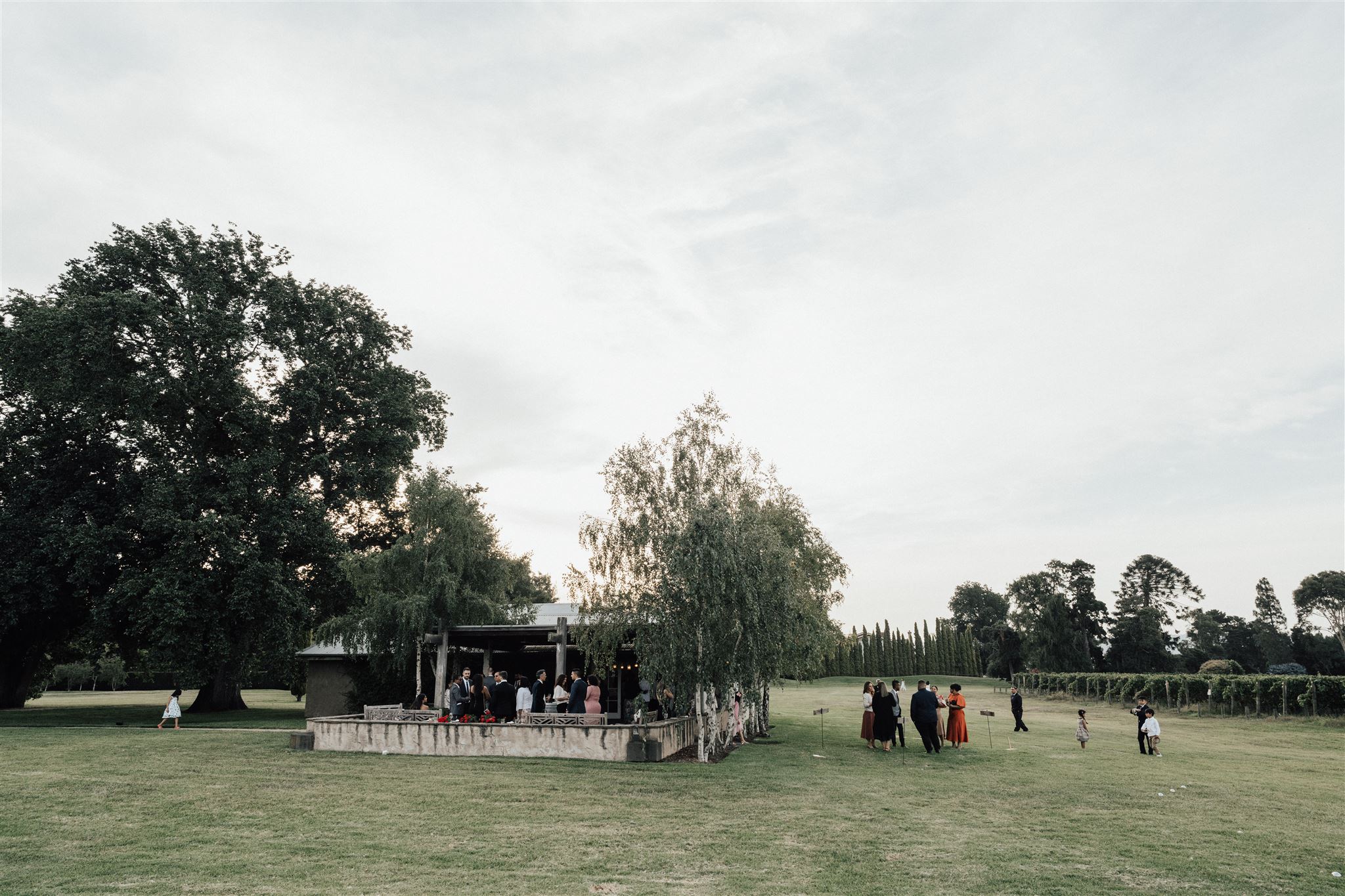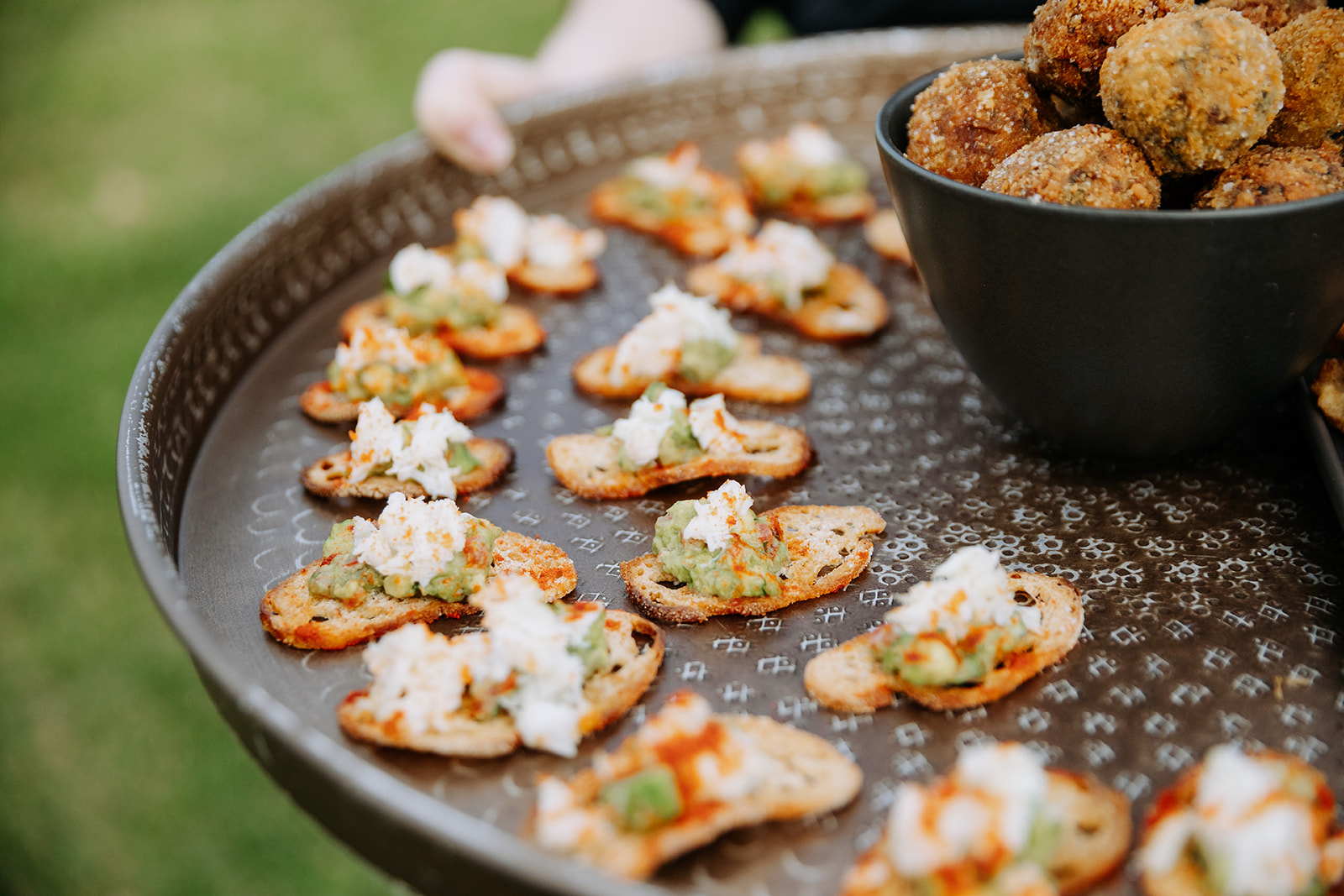 Typical Photography Timeline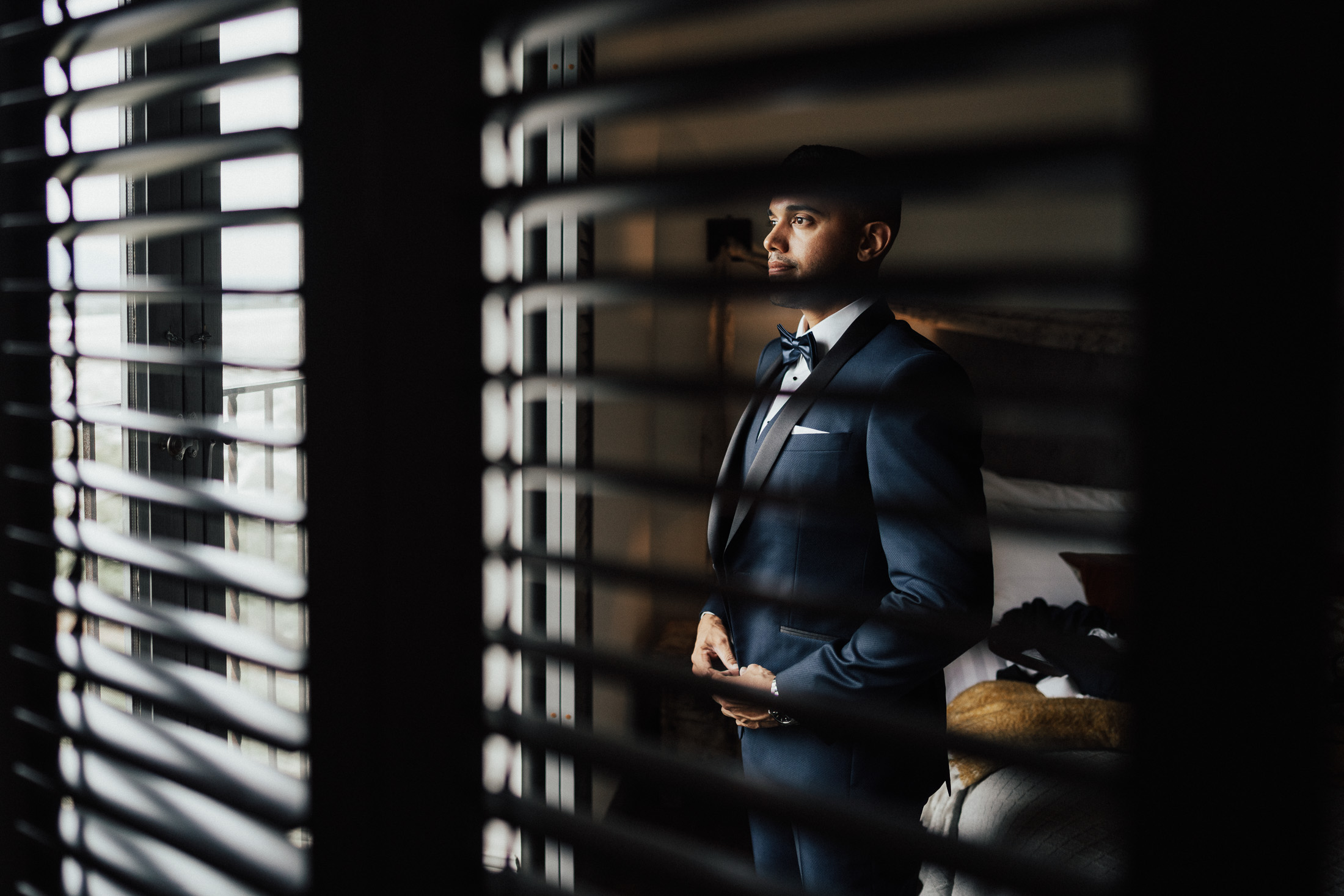 Getting ready in the Tuscan Suite. Due to the space constraints and hotel rules, this is usually restricted to getting dressed only, so no hair and makeup artists. The hotel is right by the brewery, so you can check in at 2pm, go and sample the craft beers, then head up to the room ready for me at 3pm where I'll capture you getting dressed, photographing the details, and sharing a drink together before taking a portrait in that stunning window light.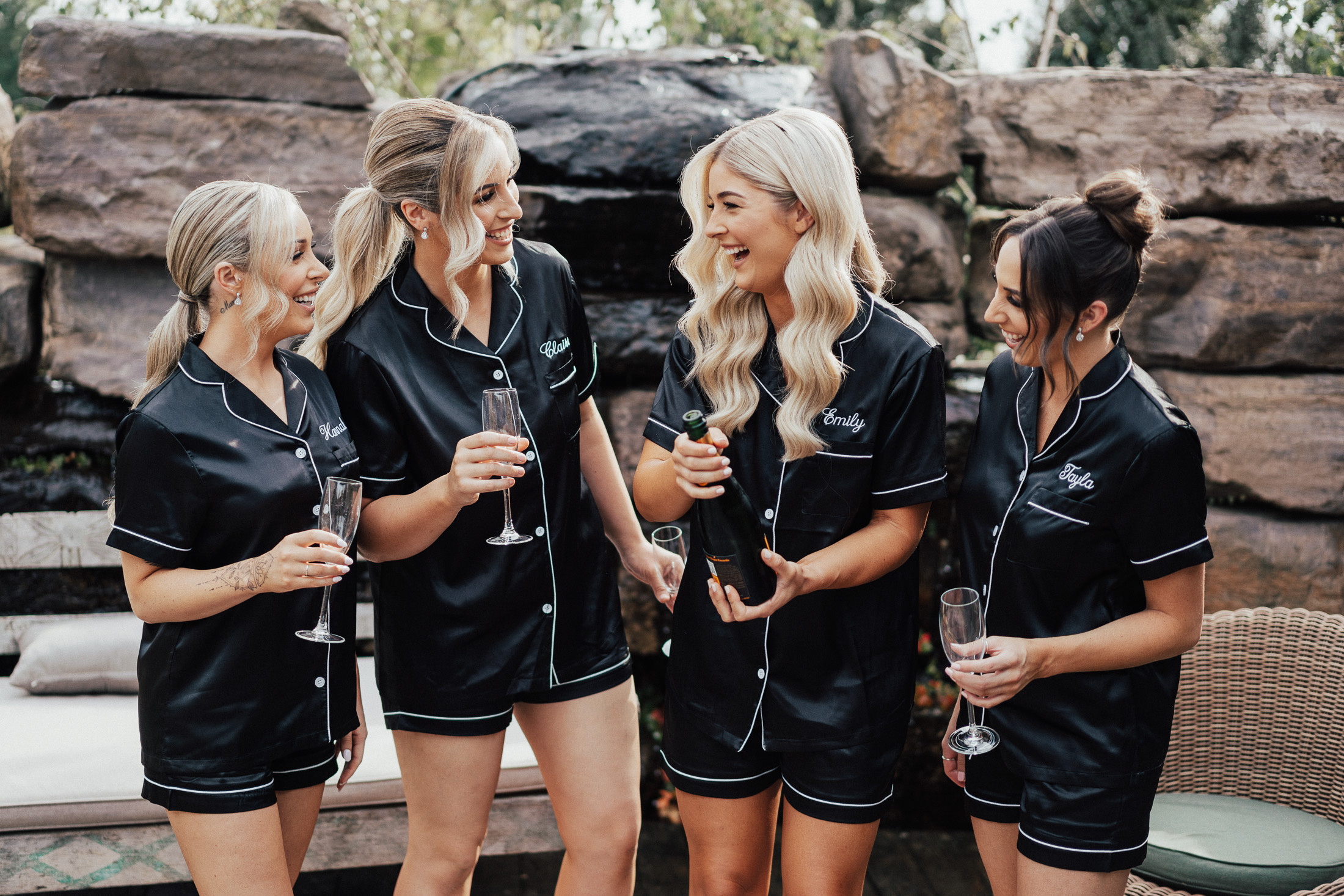 The Day Room is ideal for hair and makeup artists to work, as there are multiple high chairs in front of mirrors, just like a salon, and large floor to ceiling windows to let all that light in. I'll arrive as the hair and makeup artists are finishing up at 4pm, we'll pop some champagne outside in your gowns with the music cranking, then I'll shoot the details while you're getting into your dresses ready for some stunning portraits of you all ready to roll.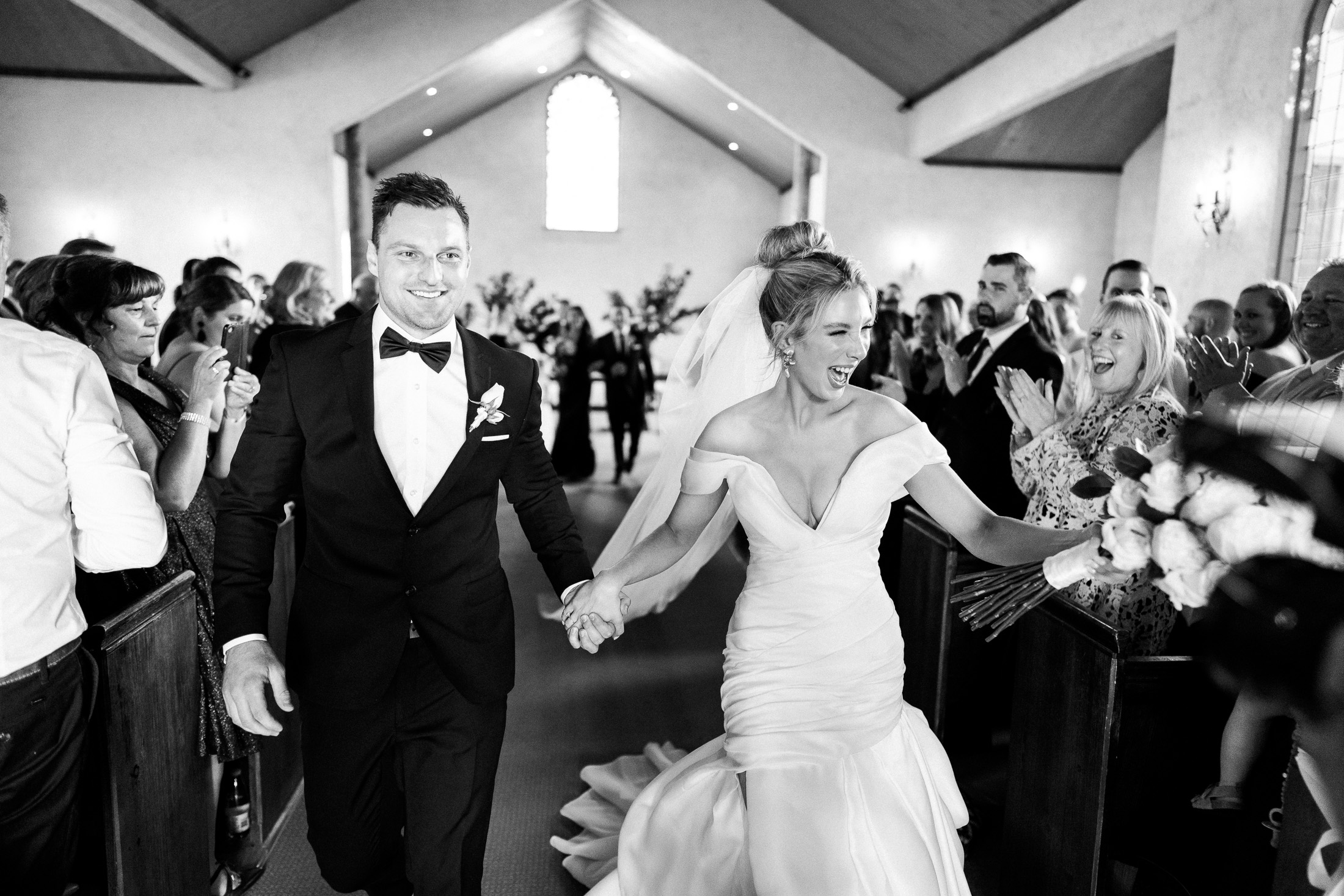 The ceremony really sets the tone for the rest of your day, so be sure to check in with me for recommendations on who will get everyone fully engaged, laughing their asses off and ready to party! Immediately after the ceremony, I'll whisk you upstairs to the balcony area for some spectacular photos in front of the famous circular window while your guests line up outside ready for the flower petal parade.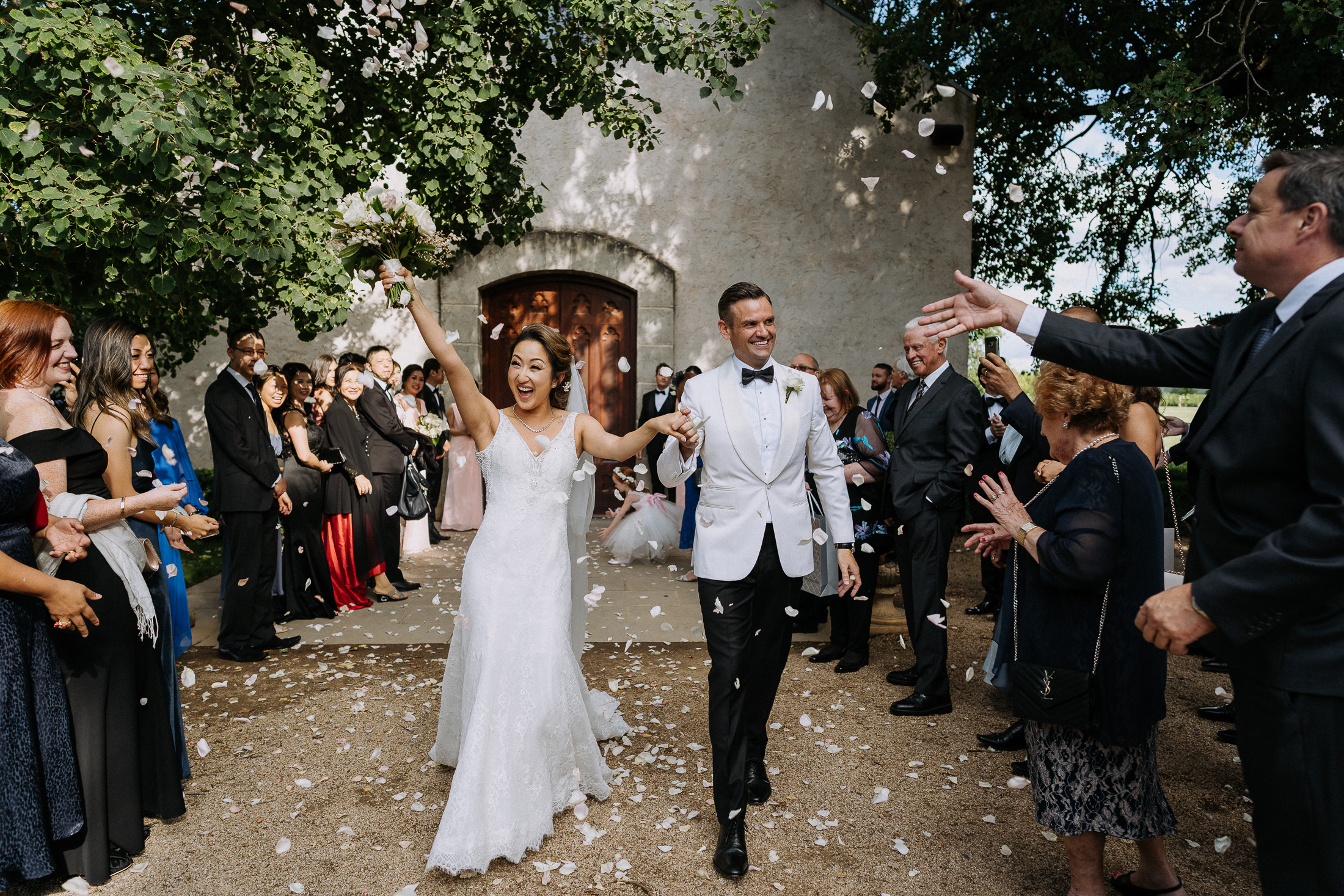 This is such a rockstar moment, walking out to all of your guests showering you in rose petals. I'll be sure to instruct them all to throw those petals up and over, not straight in your faces 🤣. I'll then jump up on the fountain for a big group photo while we have everyone there and then let them come and say congratulations!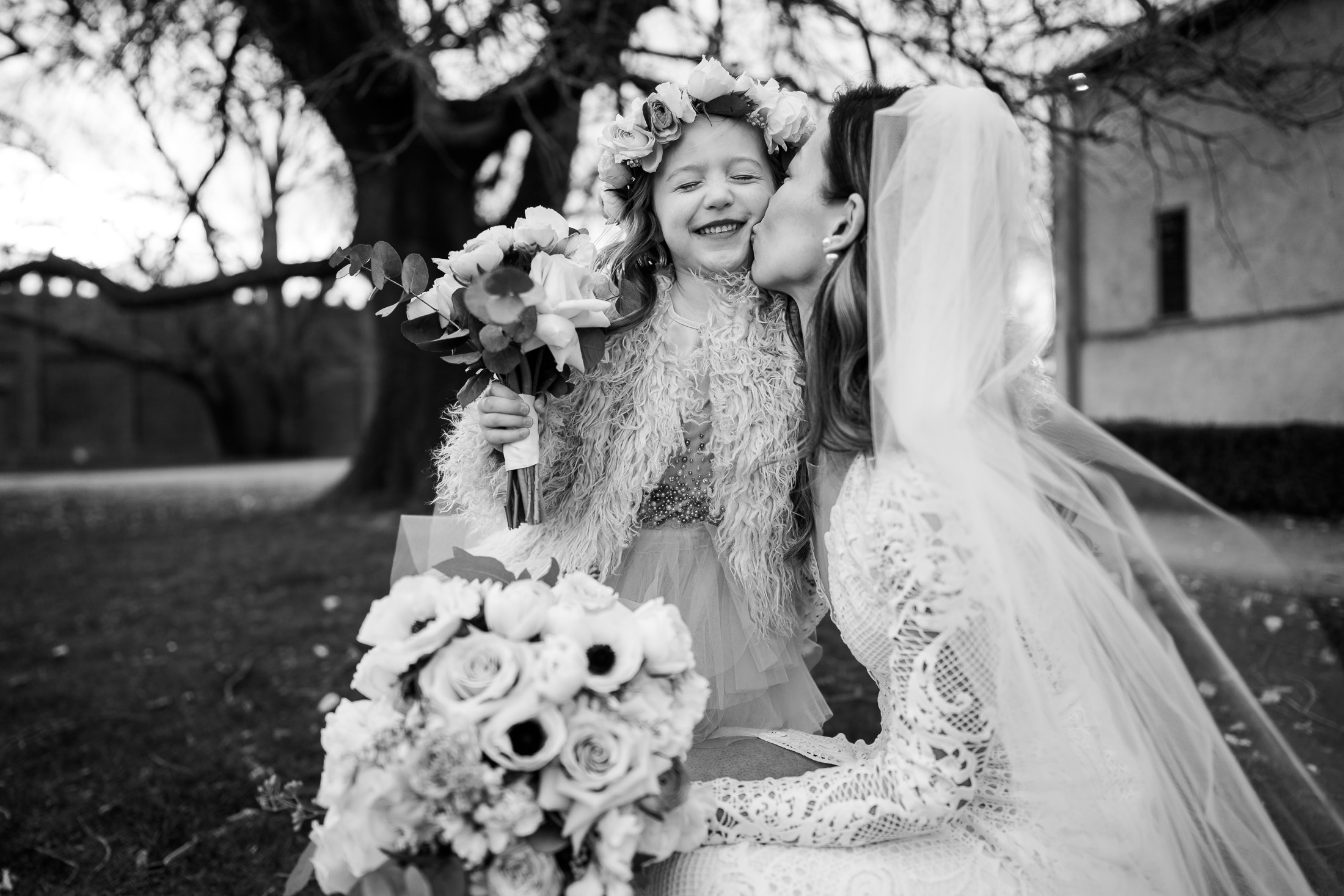 I'm not going to lie, these have the potential to be the worst part of the day. But you're in safe hands with me and I'll be sending you through my key strategies to making the family photos as fast and painless as possible. What no one else will realise is that the longer they take to get through these shots, the less time you will have for your photos together. So let's plan ahead, know what we want, and smash through them nice and quickly.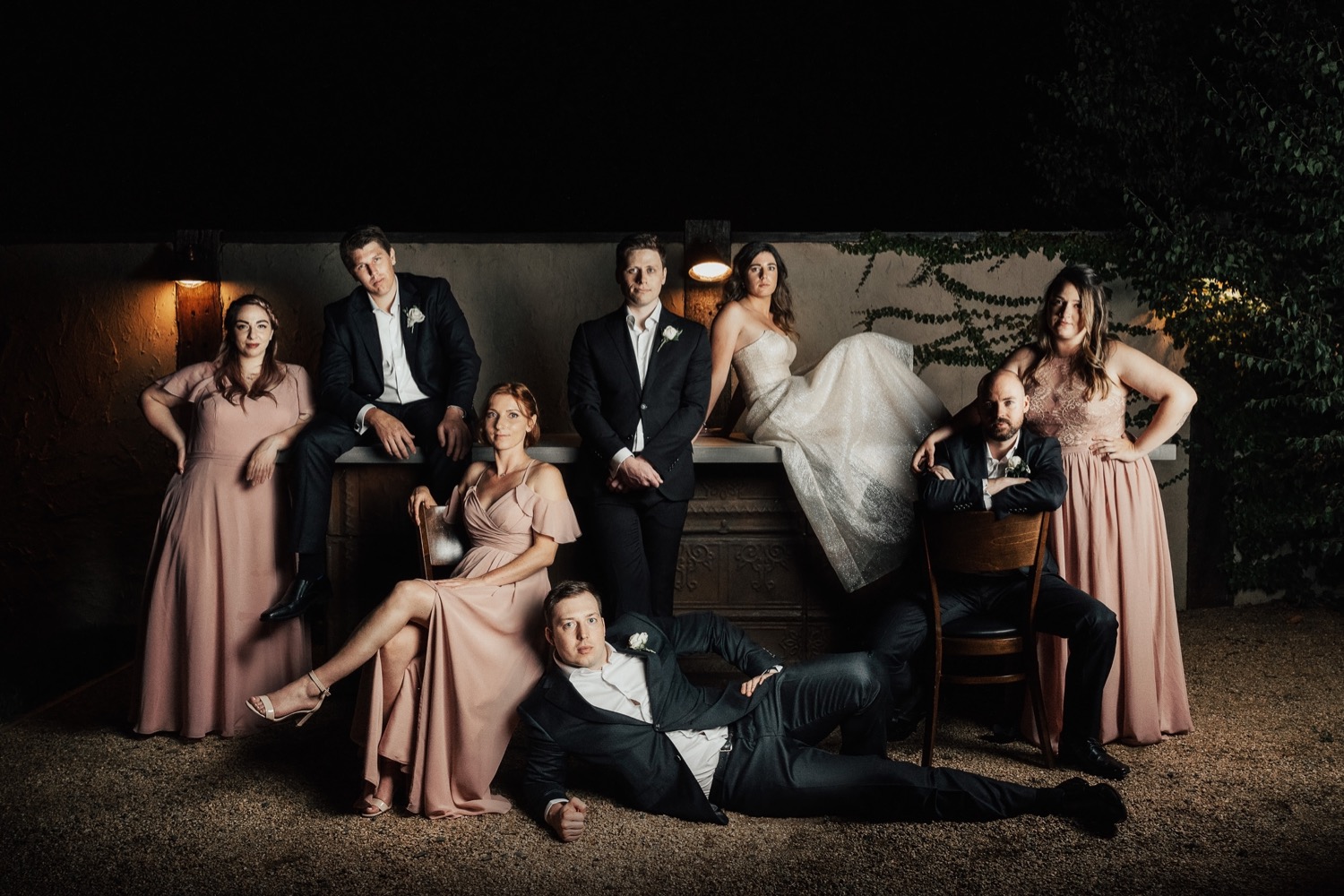 Once we're done with the family photos, we're onto the Bridal Party! Let's break out the music again (I bring a portable speaker with me), spray some sparkling and have some fun!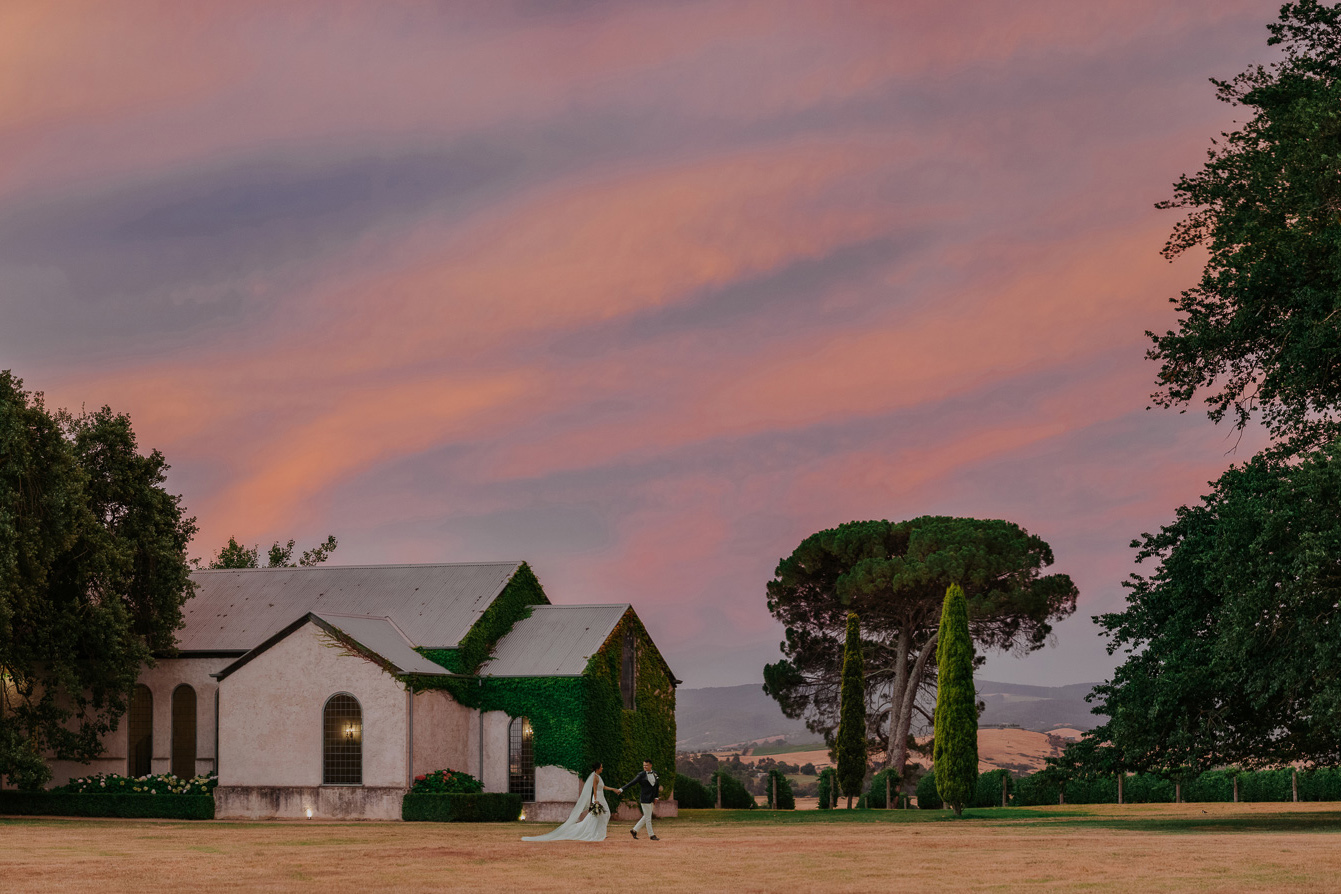 The time you've been imagining has finally come. Our chance to get some of the best photos you'll ever have in your lives together on one of the most beautiful properties in the country. We've got so much to play with here; photos around the chapel, into the vines, circling back to the Stables, the magnificent Stones driveway, we can't go wrong!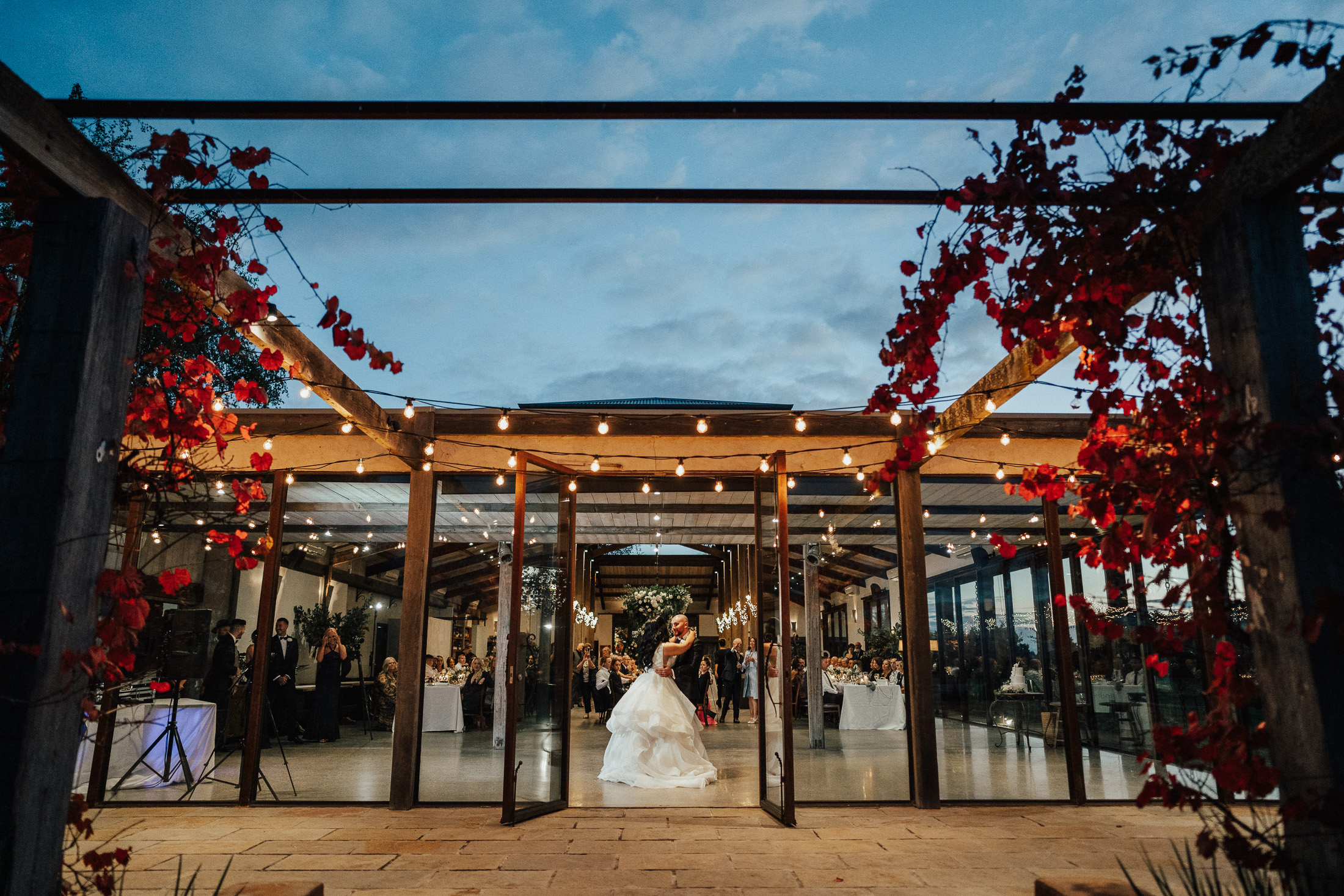 Once you are announced at Reception, I'll leave you to enjoy your wedding! I'll be floating around making sure to capture the lol's, the tears and the shape cutting on the dance floor. I'll let you know if it looks like we'll get a mad sunset and will also take you out for a night shot if you're keen! I recommend having the bridal table at the head of the room facing all the tables so you don't have your back to anyone and can see all the action unfold.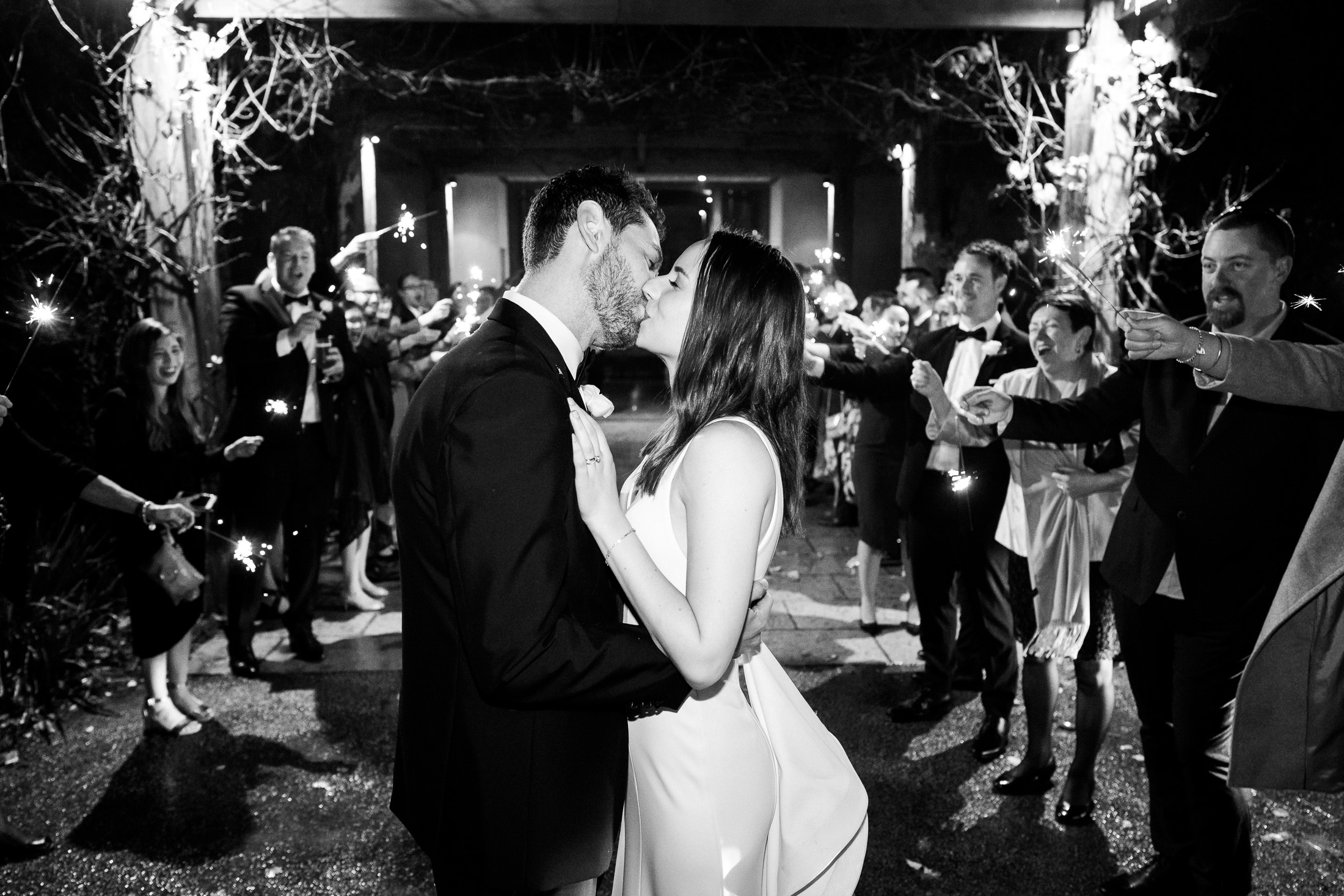 The ultimate farewell, a guard of honour with sparklers ✨! Let your guests send you off to your new life as a married couple by waving small sticks of fire at you 🤣. The Stones crew are masters at organising this, so leave it in their capable hands and just walk out when I say go!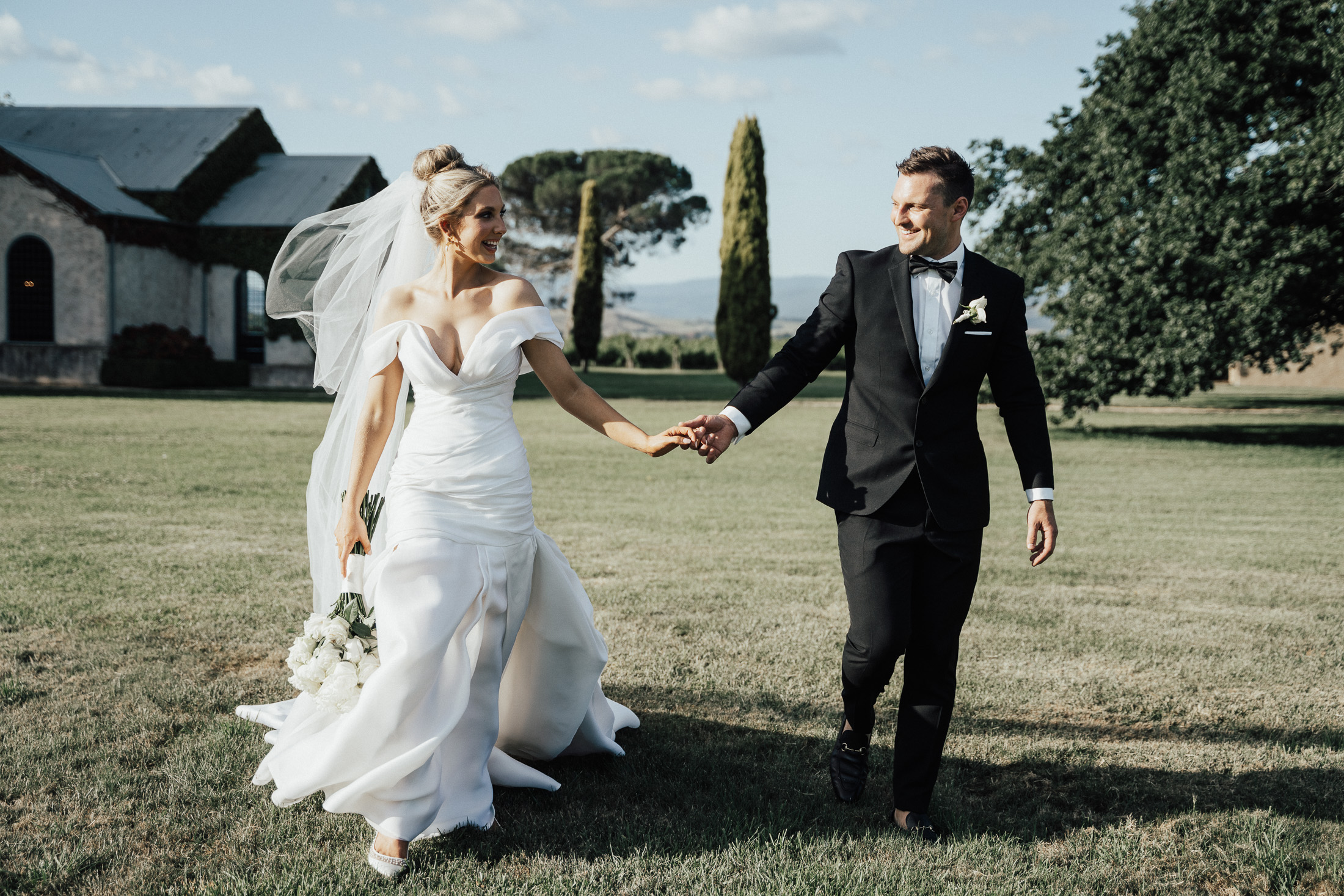 See some of the love stories I've had the pleasure of being a part of at Stones of the Yarra Valley. This will give you an idea of how it feels to have me along on your day and know that you're safe with me regardless of what comes our way.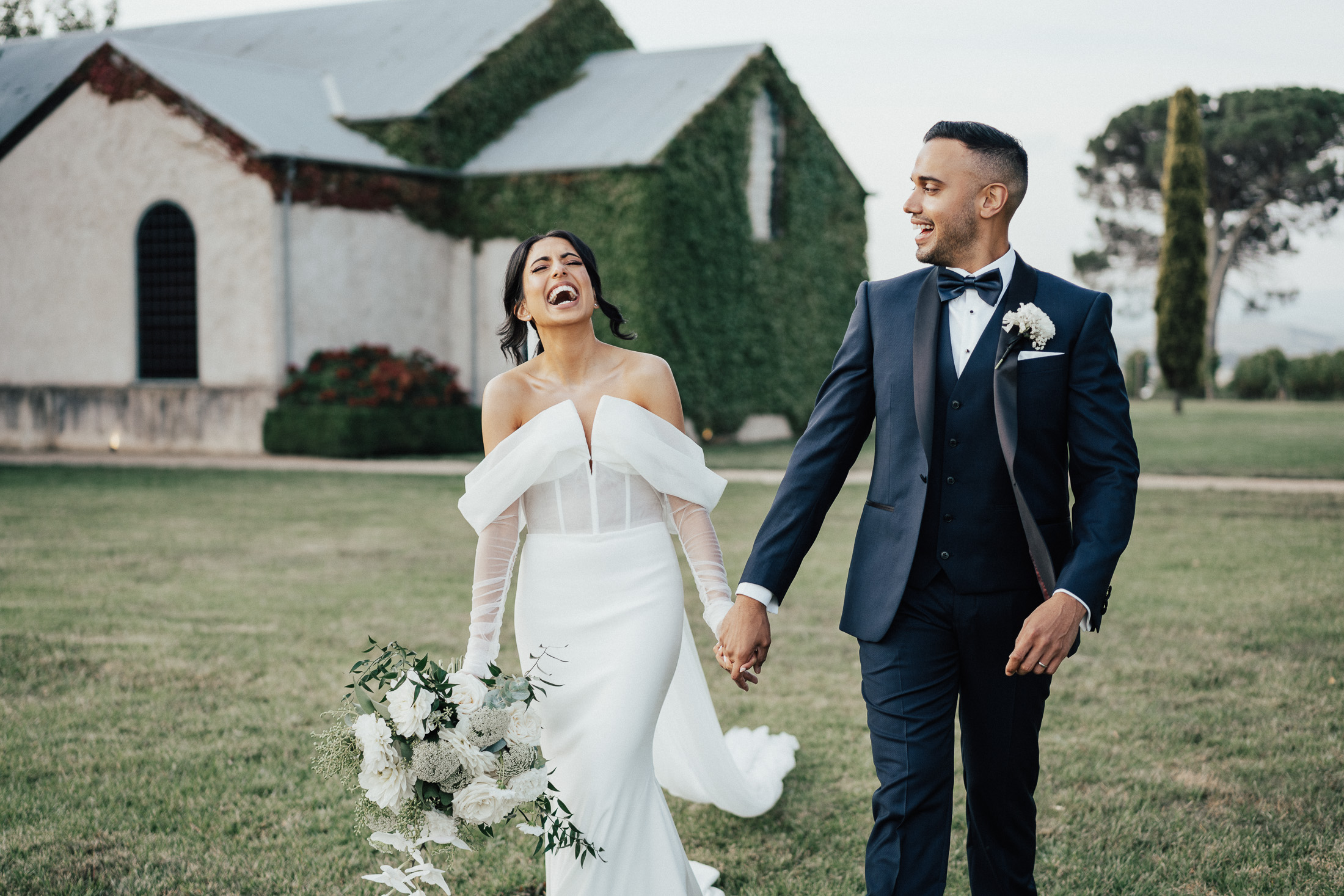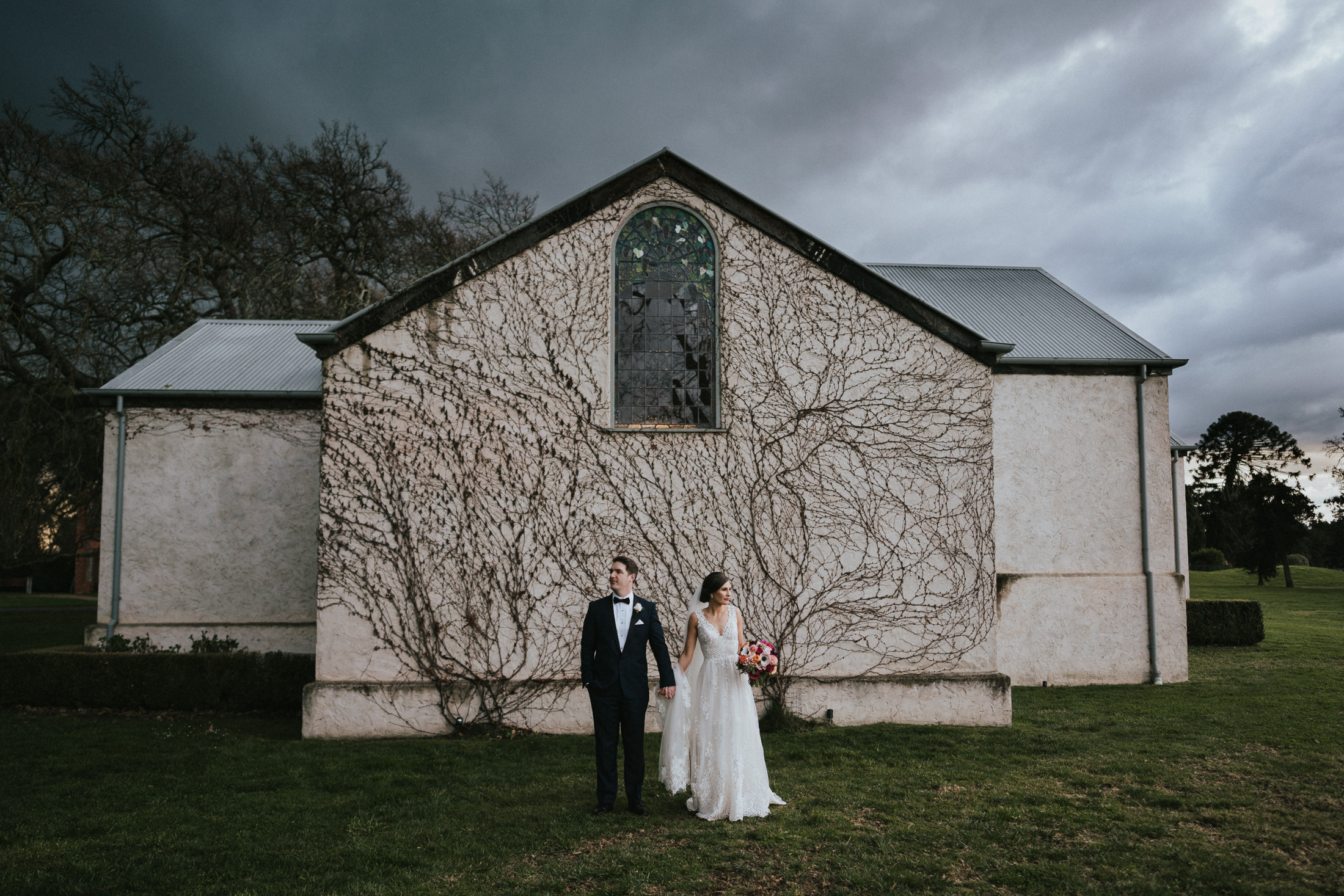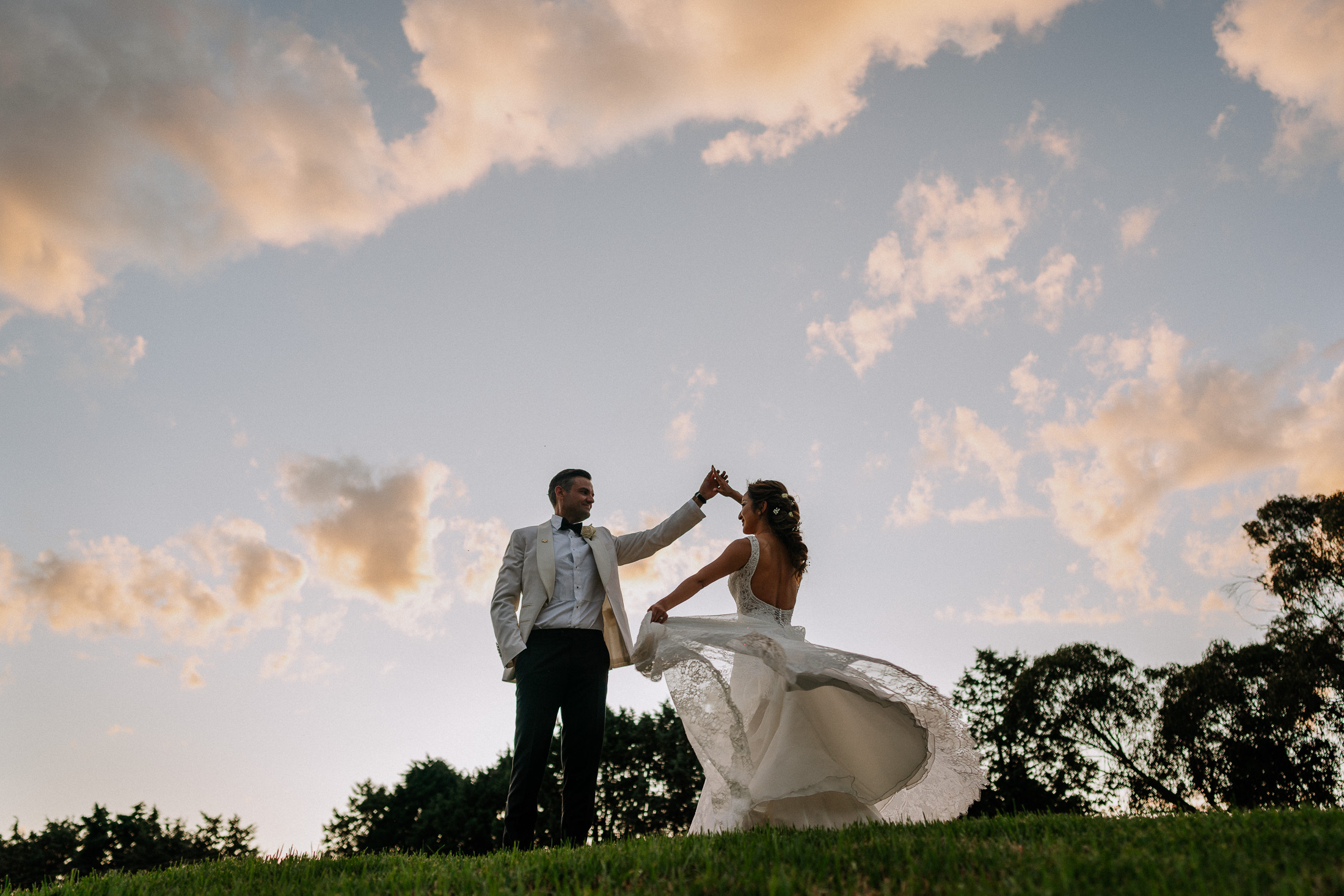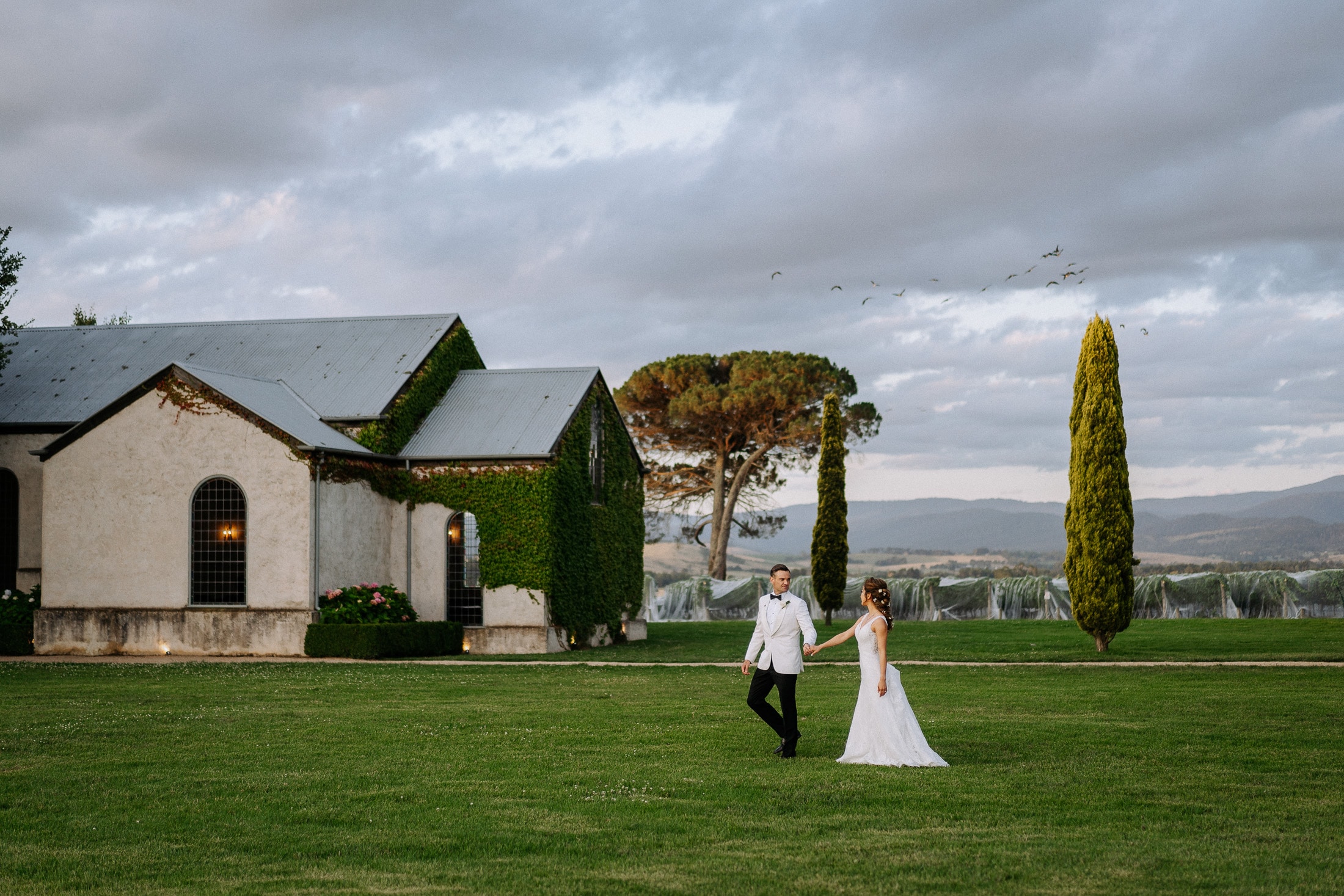 "We always wanted a picturesque venue. We visited over a dozen venues within the Yarra Valley, Red Hill and the Bellarine Peninsula, with Stones of the Yarra Valley early on in our search. On return, it took our breath away the moment we stepped into the chapel. The Chapel at Stones was the most beautiful venue for our ceremony."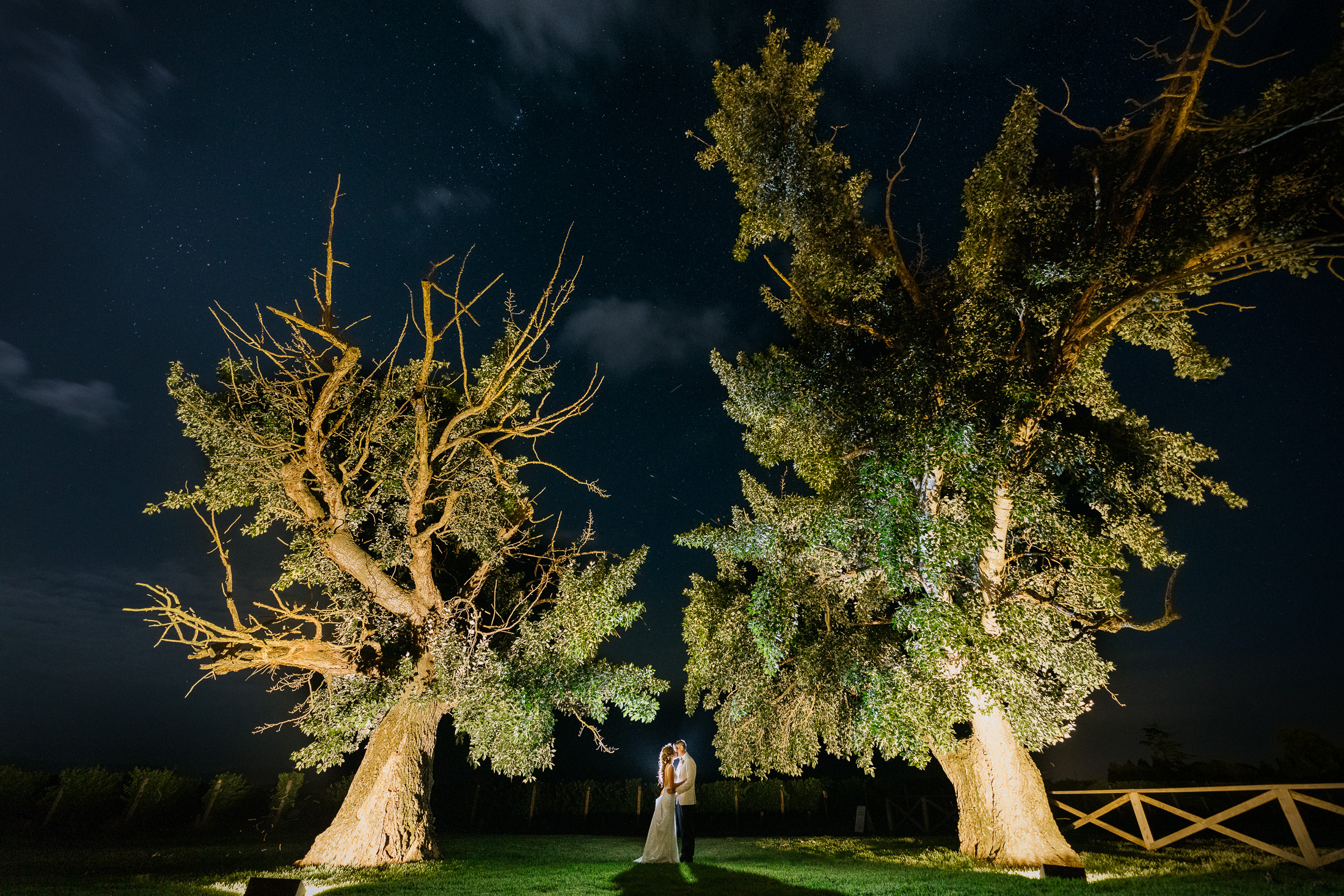 What do we do if it rains?
This is the Yarra Valley and any weather is possible regardless of what time of the year it is. But so long as we are dedicated to having the time of your lives, nothing can stop us. You've picked a venue with the ultimate weather protection, beautiful indoor ceremony option and undercover canapés. As for the photos, I'm always down for whatever you're willing to do. Want to stick to photos indoors? No worries, I know all the spots to get phenomenal photos with Stones' beautiful architecture, textured walls and stunning window light. Want to go out and dance in the rain? I'm with you. My favourite photos are in the rain!
What season looks the most beautiful?
This venue will blow you away in all seasons. From the lush green of Spring, to the full bloom of summer, the magnificent autumn reds of the Boston ivy in Autumn and the dramatic bare trees of winter. Stones of the Yarra Valley never ceases to blow minds with its impressive landscape and outlook.
Can we take sunset photos?
Not every day has an epic sunset of course, but if there is one, we will be sure to make the most of it. I will know where the sun will set and at what time and will rendezvous with the staff to ensure we're not missing speeches or anything. The sun typically sets 15mins earlier than the official sunset time due to the surrounding hills.
In my experience, the two best things you can do to ensure you have the maximum amount of time for your photos is to make sure the ceremony starts on time and to have a concise family photo list. I will run you through the best ways to achieve both.
Will we have enough time to get all the shots I want?
Absolutely. And not just that looks best for photos, but to make sure you're in the best spot to enjoy the party!
Can you help me choose the floor plan that looks best for photos?
One of the best things about working so often at Stones is that I get to see the whole wedding day in action, and see the impact the work of other vendors has on you, your guests and your wedding as a whole. So I am so happy to recommend those vendors to you to make sure you're not taking any unnecessary risks and guaranteeing an unforgettable experience for everyone.
Which other vendors can you recommend?
Want more Wedding Guides?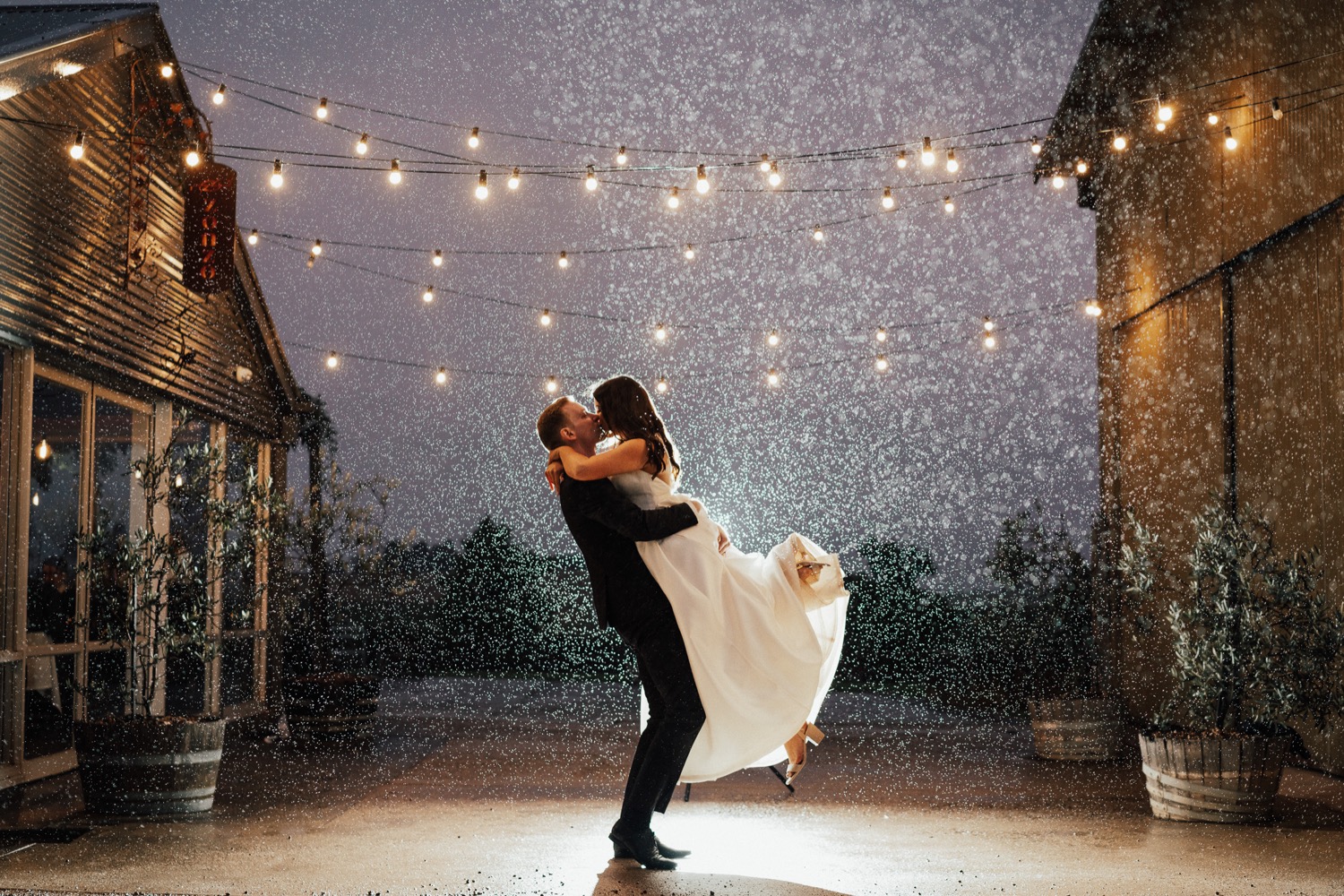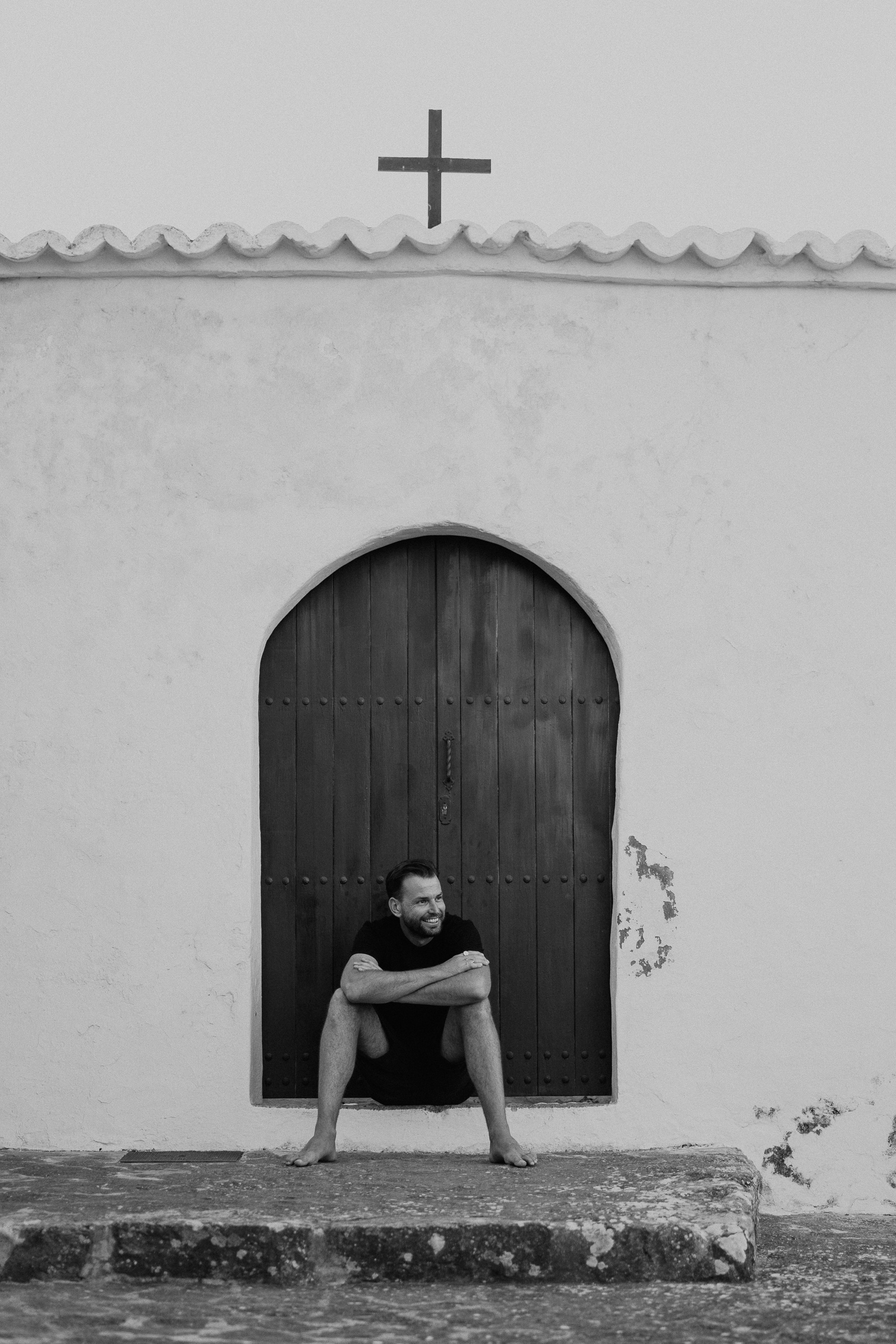 WANT ME TO be YOUR PHOTOGRAPHER AND GUIDE?
And have me start working on your Stones of the Yarra Valley Wedding ASAP